10th Day - 25 August, 2010
Submitted by RogerH on Tue, 09/11/2010 - 1:23am
10th Day - 25 August, 2010
To view all blog pages, click HERE
10th Day – 25 August, 2010
We got a fairly early start, and while Jen was in the store, hitting the Magic Money Machine (ATM) I noticed that the headlights were doing a nice job of illuminating this lovely cluster of flowers, which we later found out are called Impala Lilies.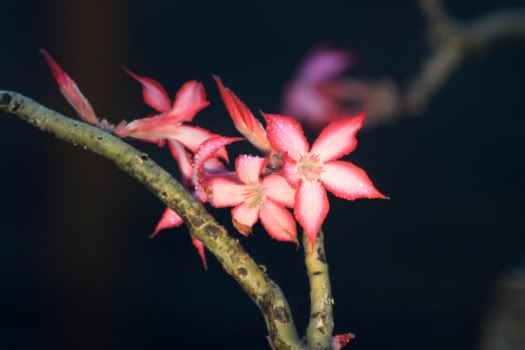 We headed out to the Olifants River Outlook, again, but it was starting off as a pretty overcast day, and nothing was moving.   The view of the river itself, though, is quite spectacular, with or without wildlife.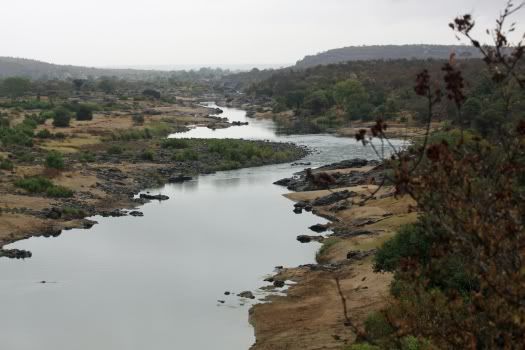 As we headed north along the Letaba River we came to Von Weilligh's Baobab Tree.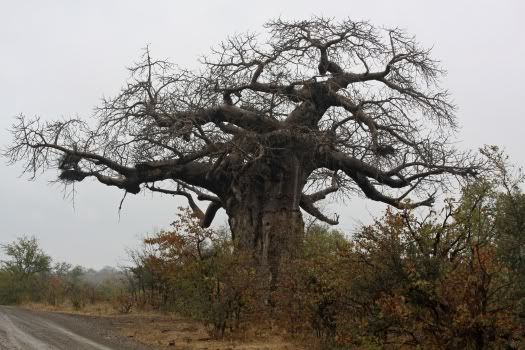 I don't know who Von Weilligh was, but this is his tree!
This male Impala was very close to the road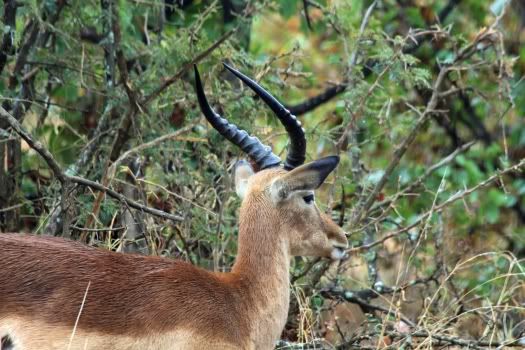 and gave us the opportunity to show how ornate and lovely his horns are.  They are, after all, primarily for decoration and attracting the ladies!
We never ceased to marvel at the beauty of the Kudus, particularly the males, and seldom passed up an opportunity to stop and admire them.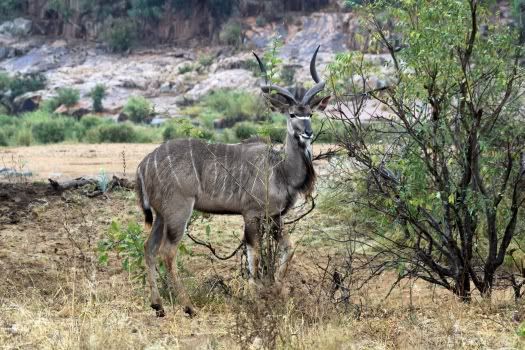 This guy was obviously eyeing this clump of tasty young leaves,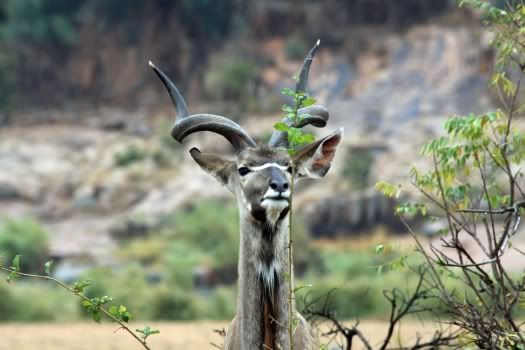 and a few seconds later it was gone!
Further along the river was a small group of Hippos, one of whom had a hitch-hiker on it's back, a Great Egret.  (I think)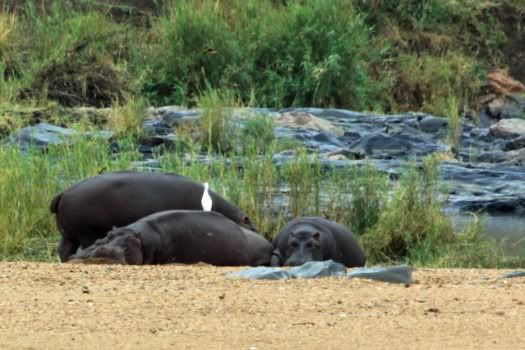 This pair of Steenbok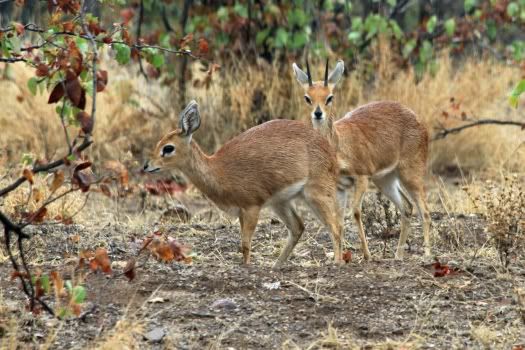 were browsing next to the road and paused to watch us watch them.  Sometimes the critters seemed to be as fascinated by us as we were by them.
Note the size of the tusks on this big guy.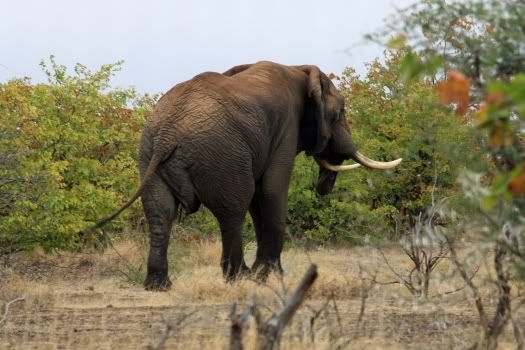 Though we would have liked to have gotten more pictures of him, we weren't terribly disappointed that he was going the other way!
Whenever you are traveling near rivers or other bodies of water, you will see trails crossing the road which were obviously made by animals.  From one of the rangers, we learned the difference between ordinary animal trails, and hippo trails, such as this one.
The hippo trails, if you look closely, consist of two parallel ruts or grooves, which they leave because they drag their feet.  In places there will still be grass growing in the middle, just like one of our dirt roads.  While they spend their days in or very close to the water, at night they will travel upwards of 20 km. in search of tender grass to graze upon.  At first light, they head back to the water they came from, and many people have lost their lives because they happened to be using one of these trails and got between a hippo and his water.  They are an extremely dangerous animal, very aggressive towards humans, and are responsible for over 200 deaths per year. 
We are not 100% sure of our ID on this bird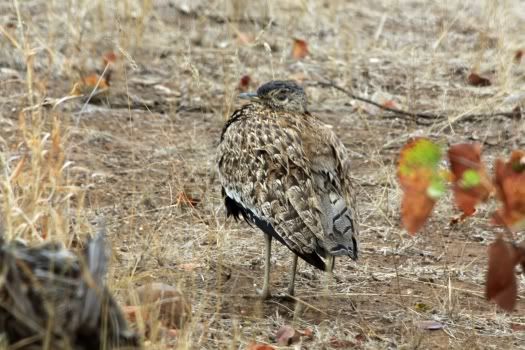 but believe it to be a Spotted Dikkop, possibly immature.  Any help with this ID would be appreciated.
This female Impala,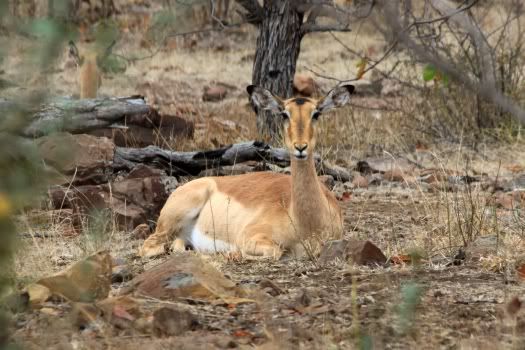 laying just off the road, appeared to be VERY pregnant.  At least, she was VERY wide!
As we came around a curve in the road, near Engelhard Dam, this very large bull Elephant walked out of the bush and straight down the road, toward us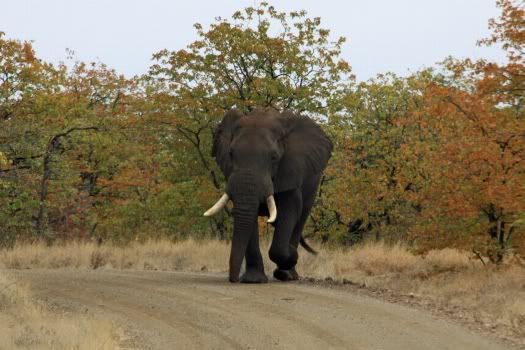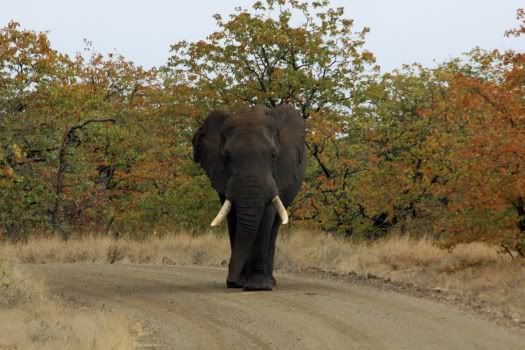 causing Jen to frantically search for reverse gear, while I clicked away with the camera.  Before he got to us, however, he swerved off and into the bush (good thing, cuz she never did find reverse) and the last we saw of him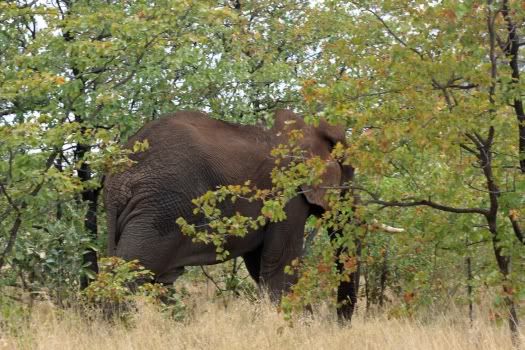 he was still trying to make up his mind which one of these small trees he was going to have for lunch!
We stopped at Letaba Camp to pick up some things at the store, and had to take this picture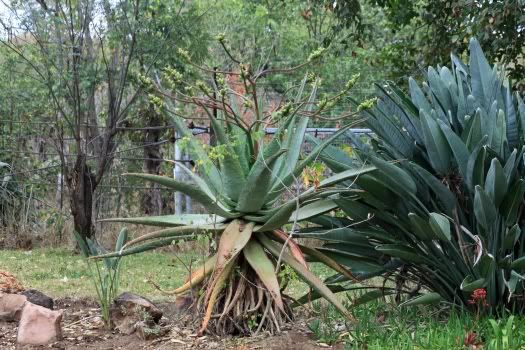 of a garden of succulents near the gate.  The large plant in the middle is some species of Aloe.
Shortly after leaving Letaba we came across this small group of Zebra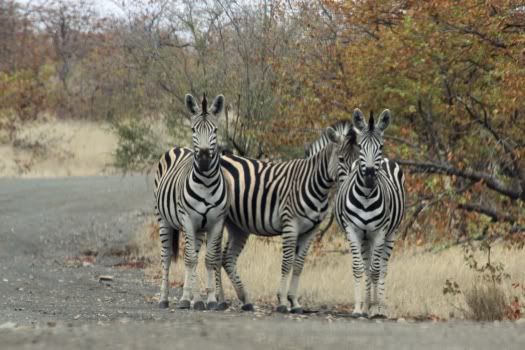 who somewhat reluctantly agreed to share their road with us.
This section of the Letaba River Road, west of Letaba reminds me for all the world of some roads we have in the southern US, called Red Georgia Clay.
(right, Cowboy?)
We reached the Mingerhaut Dam
in the early afternoon, and headed down the river, back toward Letaba.  A short time later, we came across this scene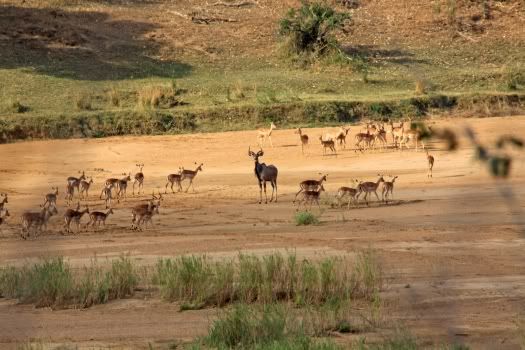 which, the more we looked, the more we were amazed.  A herd of 50 or so female Impala was being watched over by a lone Kudu bull.  As they moved along, he followed, so it  was quite obvious that this was not just an accidental crossing of ways.
Was he just confused?  I don't think so.  Nature never ceases to amaze.
As we continued along down the nearly dry riverbed the scenery sometimes would take your breath away.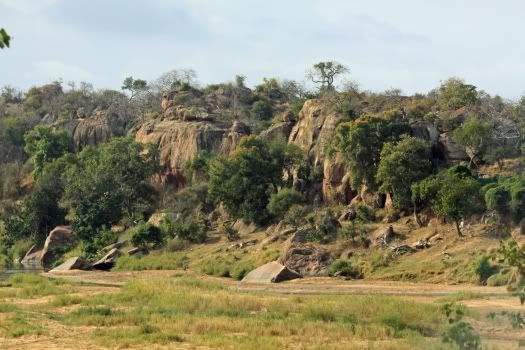 There were many turnouts on this road, and at one of them we found this pair of Doublebanded Sandgrouse.
The male, as is usual with birds, has the brighter coloration.
Here we have a family of Baboons, crossing the road in front of us,
while Zebra graze nearby.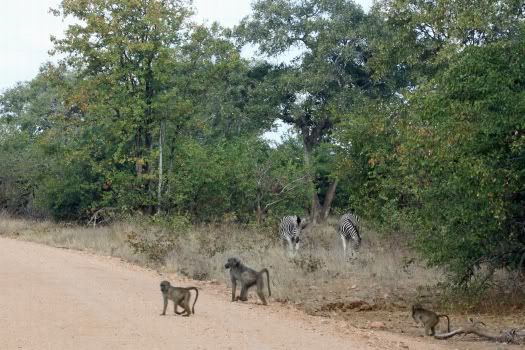 Bringing up the rear, this large male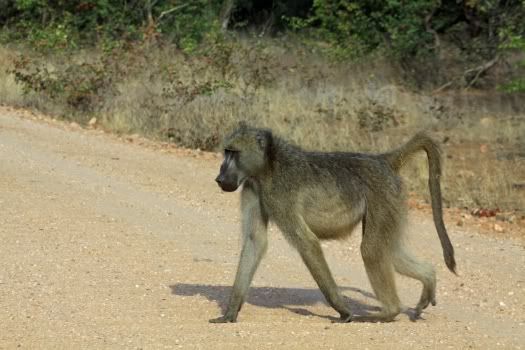 looked more than capable of taking care of whatever business needed taking care of!
Nearby a vervet monkey
was spending his afternoon sitting on a log.
More scenic views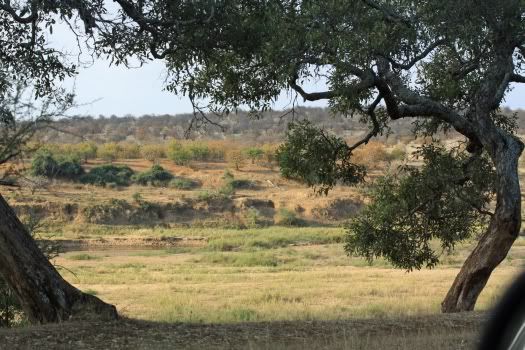 awaited us as we moved on down the river, as well as this lone Elephant
who was making his way up the river.
A little further along, another semi-panic stop was brought on by a group of Giraffes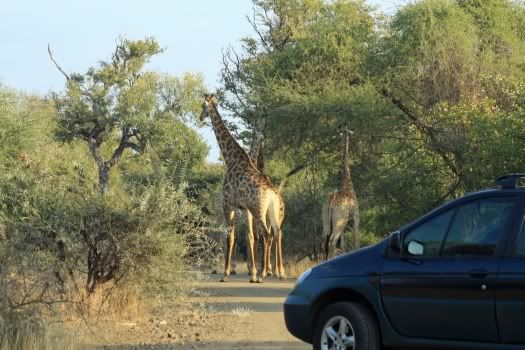 trimming the trees alongside the road.  This hansom male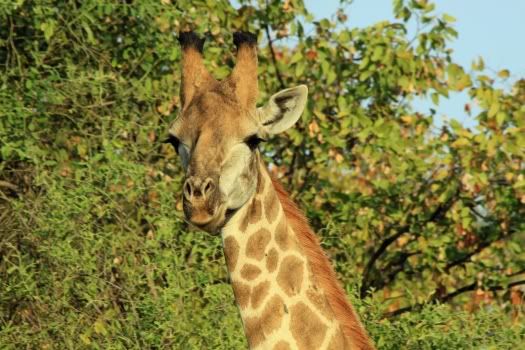 seemed to be batting his eyelashes at Jen, and hence, we had to have another Giraffe pic!
Here, a Great Egret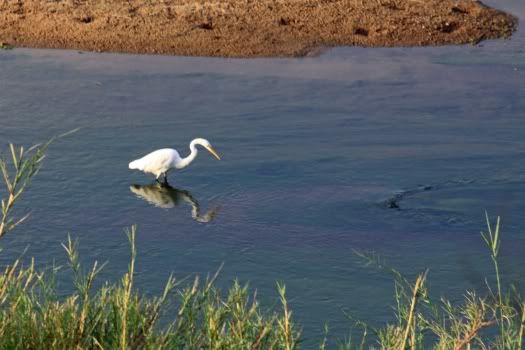 was intently peering at something in the water, but didn't go after it while we were watching.
Two Cape Buffalo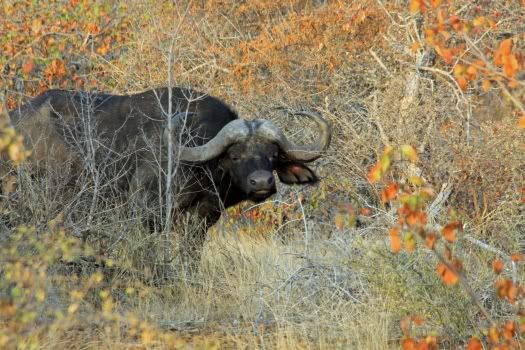 watched us pass, and in the dwindling light we got our last look of the day at the river.
Then………………..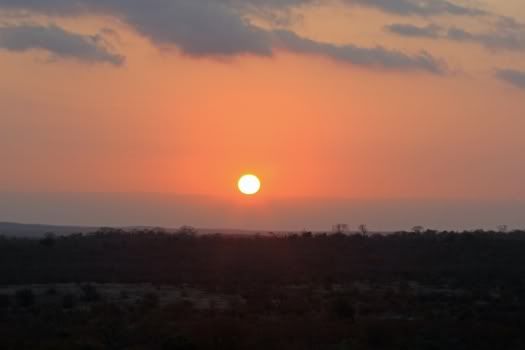 sunset.
THE DAY'S SIGHTINGS:  ANIMALS
Impala                                                           Kudu
Hippo                                                             Steenbok
Elephant                                                        Zebra
Turtle                                                             Baboons
Vervet Monkey                                            Giraffes
Cape Buffalo
THE DAY'S SIGHTINGS:  BIRDS
Emerald Spotted Dove                               Marabou Stork
Great Egret                                                   Spotted Dikkop ?
Yellow Billed Kite                                         Doublebanded Sandgrouse
To view all blog pages, click HERE