11 Perfect Days - Day 2
Submitted by Ingwe on Fri, 28/08/2009 - 10:33pm
11 Perfect Days - Day 2
Crocodile Bridge - Lower Sabie
I'm awake by 4am!  I tiptoe outside to put the kettle on and listen to the birds while I wait for it to boil.  The spurfowl is already calling,  along with a pearl spotted owlet, and the squeaky sound of the bats.  They sound rather like a bicycle pump when you are pumping air into the tyres.
Nothing is happening in the kettle department so I get my torch and head off to find the communal water heaters that are around the camp.  By the time I get back hubby is there wondering "where have you been?" and... the kettle is boiling.  He shows me the main switch on the stove
You have to flip that first before switching on the ring
We leave the camp as soon as the gate is open at 6am.  It's not quite light yet and there is a nip in the air.  I can't resist rolling down the window though - it smells wonderful out there!
The first thing I spot is a blob in a tree that I think could be a vervet.  It's not!  It's a giant eagle owl.  Wow!  Many of my best sightings I don't have a picture of - too dark, too slow, camera on the floor.  But all those sightings are firmly in my memory forever.  When the eagle owl turned his head and looked at me and blinked, it was almost a feeling of relief.  One doesn't realize how much stress one is under when living our daily lives.  Not necessarily bad stress, but stress nontheless.  For me, at this moment, I knew. I had arrived at my peaceful place and life was good.
We ran into a couple of Swainson's spurfowls starting their day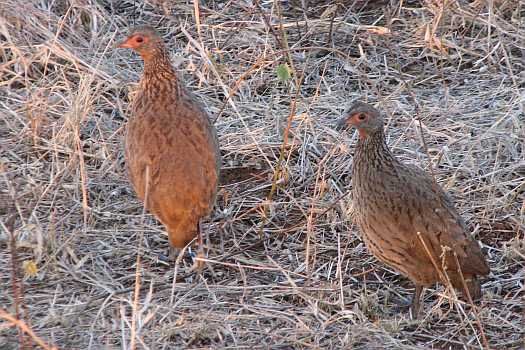 We enjoyed all the birds along the way, a tree full of grey go away birds having a meeting, magpie shrikes, lilac breasted rollers, white crested helmet-shrikes, burchell's coucal and many others.
Going around a corner I came to a hiccuping, juddering halt in the middle of the road.  Ellies!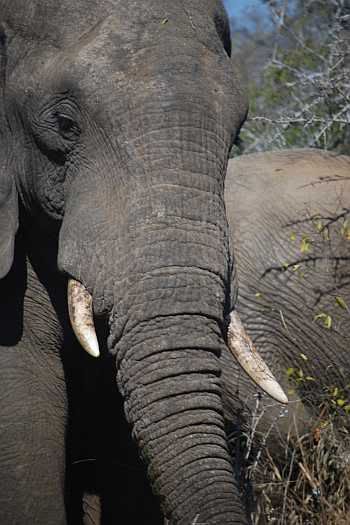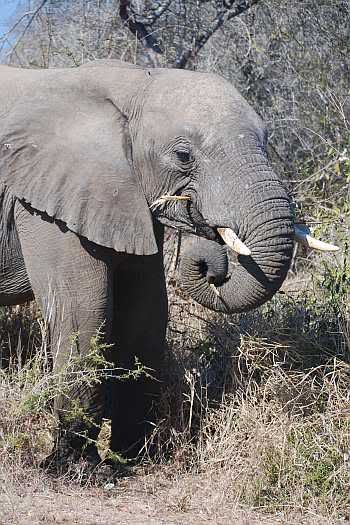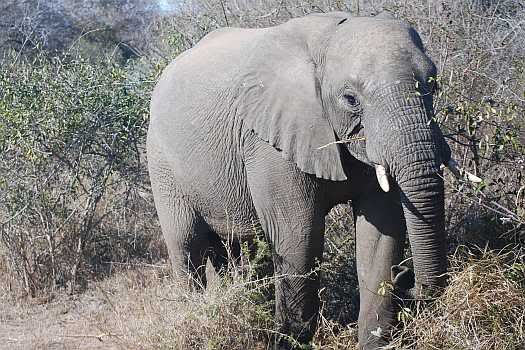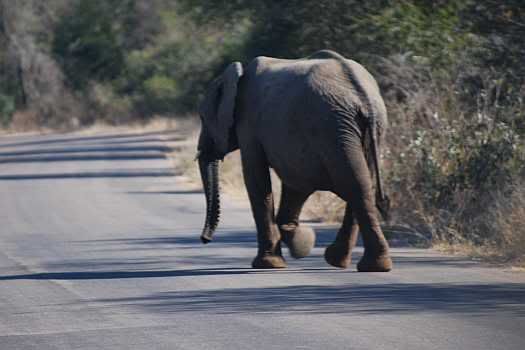 Hubby told me I should move along a bit because of this guy....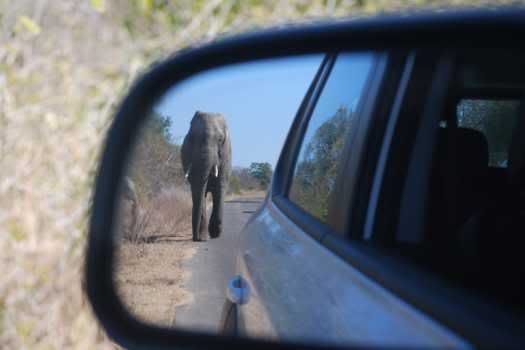 But, what about this guy?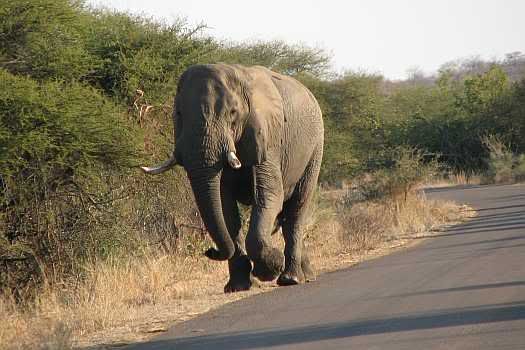 I had stalled the car because I had forgotton there was a clutch,  so I decided to sit tight.  Yikes.
None of the ellies were upset at all (I think,) but my heart was about to leave my chest as this ellie who had become the size of a small building, walked beside the car..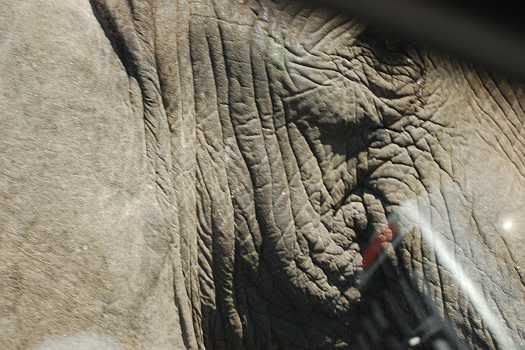 I remembered two things from Africam!
1 "Ellilujah" - Gerda
2 "And if it is an old big tusker like this.... you feel so lucky - he spent a moment of his life looking at you" - Fani
He wasn't old, nor was he a big tusker.  But I felt so lucky!  ... and scared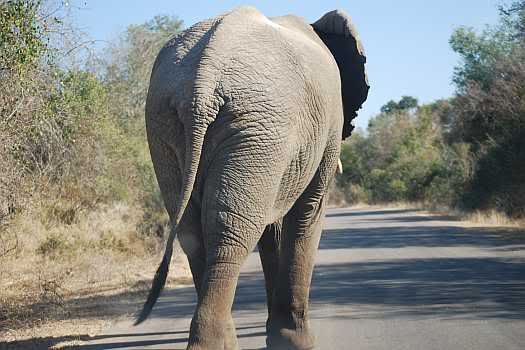 He crossed over and had a lovely time trying to reach a juicy part of this tree...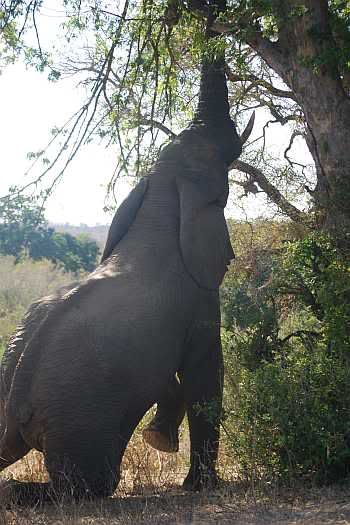 After that we decided we needed a pit stop.  Too much tea
We continued on to Lower Sabie to quickly pop into camp and run in to the loo, and out again.  We had to go to Skukuza in order to cash some travellers cheques at the bank and be back at Lower Sabie by 4pm.
This little bushbuck gave us a surprise ...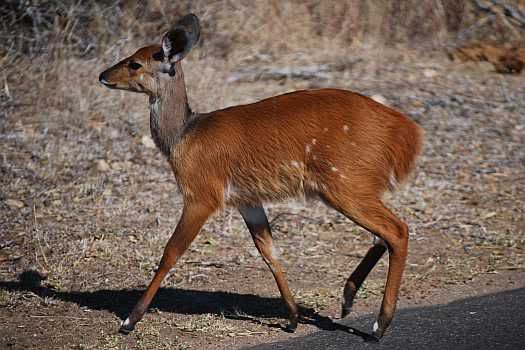 Next up, baboons.  They didn't look at us once as we stopped right next to them and took a pic.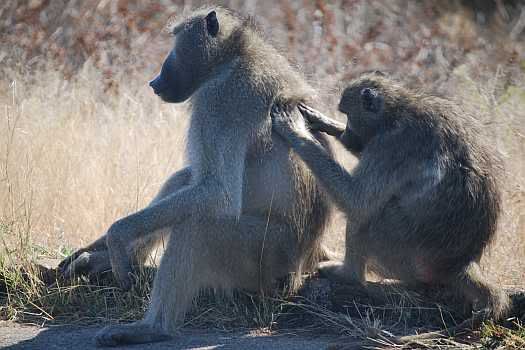 Ground Hornbill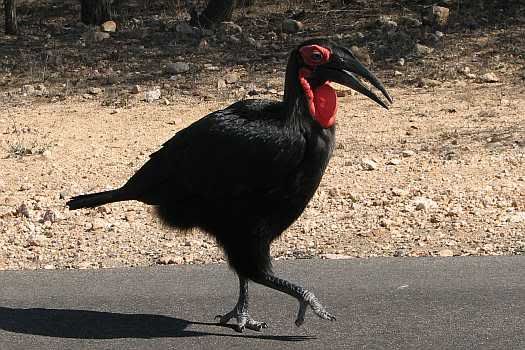 .... and a sleepy little Klipspringer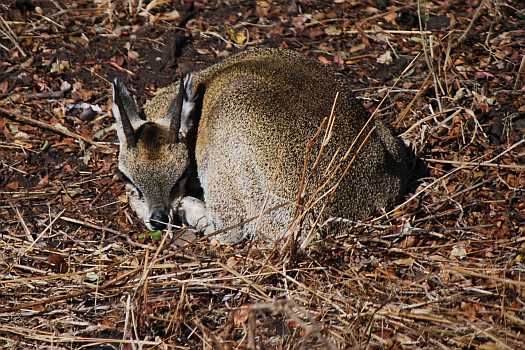 After arriving at Skukuza and cashing our cheques we went to have lunch at the cafeteria.  Under the lapa, with the bats!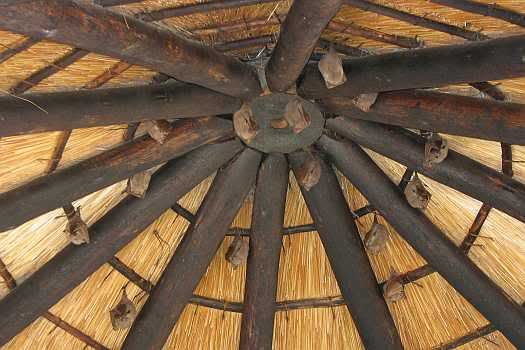 All the tables and chairs have been moved to the edge of the roof
After lunch we quickly went to Lake Panic (well, as quickly as life goes in the bush...) It is the most beautiful place I have ever been, I can't imagine why it is called Lake "Panic"
On the way we were remembering that last year we saw a hyaena, and as is our habit we looked at the spot.  And saw a hyaena!  A baby!  I only got one decent pic.  He had a drink, rolled in and ate some dung, and realized he was out there all by himself and disappeared into the long grass.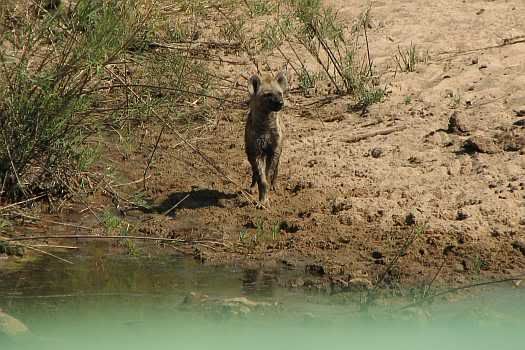 We didn't have long to spend at Lake Panic this time, but we knew we would be back later in the week.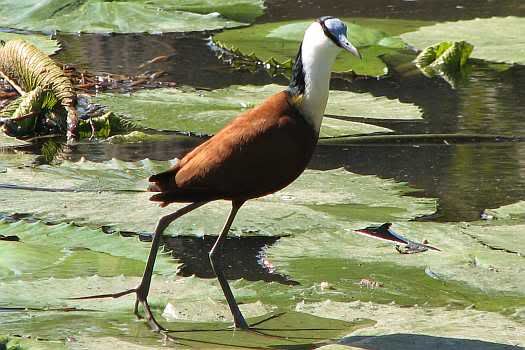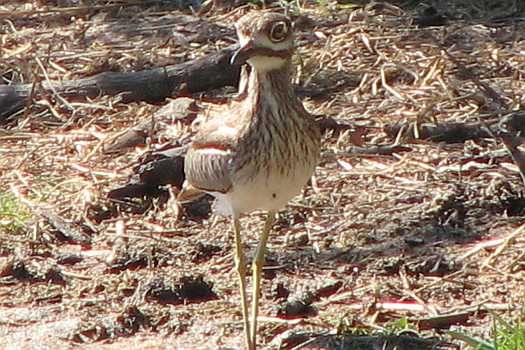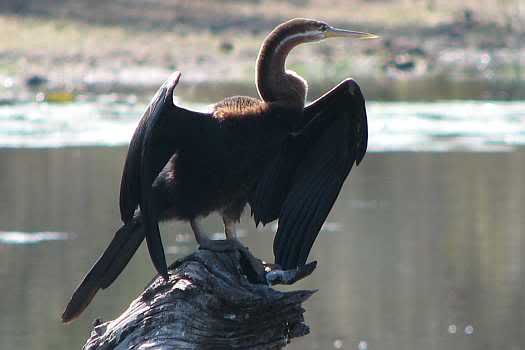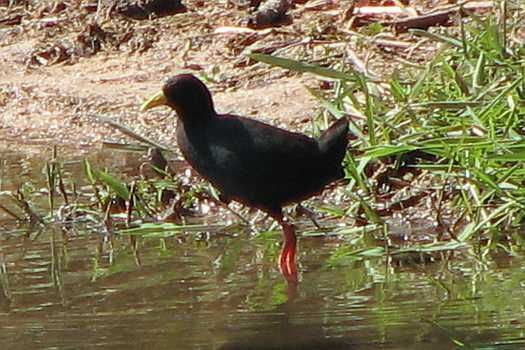 African Jacana, Water thick knee, African darter, Black crake
Off back to Lower Sabie and a quick cup of tea outside our hut.  Tea tasted delicious sitting on that bench!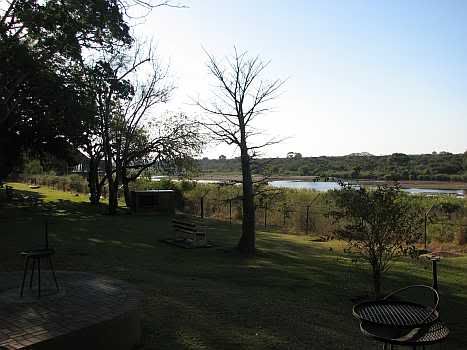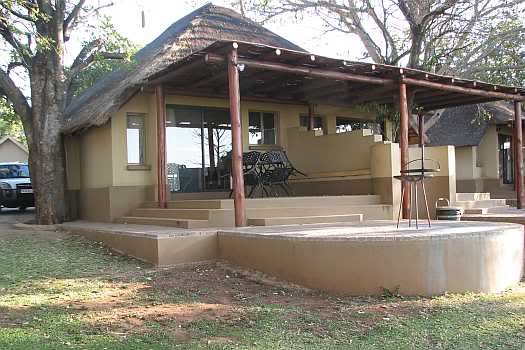 After tea we went to get on the truck to go on the sunset drive.  It was a lovely drive.  We saw giraffe, white rhino, zebras, jackals, and as it began to get dark, vultures - whitebacked and hooded, sillhouetted in a tree.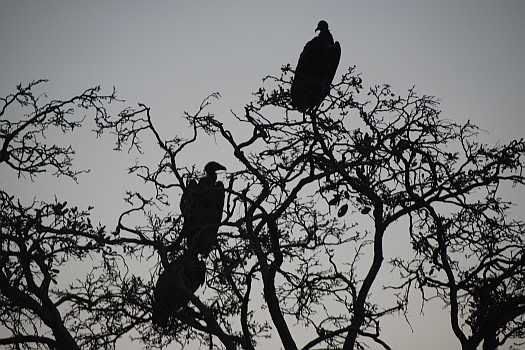 Last year on the same night drive we saw cheetah, leopard, and a very scary croc on the road so I didn't expect it to top that.  But, we had a wonderful sighting of a civet.  He was on a mission and didn't stay for long, but he was stunning.
So, we're tired and cold now and heading back to camp for supper and bed and the night is not yet over...
Finally.  As Philip our driver told us - "A Lie  on"
Yippee!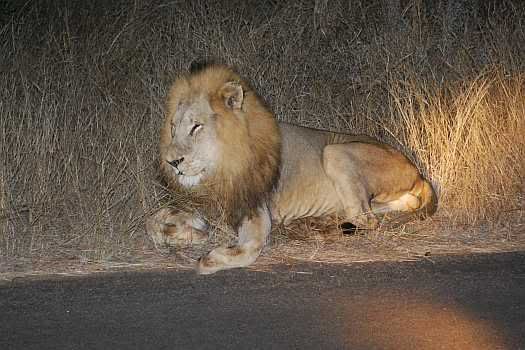 He was marking, and he roared until I thought my socks would fall off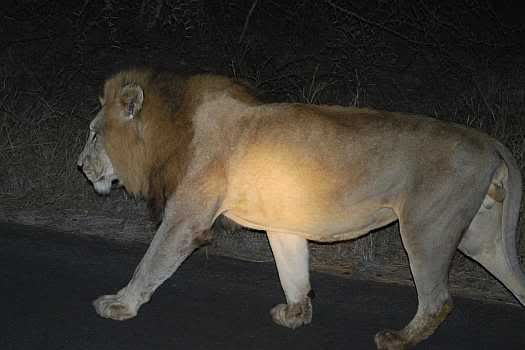 What a special ending to a wonderful day.  Back at camp for supper, a glass of wine on the stoep and bed.
Another perfect day.
v