11th Day - 26 August, 2010
Submitted by RogerH on Sun, 05/12/2010 - 2:47am
11th Day - 26 August, 2010
To view all blog pages, click HERE
11th Day – 26 August, 2010
We got another late start, since last night was our last night at Olifants, and we will be spending tonight at Lataba.  Hence, we had to get everything packed back into the car, check for stray items under the beds, etc. etc.
As we headed North on the H1-5, we noticed that we were traveling through a large area of tree destruction, for as far as we could see.  There are very large numbers of elephants in this area and it's obvious by looking around, what havoc they are wreaking on their environment.
I won't dwell on this subject, since there is a great deal of controversy, both there in S. Africa, and indeed, around the world, as to what can be done to both preserve the environment, and save the elephants.  As you can see from the pictures, many of the trees are completely uprooted, just to provide a single meal, then left to rot or become fuel for the frequent brush fires which burn throughout Kruger.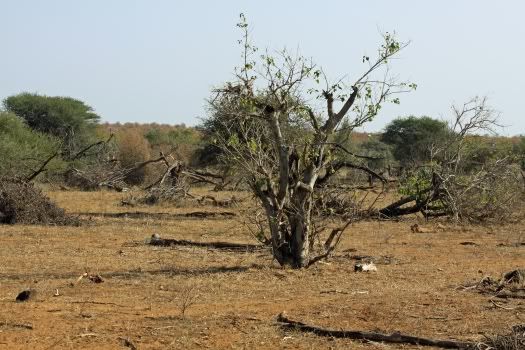 It is said that the elephant is the only creature, other than man, known to destroy his own environment.  After spending some time in Kruger, viewing the damage and talking with both rangers and conservationists, I now have a much different picture of the problem than I had before I went there.  The sensationalist media coverage that we see in this country doesn't begin to explore the complexity of the problem.  Boiled down to the simplest terms, there are too many elephants occupying too small an area.  It is my fervent hope those charged with the stewardship of Kruger National Park will have the wisdom to come up with the best solution, for the Park, the elephants and the planet.
Though for the most part we stayed off the paved roads, on this morning we wanted to get fairly close to Letaba, where we would be spending our last night in Kruger, so we headed directly up the H1-5.  We were rewarded with a fair amount of game, however.  This Crocodile was just climbing out of the water of the Mfuleni River. 
There were waterbuck grazing nearby, and alongside the road, this Blacksmith Lapwing seemed to want to race us.  He lost.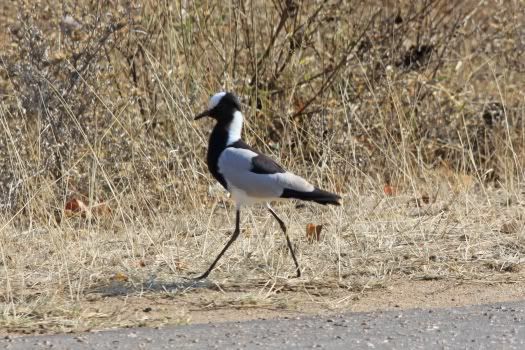 There were the usual contingent of giraffes in the area,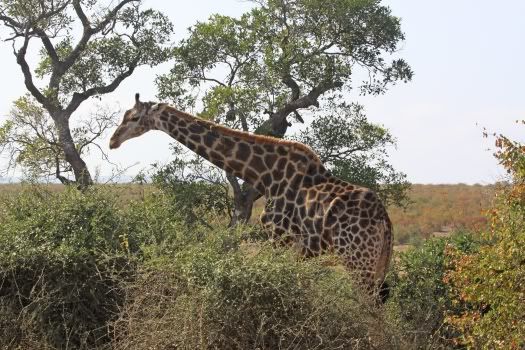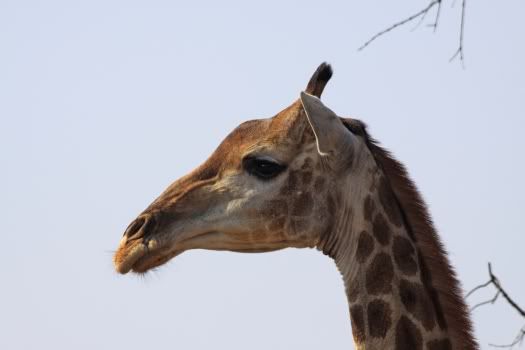 as well as this Elephant, just strolling along the road.
As we watched him, he stopped for his breakfast.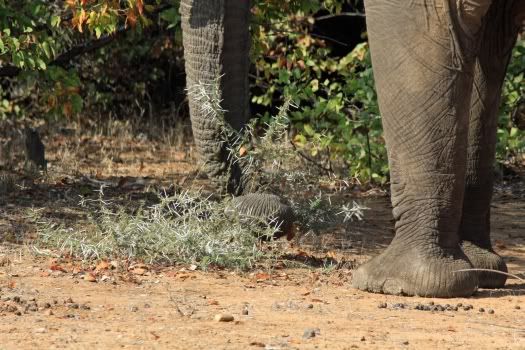 Note what he is picking up to eat, in the third pic.  A thorn bush!  The thorns are perhaps 2 – 2 1/2" in length and as stiff as a nail!  Visitors are warned not to run over piles of elephant dung in the road, as it will probably contain some of these thorns, which can very easily puncture a tire!
I must have tried for 20 minutes to get a decent picture of this Bearded Woodpecker,
but he simply moved around too quickly, and was too far away.  Though this isn't a great picture, it was far and away the best of the 30 or so that I took!
After passing by the Letaba Camp, we came to the Letaba River crossing on H1-6.
We were tiring of "life in the fast lane" (paved road) and were happy to get back onto the dirt, where there were generally less cars/people, and more critters.  This elephant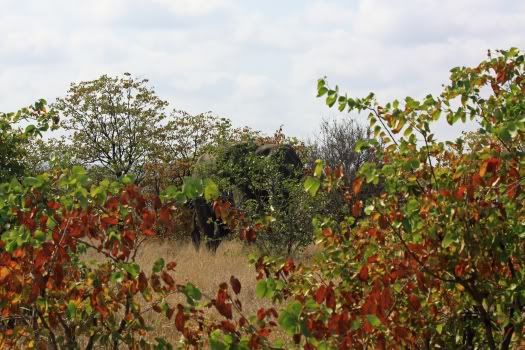 was "hiding!  It's hard to believe, but you can drive by an animal which is half the size of a house, and 50 feet off the road, and miss it!
At Matambeni Bird Hide, we observed what appeared to be a Hippo Day Care,
a couple of adults, semi-dozing, while keeping a watchful eye on a group of juveniles who were busy frolicking in the water.
Across the river, and probably 5-600 feet away, Jen saw some movement on the hillside.  After much searching with the binoculars, and finally with the camera lens, we spotted this leopard
making its way down toward the river.  We never did see it reach the water.  Jen and Chris both said that I was too impatient and eager to get on to the next sighting.  They're probably right.
After leaving the hide, we spotted this Great Egret
fishing in a quiet pool, alongside a virtual "pig pile" of hippos.
Overhead, a soaring Fish Eagle
was looking for his lunch.
This mother and baby hippo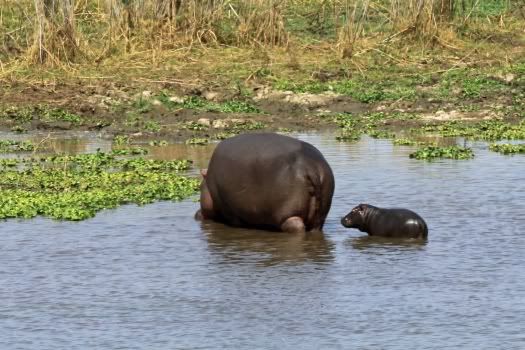 were off to one side by themselves.  Awww……
A little farther along, we had a nice sighting of a Crested Barbet
perched on the side of a tree.
This Leopard Tortoise was right by the road.
We were amazed at how fast they can move when they want to!  We now understand how the tortoise beat the hare!
After lunch, we once again headed up along the nearly dry Letaba River bed.  This pair of Klipspringers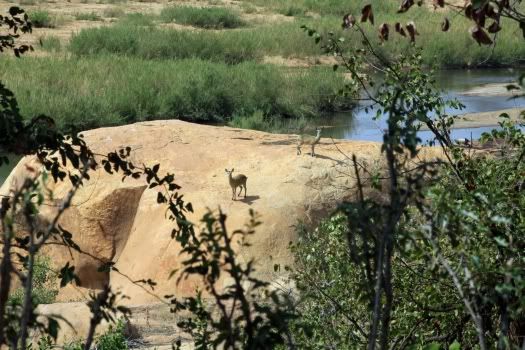 were perched atop a huge rock outcropping over the river.  Although they were 100 yards or more away, they were very much aware of our presence, and watching our every move.
All rivers and streams are wonderful for bird watching, and the Letaba is no exception.
This Fork Tailed Drongo posed for us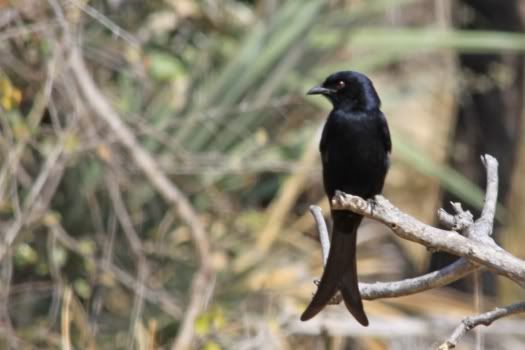 and a Water Dikkop watched us from the weeds beside the road.
No birding session would be complete without seeing at least one lovely Lilac Breasted Roller.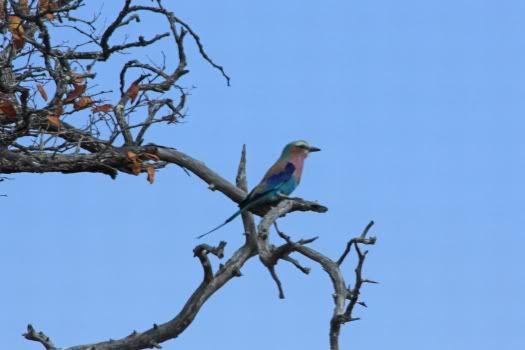 Back on the paved road, headed back to Letaba, we once again had to wait while these Ellies made their way across the road.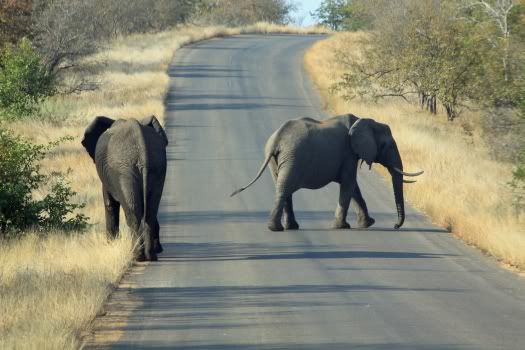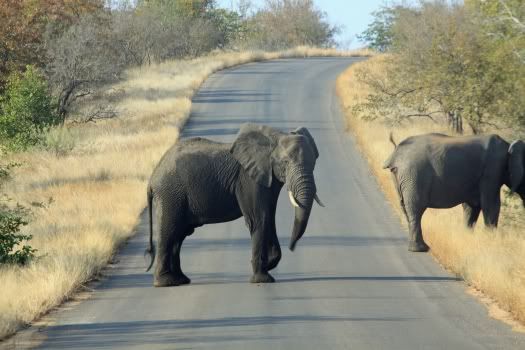 A bit further on we spotted this little bird, foraging in the dried grass.
We weren't able to identify him, but, thanks to Janine and her friend Gisela, we finally learned that he is a Sabota Lark.  Thanks, ladies!
When we got back close to Letaba, we still had an hour or so before we had to be in the camp, so we headed south a ways on H1-5.  Gerda had told me to check out culverts under the road for Hyena dens.  Sure enough, we found these two youngsters who had just come out of a culvert.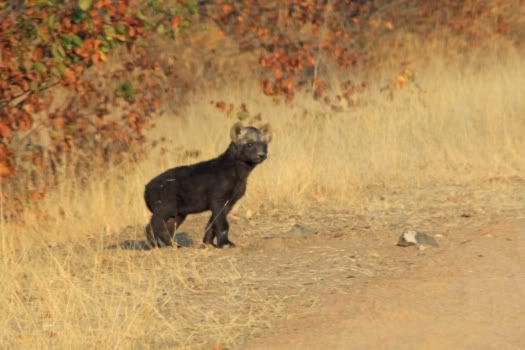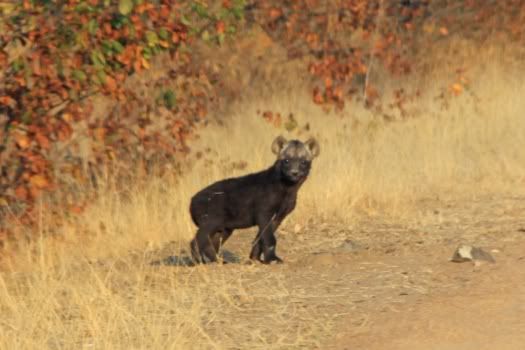 One was a bit shyer than the other, but we still got a look at him, peeking through a bush that he was trying to hide behind.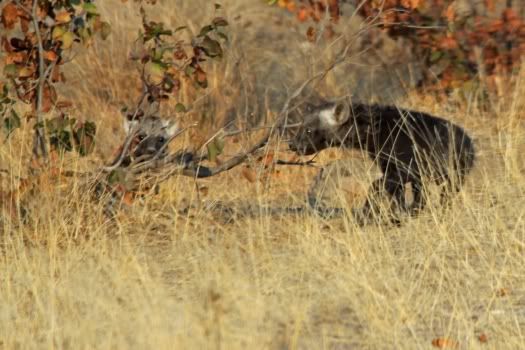 What a fantastic sighting!  Baby "anythings" are fun to watch!
We checked in to camp about 5:30.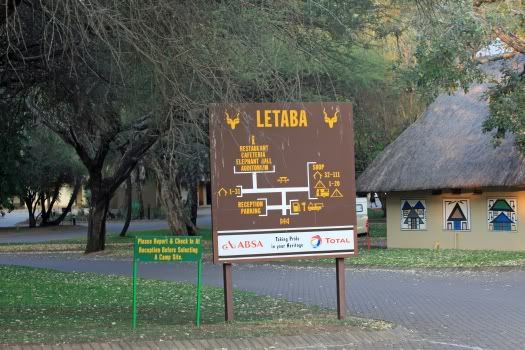 There was a lovely little garden of what we call Snakeplants, here.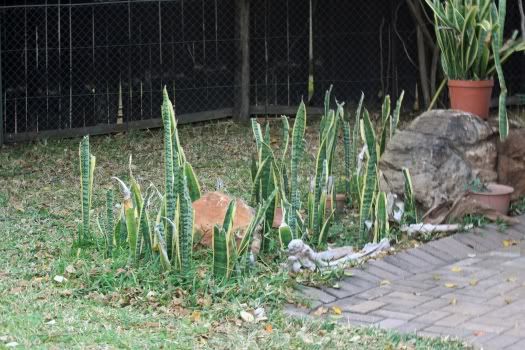 I don't know what they are called in S. Africa.  Janine?
Letaba has a wonderful system of Mosquito control.  They have very large bat houses which contain literally hundreds of bats.  Jen and Chris saw one empty out at sunset, and it was an awesome sight!  Sorry, no pictures, but next year we will make a point of being there, cameras in hand, when they come out for their night's hunting.
This pair of Black Eyed Bulbuls was in the bushes along the fence line, near our cottage.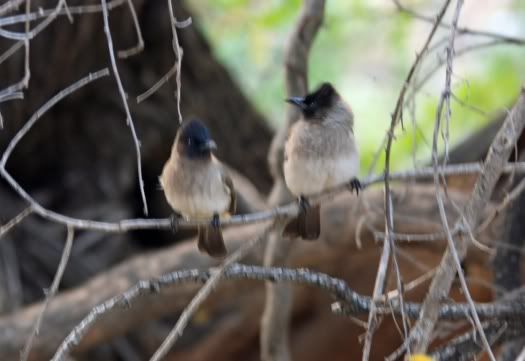 Sorry, no sunset today.  I mean, I'm sure there was one, we just didn't see it!
THE DAY'S SIGHTINGS – ANIMALS
Crocodile                                        Waterbuck
Giraffe                                             Elephant
Zebra                                               Hippo  
Leopard                                           Leopard Tortoise
Klipspringer                                    Baby Hyena
THE DAY'S SIGHTINGS – BIRDS
Blacksmith Lapwing                      Bearded Woodpecker
Great Egret                                     Fish Eagle
Glossy Starling                               Crested Barbet
Forktailed Drongo                         Water Dikkop
Lilac Breasted Roller                     Sabota Lark
Black Bellied Bustard                    Black Eyed Bulbul
To view all blog pages, click HERE