12th Day - 27 August, 2010
Submitted by RogerH on Tue, 21/12/2010 - 4:52am
12th Day - 27 August, 2010
To view all blog pages, click HERE
12th Day – 27 August, 2010
Sigh……………..this will be our last day at Kruger.  After two weeks of being away from home (and our new puppy!) we are keen to get back, but there's a sadness about leaving this beautiful part of the world.  The good news is, we've already made up our minds that we are coming back.  As a good friend said, before we left, "you can't go to Africa just once!"
Jen was out and about the camp early and found this Mourning Dove and a Natal Francolin
along with the camp's resident Bushbuck.
Our flight from Phalaborwa back to Johannesburg wasn't leaving until 6:00 in the evening, so we had pretty much all day to enjoy Kruger.  The airport is no more than 15 minutes from the Phalaborwa Gate.
So we left Letaba behind and set out taking a leisurely drive across S131 in the general direction of Phalaborwa.   Game was scarce, but after turning north on S133 we came across a Double Banded Sandgrouse
and a white crowned shrike.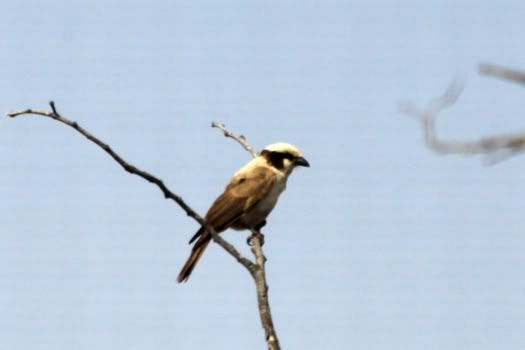 Just a bit further up the road, this Ostrich
was moving through the heavy bush, parallel to the road, but Jen managed to get this one half decent photo of him.  They are so incredible to see in the bush, in the flesh.  A bird that big doesn't seem real!
Just after turning onto H14 this Black Crowned Tchagra was sitting on a branch over the road.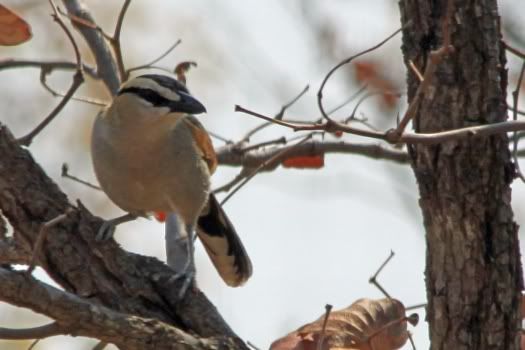 A few minutes later, we were somewhat taken aback when this VERY large bull elephant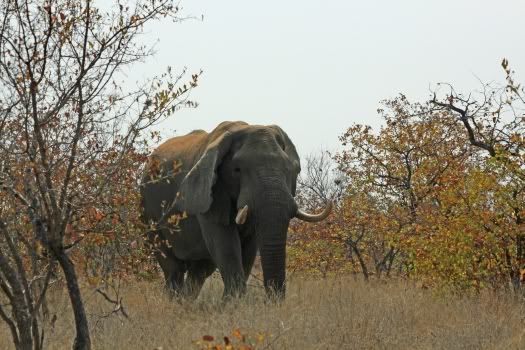 came out of the bush, headed directly towards us.  But he was peaceful enough and once he got close, he turned broadside to us and gave us a very nice photo op.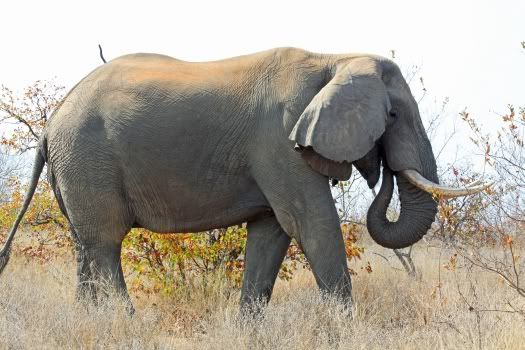 At a pullout overlooking the Shivulani River we stopped and watched this hippo watch us for a few minutes.
We kept hoping he would do something photogenic, yawn, charge the car, anything.  But he didn't, he just watched us.
While we were watching the hippo, a Black Crake came by.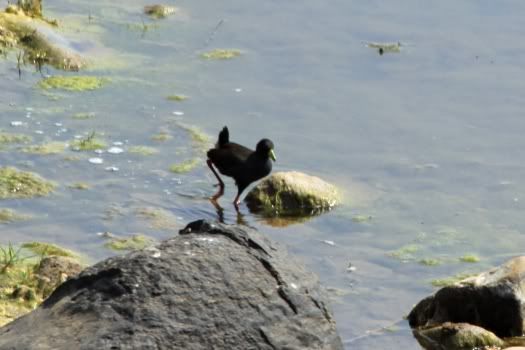 Funny looking little bird, about 8" long, with long red legs!
There is some amazing scenery along this route.  This stream bed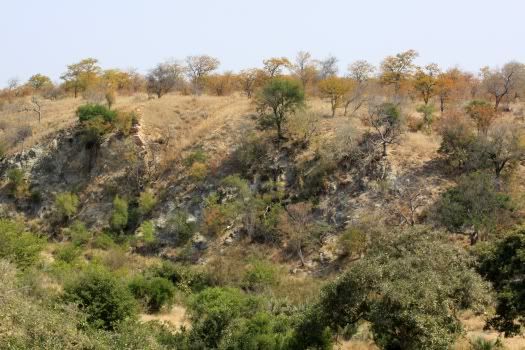 probably runs full to the top of the banks during the rainy season, but at this time was quite dry.  You can tell, though that there's water not far down, by all the lush greenery.
On the H14 loop, near the Ngobeni Water Hole, we saw this magnificent African Fish Eagle.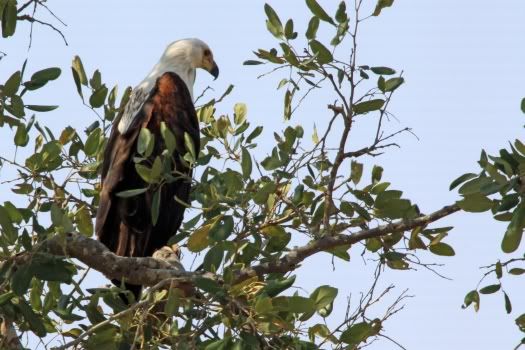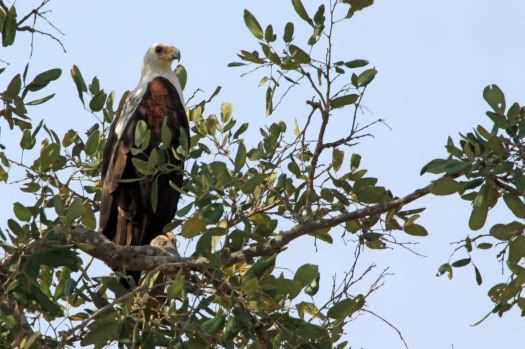 Just down the road, we came across this herd of Cape Buffalo,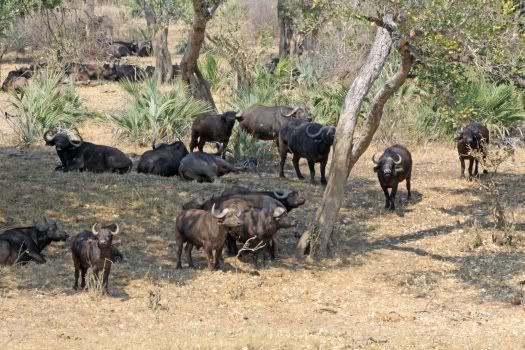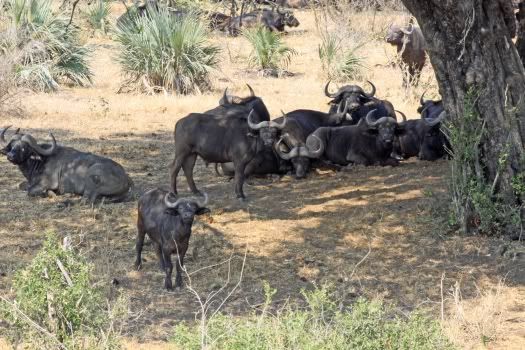 who were trying their best to stay cool in what little shade there was.  Most of the trees don't have their leaves back yet in August, so shade is a relative term.
In this group was one, which though I'm told is not rare, but it was the only one we saw.  A brown one.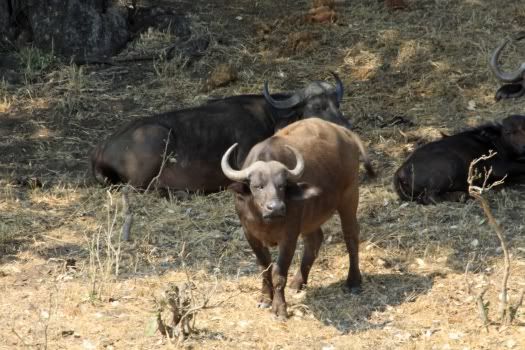 Normally they range in color from dark grey to black.
I, like Gerda, seem to have a fascination with trees.  (though most of hers seem to have leaves on them.)  This one with a hole through it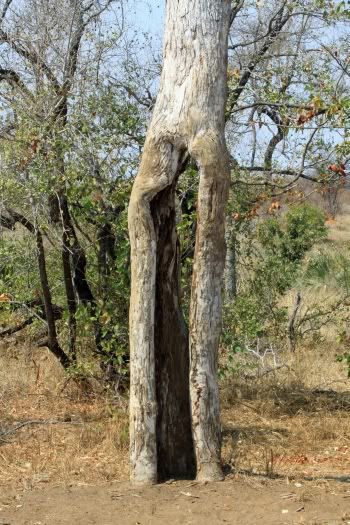 probably caused by fire caught my fancy.
Next we traveled through miles of rugged terrain with almost no wildlife, but I'd never seen so many termite mounds!  I'm sure that there were plenty of Mongoose around, but in the heat of the day they were staying out of sight.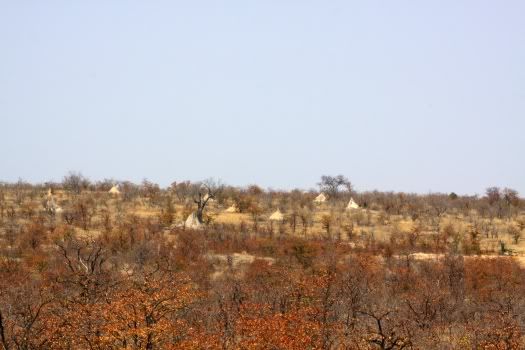 There were also these pointy little hills that you can see from miles away, because the general terrain is so flat.
It reminded me a lot of driving through southern Arizona, where you will see a mountain or a plateau off in the distance, and you drive and drive and drive, and never seem to get to it!  We did, however, finally get to this one.
After crossing over the H5, major east/west road, we followed the Mashangani River, in route to Sable Hide.  We stopped to view this group of Impala all drinking in a line.

Don't they look rather like a bunch of McDonalds signs?
While we were watching the impala, a man in a somewhat official looking vehicle drove up and we started talking to him.  It turned out he was a private contractor/researcher, working for the Park Service studying and tracking diseases, specifically in Impala.  Since they are by far the most plentiful prey animal, when they contract a disease, it becomes a great concern, due to the large numbers of predators which feed off of them.  When we commented that he had a great job, he laughed and said that sadly he had to spend 3 weeks out of 4 in the lab, but that he thoroughly enjoyed the 4th week.
He went with us to Sable Hide, where he provided a wealth of information about what we saw there.
We had no more than got there and settled in, when this family unit of Elephants approached the water from the other side.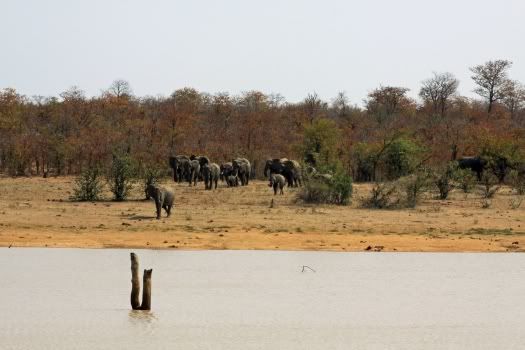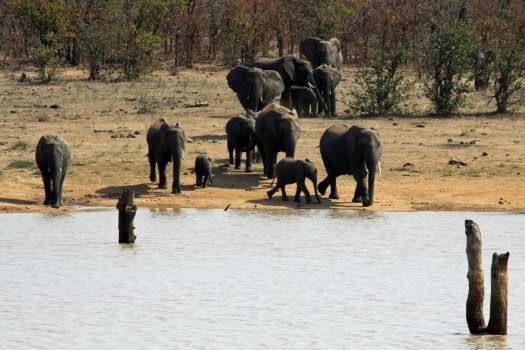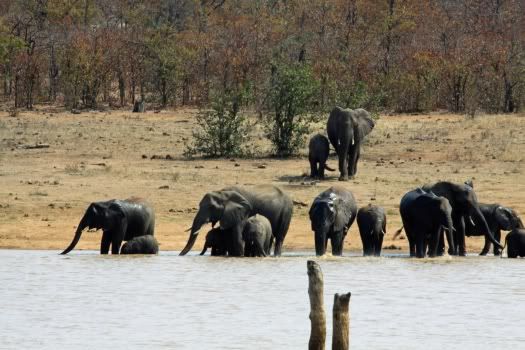 The Matriarch with her adolescent calf can be seen to the rear of the 2nd and 3rd pictures, making sure that everyone was behaving themselves.  In the next picture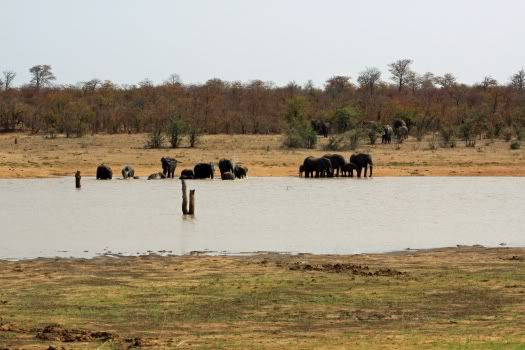 she has joined the others to drink.  Back at the edge of the bush, another group can be seen, standing, waiting………………the Matriarch of the first group acknowledges them and invites them to join the pool party.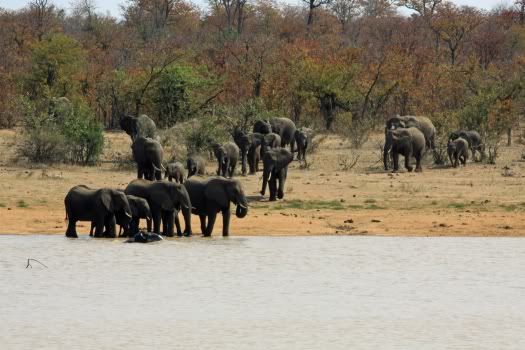 They then came ahead and approached the water, though they did stay somewhat to themselves, off to the right.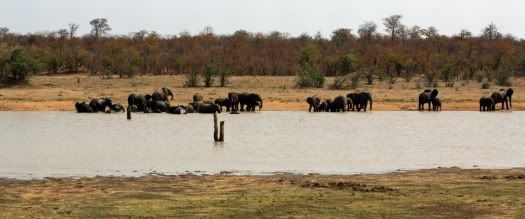 After a little while of the adults drinking and the kids frolicking in the water, the two Matriarchs called their two clans and they headed back into the bush. 
Note the solitary bull off to the right, watching all of this taking place, and no doubt scoping out the two groups for females in estrus.  Later, the bull came down to the water for a drink.
Now then…………if we had seen all this, but had not had our new found friend to explain what was happening and why, I doubt we would have picked up on the whole interaction between the two families.  We would have, none the less enjoyed the sighting.  Just watching the young ones playing and spraying each other with water was a riot and made it all worthwhile.   But the fact that he was there made it one of the most memorable sightings of our whole trip.  Maybe as memorable as the elephants mating!
We then left and headed out to Phalaborwa Gate.  At the gate, we saw our last critter, this White Crowned Shrike.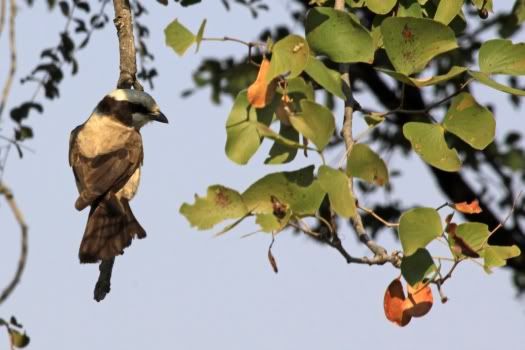 This lovely hedge of Bougainvillea would leave a lasting memory of the wonders of the last 11 days, as we went out through the gate.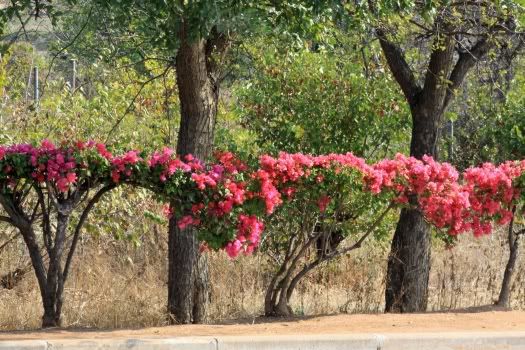 Then it was off to the airport, turn in the car and catch our flight back to Johannesburg!
THE DAY'S SIGHTINGS:  ANIMALS
Bushbuck                                        Elephant
Hippos                                             Cape Buffalo
Baboons                                          Impala
THE DAY'S SIGHTINGS:  BIRDS
Mourning Dove                             Natal Francolin
Double Banded Sandgrouse
White Crowned Shrike                 Ostrich
Black Crowned Tchagra                Black Crake
African Fish Eagle                         Grey Go Away Bird
Lilac Breasted Roller                     Long Tailed Shrike
To view all blog pages, click HERE