13th Day - 28 August, 2010 and P.S.
Submitted by RogerH on Wed, 22/12/2010 - 4:53am
13th Day - 28 August, 2010 and P.S.
To view all blog pages, click HERE
13th Day – 28 August, 2010
After returning to Johannesburg and getting a good night's sleep at our hotel, we checked our luggage at the hotel, and took the shuttle back to the airport.  We had arranged to meet Janine, one of our Africam friends, in Sandton, at the Sandton Mall, for brunch and some shopping.
We took the Gautrain (pronounced how-train)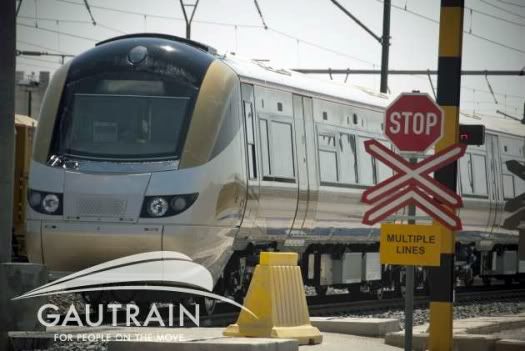 from the airport to the Sandton Mall station.  The Gautrain is a 160km/hr (99mph) train which has only been running since last spring.  The section from the airport to Sandton was completed, barely in time for the World Cup Soccer tournament.  As soon as we reached the top of the escalator, there was Janine, waiting for us.
Our first stop was Nelson Mandela Square which is immediately adjacent to the Sandton Mall.  The square itself is surrounded by little indoor/outdoor coffee shops and eateries.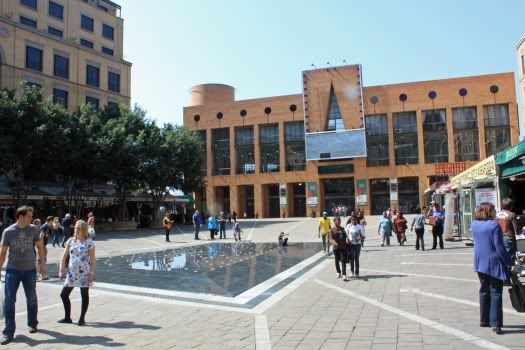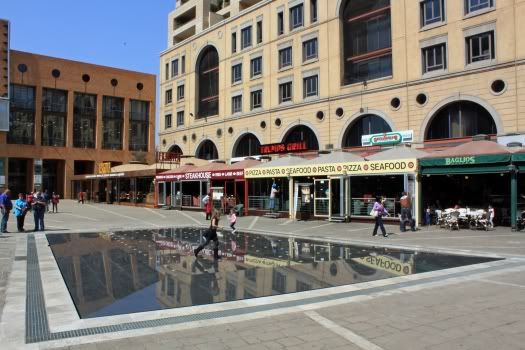 At the mall end of the square stands a very impressive, 20 ft. tall bronze statue of Nelson Mandela.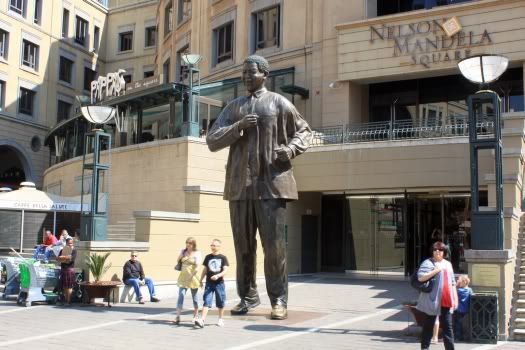 Janine and Jen took off, immediately, looking for one of those things that women are always looking for, (and which, if you remember, were in short supply within Kruger National Park) leaving Chris and I to fend for ourselves.  Soon they were back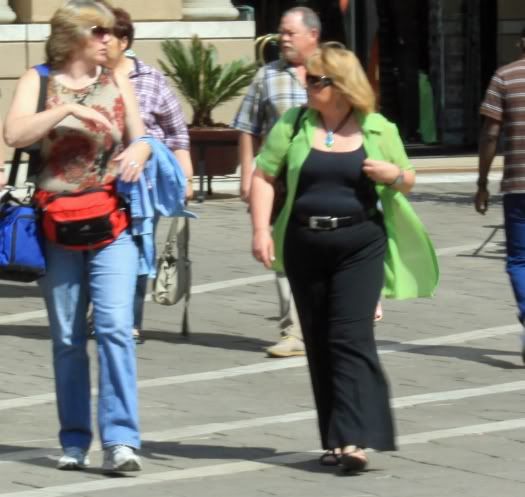 looking happy as only two ladies in a shopping mall can look! 
We had a bite to eat, visited with Janine, then wandered through the mall and did a bit of shopping for gifts for friends and family back home.  Then, before leaving, we had to do the picture taking in front of Mr. Mandela's statue.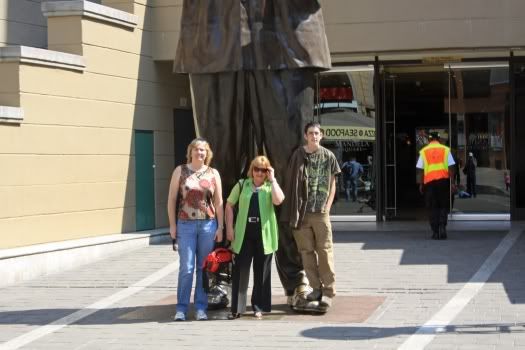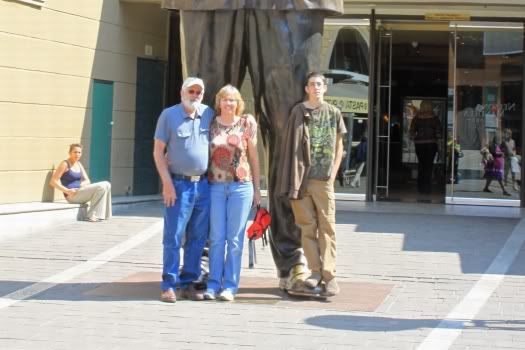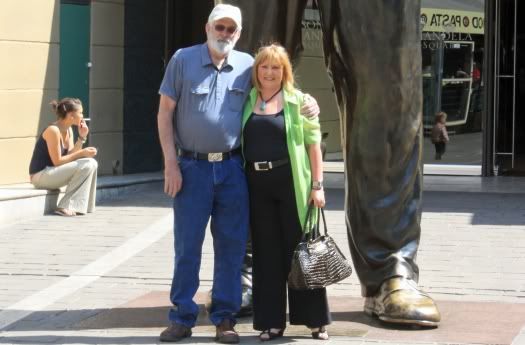 Then, after a visit that was cut too short by an airline schedule, Janine drove us back to our hotel where we picked up our bags and headed for the airport.
I won't say much about the flight home, except to say that it was much too long, much too cramped and not much fun to contemplate doing again, next year.  But, WE WILL!!
We hope you've enjoyed this, and REALLY hope that some of you may be inspired to do it yourselves.  You'll never regret it!  (Unless the lions get you……………but they won't.)
Now I just want to add a little Post Script, to thank some of the people who quite literally made the trip not only possible, but an astounding success.
First of all, my dear friend of nearly 50 years, Bryant Page, who has just celebrated his 90th birthday.  Bryant has been to Africa more times than I can count, usually doing it the hard way.  Sleeping in a tent, on the ground, and wondering what that was that just rubbed up against the tent.  And hoping that the guards who were watching the perimeter of the camp were still awake.  For years he kept telling me, "Go!  You just have to make up your mind and go!"  I finally did!  Thank you, Bryant.
 Then Christy Lawson, who kicked me in the butt and got me going.  I had been planning to join an organized group to go and tour S.A., including Nkorho Bush Lodge.  But that fell through, and I'd about resigned myself that I just wasn't destined to make the trip.  One night in August of '09 Christy said, "Hey, are you still planning to go to Africa?"  I replied that I'd love to, but I didn't know where to start.  She jumped on that like a cat jumping on a goldfish, flopping on the rug.  "I'll show you where to start"  "We're not going to be able to go next year, so I'll help you plan your trip, and that way, I'll get to "go" with you."  She then provided me with all kinds of good info, what to book, when to book, what things had to be done right away, which could wait.   My inspiration!  Thank you, Christy.
Then, my international friends, Penny from the U.K., Gerda from Belgium and Janine from S.A.  All had been there many times and all graciously shared their knowledge, providing lists of what to bring, what to buy, where to get things there, where to look for the baby hyenas, and on and on.  Thanks to the three of you, when we drove out of Nelspruit Airport in the rental car, we were 95% prepared for the great adventure that lay before us.  Thank you, Penny.  Thank you, Gerda.  Thank you, Janine. 
And lastly, all our other friends, some from Africam, some not, who followed our trip and this blog.  Thank you all.
Roger, Jen and Chris
21 December, 2010
To view all blog pages, click HERE