1st Day - 16 August, 2010
Submitted by RogerH on Thu, 09/09/2010 - 12:17am
1st Day - 16 August, 2010
To view all blog pages, click HERE
After nearly 23 hours of flying from Boston to Johannesburg, we stayed overnight, then continued on a local flight to Nelspruit where we picked up our rental car.  It took us a couple of hours to get on our way, since we needed to acquire a cell phone.  (Ours, of course, wouldn't work in S.A. since they use a different system.)  That turned out to be somewhat of an ordeal since the store's computer system was down, but we finally got it, got our minutes, and were on our way.
A 90 minute drive (on the wrong side of the road – eek – fortunately Jen was driving) through a rather hilly and dry landscape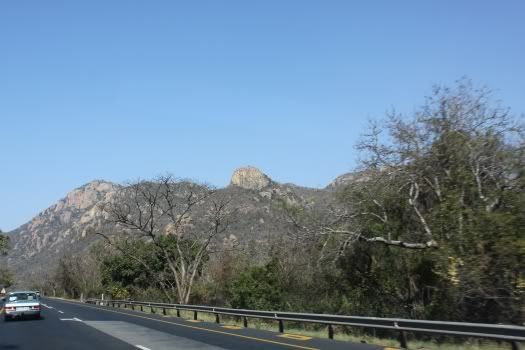 Brought us to Komatipoort, which is only a few km. from the Crocodile Bridge gate into Kruger National Park.  There, Jen and Chris spent a frustrating hour or so in the Spar Foodstore, shopping for provisions.   They found very little that was recognizable by brand name (of course) and lots of things were called by something other than what we're used to.  Also, it was organized very differently than U.S. grocery stores.  They did eventually find enough to keep us alive for a few days, as well as a small cooler and ice, and a Thermos for morning hot chocolate.  As for me, I stayed with the car, and people watched.  I got the best of that deal!
A very short drive brought us into the park and to Crocodile Bridge Camp.  While I was inside registering, Jen and Chris passed the time photographing our very first Kruger wildlife,
B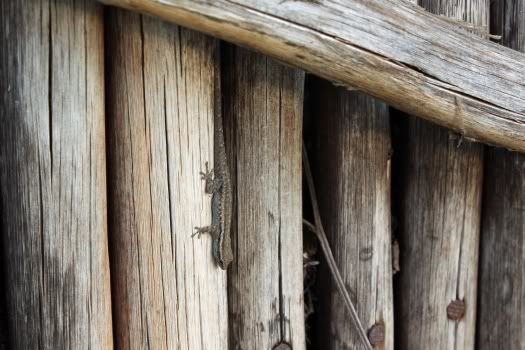 An unidentified lizard, probably a Gecko?
We were soon settled into our bungaloo,
which was situated on the perimeter of the camp, and outside the fence, on the hillside across the way, we spotted a small herd of waterbuck.
We sat on our patio and had sundowners (Amarula, of course) then barbecued a steak on the charcoal grill.  Through the course of the evening a lone hyena patrolled the perimeter fence, looking for scraps.  We took the rules seriously and didn't provide any, but I'm sure that others gave in, as he kept coming back throughout our 3 day stay at Crocodile Bridge.
We all fell asleep, wondering, "What will tomorrow bring?"…………………………
To view all blog pages, click HERE