2011 Safari to Kruger and Nkorho. Blog Part 1 - Elephants at the Kruger Park
Submitted by Stokie on Fri, 16/09/2011 - 7:37pm
2011 Safari to Kruger and Nkorho. Blog Part 1 - Elephants at the Kruger Park
In September 2011 my wife and I were fortunate enough to have another safari to the Kruger National Park (KNP) and then Nkorho Bush Lodge.  This follows on  from our safari in 2008 for which I made a report here.  I have made a basic trawl through the 2000 photos that I took - no-one wants to look through that number!!  I've picked out the best for these blogs.
Having been to many of the camps in the South of the KNP in previous years we decided to concentrate on the camps in the North of the KNP (Letaba, Shingwedzi, Punda Maria, Mopani, Olifants and Satara in that order).  We were expecting it to be hotter and drier than the South and to see more elephants and birds and fewer big cats and that is how it turned out.
We entered the KNP on 28th August via Phalaborwa Gate and drove to Letaba Camp. On our way we saw lots of general game and elephants particularly these two young boy elephants having a good push and shove at Shivulani waterhole:
They had great fun as can be seen in the videos here and here.
The next day we saw many elephants close to the road:
On the S47 sand road we saw a herd of 18 elephants crossing the road here and others walking up the road here.
Whilst we were in the North of the KNP we looked out for the so called "Big Tuskers" those older elephants with large tusks.  This one had just one big tusk.  The left hand one had been broken off: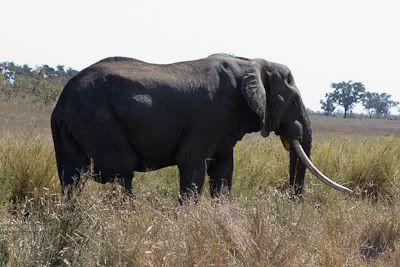 On the next day this big tusker still had both of his tusks:
Elephants browse and graze eating for much of each day:
This elephant seemed to have an interesting technique for stripping the leaves off the trees here.
Elephants are great water drinkers including these young elephants here.  Sometimes they even enjoy standing in the water:
We loved seeing so many elephants in different settings.
More of the blog soon.
Charles