2011 Safari to Kruger and Nkorho. Blog Part 10 - Leopards near Nkorho Bush Lodge
Submitted by Stokie on Tue, 20/09/2011 - 7:47pm
2011 Safari to Kruger and Nkorho. Blog Part 10 - Leopards near Nkorho Bush Lodge
Nkorho is famed for having several territorial female leopards in the area and we saw five of them during our stay.  On the first night we saw Kwatile and her cub up a tree with a kill with three frustrated hyenas below trying to get the cub to fall out of the tree or to get them to drop the kill.  They were unsuccessful on both counts.
Kwatile: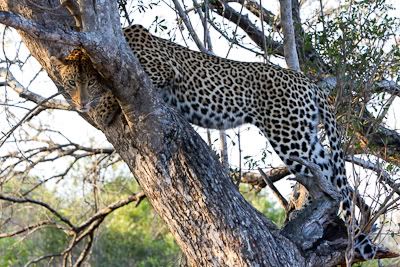 Kwatile and cub:
Kwatile's cub
The next morning we saw Uthandi hunting in the bush:
and then the young leopard Moya hunting: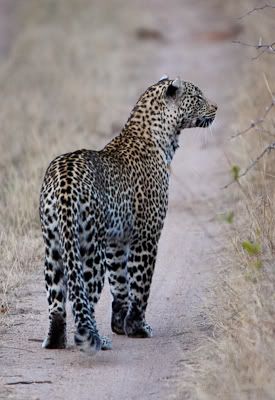 The next day we had an amazing sighting of Karrula who was standing by the roadside as we came around the corner.  She was hunting a Steenbok:
The Steenbok ran off into the bush and Karrula briefly came and sat by our Landie using the engine noise to mask her approach.  She was very close - just 2 metres away and looked into my eyes and stole my heart:
On our last evening we caught up with Salahaxe resting on the river bank and then walked along it to settle by our Landie.
I had another close experience of a leopard as she to looked into my eyes.  Now I have a problem is it Karrula or Salahaxe for me ...... can I keep my memories of both?
I hope you have enjoyed these blogs.  We had a great time in the Kruger National Park and Nkorho Bush Lodge.  I hope it won't be long until next time.
Charles