2011 Safari to Kruger and Nkorho. Blog Part 2 - The northern camps and birds in the Kruger Park
Submitted by Stokie on Fri, 16/09/2011 - 8:51pm
2011 Safari to Kruger and Nkorho. Blog Part 2 - The northern camps and birds in the Kruger Park
On a Sunset Drive from Letaba we saw many wonderful birds including this African Fish Eagle:
After Letaba we drove North to Shingwedzi Camp.  As ever we got up at 5.30am to be out of the camp gates at 6am.  This time of day often gives the best views of game and the light is fantastic for photography.
One of our best views was of Scrub Hares.  We have seen these many times on night drives frozen in the truck headlights and then scampering off into the bush.  These hares were enjoying their last grass of the night in the cool morning air: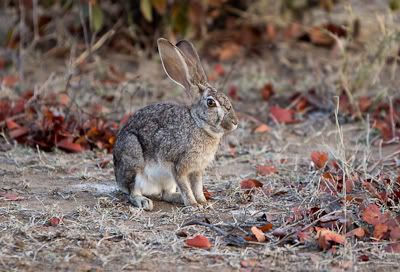 At Kanniedood Bird Hide we saw this wonderful Saddle-billed Stork resting on his knees - see how his legs are in front of him:
Just north of Mopani Camp we crossed over the Tropic of Capricorn celebrated by a line across the road.
On a trip out of Shingwedzi Camp on the S52 we saw two fantastic White-Fronted Bee-Eaters:
I'd like to claim great skill for the next picture but it was just luck that I pressed the shutter as the Bee-Eater took off:
It was interesting to see so many Communal Spider nests and webs.  About 1000 spiders live together in these nests strung up on the bushes: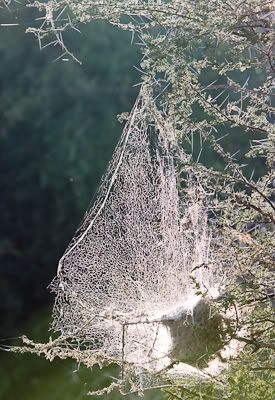 At Babalala Picnic site we saw this Black Shouldered Kite: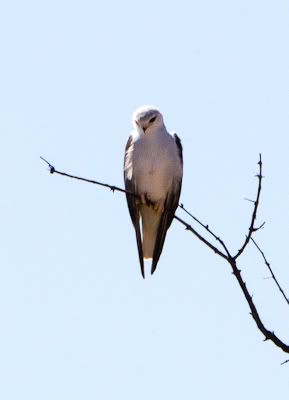 The northern most camp that we stayed at was Punda Maria.  A very small camp in a delightful setting.  By now it was very hot and we enjoyed the swimming pool very much.  In the evening I went out for a drive around the north of the camp.  It was very hilly here with many Baobab trees to be seen on the hillsides.  In one case I counted over 20 in one area - quite exceptional:
Also in this area I saw Nyala Antelope.  The bulls are dark brown whereas the cows are a much lighter brown looking like Kudu females: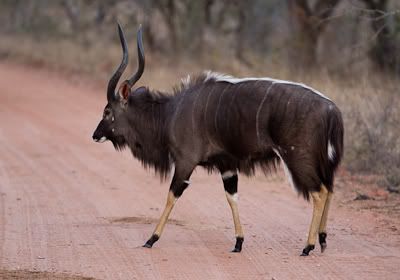 Driving south to Mopani Camp we ere very pleased to see a Kori Bustard.  This large bird was a first for us.
Mopani is a beautiful camp - very peaceful and restful.  It was here that we began to see more of our favourite bird - the Lilac Breasted Roller: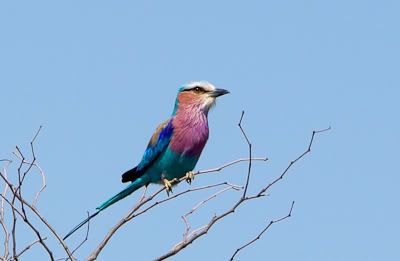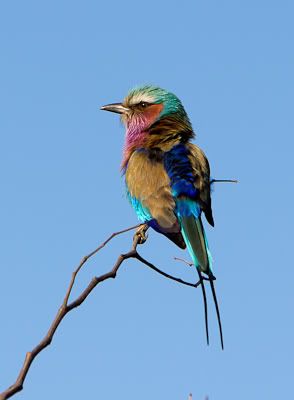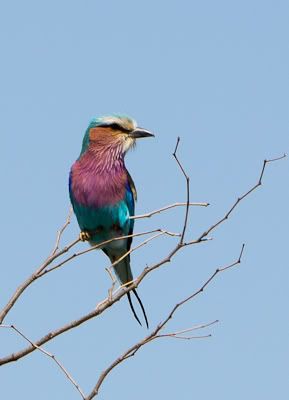 Just outside the Mopani Camp we saw this bush which had broken into these brilliant yellow flowers (and it was still the dry season):
Interestingly none of the rangers at Mopani, nor indeed the the rangers at Nkorho, were able to identify what it was.
On a sunset trip from Mopani Camp we were fortunate to see a Puff Adder crossing the road in the headlights:
Moving onto Olifants we enjoyed this camp perched high above the Olifants River - what a wonderful view.
This Brownhooded Kingfisher was on the fence at Olifants:
The Timbavati Picnic site on the way from Olifants Camp to Satara is a beautiful site with tame Bushbuck wandering between the picnic tables.  It also had many birds in the site.
Blue Waxbills grabbing a drink:
a cheeky Brilliant Starling on the back of a chair: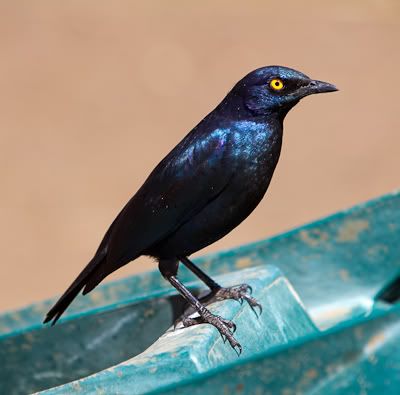 and many Hornbills trying to steal our food:
A Scops Owl trying to sleep in a tree in the middle of the picnic site:
and another one in Satara Camp:
Outside of Olifants Camp on the smaller bridge over Olifants River we saw a Common Sandpiper:
and a Grey Lourie ("Go Away Bird") on top of a tree:
We always enjoy seeing the birds which are active in the middle of the day when everything else goes to sleep.
Thanks for looking.  There will be more in Part 3.
Charles