2011 Safari to Kruger and Nkorho. Blog Part 3 - General game in the Kruger Park
Submitted by Stokie on Sat, 17/09/2011 - 1:59am
2011 Safari to Kruger and Nkorho. Blog Part 3 - General game in the Kruger Park
We visited several bird hides which are lovely places to pass an hour seeing what is the water and watching the birds flying in the area.  At Shipandani Bird Hide near Mopani we watched the Hippoes enjoying themselves in the water:
I waited a long time to get a picture of a Hippo displaying its teeth:
Impala can be found everywhere and are fine so long as you keep moving in the car but as soon as you stop to take a picture they start running into the bush - quite frustrating!!
We loved seeing the Kudu bulls with their wonderful curly horns: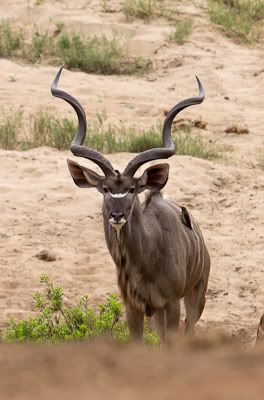 But the Kudu cows can be just as beautiful:
I just love the little Steenbok the smallest antelope in the area.  They are so perfect and so graceful:
Waterbuck bulls are surprisingly large and both genders have the striking circular white mark on their rump:
This year my wife really took to the Burchell's Zebra.  They really are quite striking and the stripes act as amazingly good camouflage.
It's worth watching out for the unusual such as this Water Monitor Lizard:
Thanks for looking.  More in Blog 4
Charles