2011 Safari to Kruger and Nkorho. Blog Part 4 - In and around Nkorho Bush Lodge
Submitted by Stokie on Sat, 17/09/2011 - 6:42pm
2011 Safari to Kruger and Nkorho. Blog Part 4 - In and around Nkorho Bush Lodge
My wife and I loved our stay at Nkorho Bush Lodge for the last part of our holiday in South Africa for the five days from 5th September 2011.  We had a great time during the first part of the holiday in the Kruger looking after ourselves but the Nkorho staff made sure that our stay at the Lodge was luxurious and completely relaxing. The video here shows the room we stayed in complete with outside and inside shower, spacious bathroom area and bedroom area.  The deck outside our room looked over the plain with a view of the water-hole where the camera is situated.
This video here shows my wife walking from our room through the lounge and bar area out onto the deck, infinity pool and finally the restaurant with another view over the plain and the water-hole.  Just before I leave the bar area the computer and screen which controls the water-hole camera can be seen briefly.
Each day we were woken at 5.30am and after a quick cup of coffee we went on the morning drive until 9.15am.
We saw beautiful sunrises: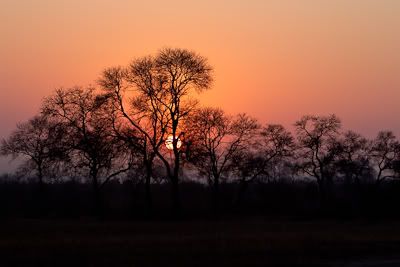 Here we are having a short break at "Fig Tree Corner":
As you probably know the tracker sits on the jump seat on the front of the Landie.  Here's a new recruit for this position:
After a splendid breakfast most days a bush walk is offered - heat and buffalo permitting - the rangers will never put us in danger.  Then it's time to relax on the deck and in the pool prior to lunch.  After the lunch it's back on the Landies for the sunset drive lasting for about 3 hours including using the spotlight on the way back to the Lodge.
During this drive we often saw wonderful sunsets: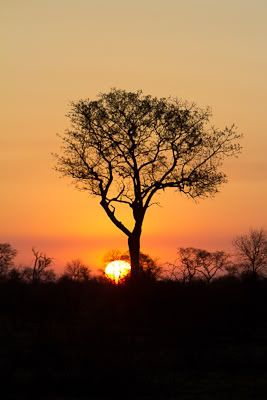 Back in the Lodge it's time for dinner in the Boma and perhaps a performance by the Dancing Ladies here.
The night skies are wonderful with beautful views of the stars, Milky Way and Moon - a revelation for those of us who live in cities:
Nkorho Bush Lodge is a delight and a real opportunity to be one with nature as well as have a fantastic holiday.  Thanks to all the staff who looked after us so well.
Charles