2nd Day - 17 August, 2010
Submitted by RogerH on Fri, 10/09/2010 - 10:15pm
2nd Day - 17 August, 2010
To view all blog pages, click HERE
2nd Day – 17 August, 2010
About 6:30 we were greeted by our first S. African sunrise – not spectacular, but nice enough to make us very glad that we were finally there!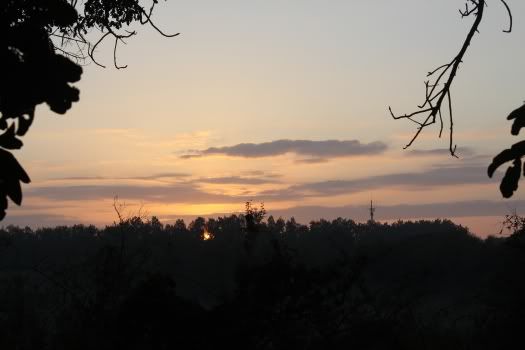 Waiting for us outside our bungalow were members of the official Crocodile Bridge Camp welcoming committee, a band of Vervet Monkees.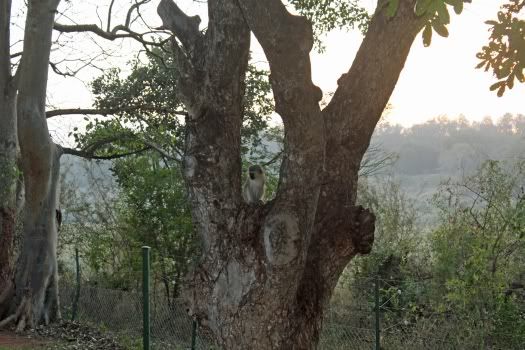 (Our bungalow had an outdoor kitchen and we had been warned not to leave food out, and to turn the refrigerator facing the wall, since the monkeys had learned to open it.  We accomplished the same thing by moving the table over, tight against the fridge door.)
That was about the time I was faced with my first (and only) disappointment of the trip.  It had been years since I had had a cup of instant coffee, and it was 'instantly' clear to me, why!  But……….it does get the motor running, so I choked it down and we were on our way.
 Jen had been saying for days, that what she really, really wanted to see more than anything else, was a giraffe.  About a mile down the road, the first thing we came across was…………………………….
What else?  A giraffe.  Actually several giraffes.  She need not have worried – the park is full of giraffes.  The only thing that we saw more of were Impalas!  If you look closely, you'll notice that this guy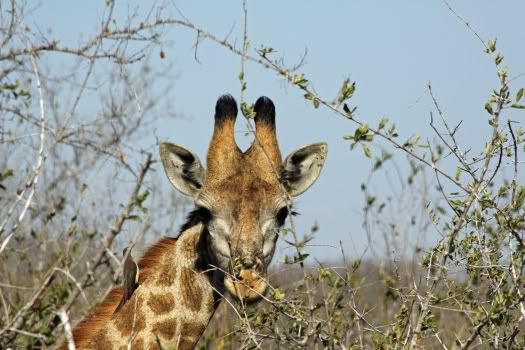 has a hitchhiker on the side of his neck.
One of our nicest surprises was the great quantities and beauty of the South African birds.  Even the Hornbills are beautiful.  Sort of.  We mostly saw the yellowbills, but early on, the first day, we came upon this Redbilled.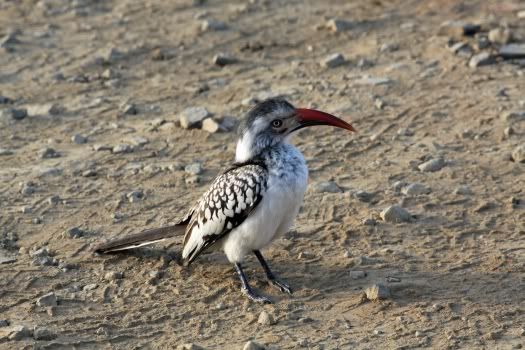 Of all the South African birds, though, the Lilac Breasted Rollers have to be among  the most beautiful.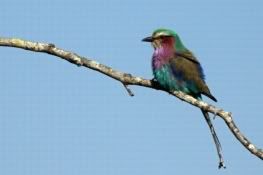 We were fortunate to see them just about every day.  They're much bigger than we had thought, robin size.
An expression one hears frequently in the park, when noting that something is plentiful, is "Common as a Francolin".  As the morning progressed, we started to understand what this meant.  These two birds, the Crested Francolin and Swainson's Francolin seemed always to be on the side of the road.
About mid morning we saw our first Spotted Hyena.
He was trotting down the road and paid us little mind, but Jen was a bit nervous about him and when Chris wanted to roll down the window for a better look she vetoed that idea.
Literally around the next corner, was a beautiful little male Steenbok who stopped and posed for the camera.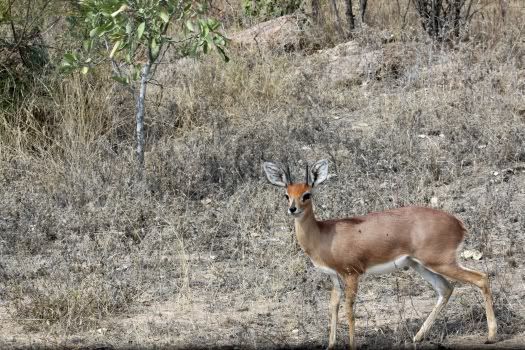 They are relatively common, but due to their small size and shy nature, you don't get a lot of good photo ops.
A little after 10:00 we saw our first Rhino at a dam/waterhole we stopped at.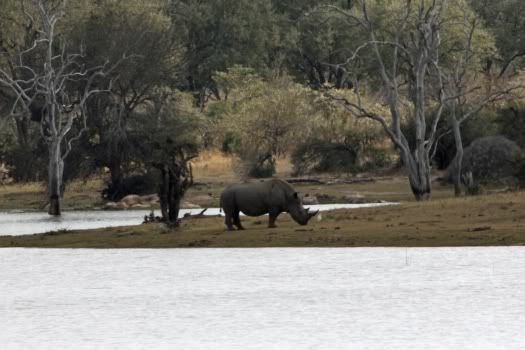 He was sharing a spit of land with an egret and several turtles.  A very peaceful scene.
As you drive through Kruger, you have the constant feeling of just never knowing what will appear around the next curve.  For as large as they are, you don't usually see elephants very far in advance.  Suddenly they are there, as with these two, who wanted to cross the road, and it's a given that they have the right of way over our puny little cars!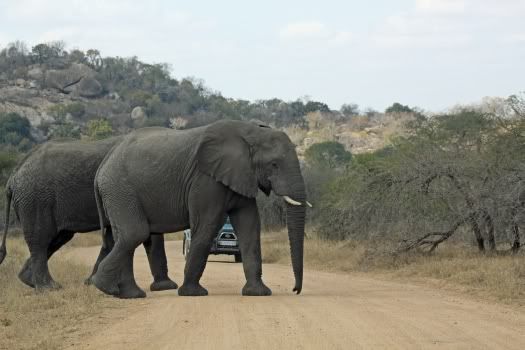 So, we wait!!
Whenever you see a number of vehicles all stopped in one place, you should approach slowly and try and see what they are looking at.  This was the case, in the early afternoon, and as we peered into the brush………………..OMG!!
A pack of African Wild Dogs was laying up in the shade very near the road.  This was the sighting of the day, if not of the whole trip!  They are very rare and becoming rarer all the time.  There are believed to be less than 350 in all of Kruger.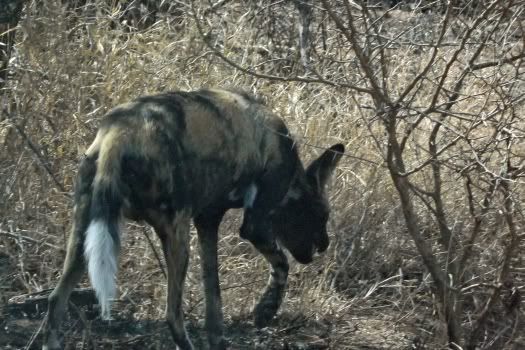 Due to the heavy brush where they were laying, the pictures aren't great, but, WE SAW THEM and WE HAVE PICTURES.  We talked to people who have been coming to the park for years and have never or rarely ever seen them!  I just love "beginners luck"!!
We did get to watch their behavior for a while, and at one point, several of them were playing 'tug-of-war" with a stick, and seemed for all the world, just like a group of domestic pets.
The rest of the afternoon was quieter, but none the less very enjoyable.
This Zebra posed for a nice headshot, right next to the road.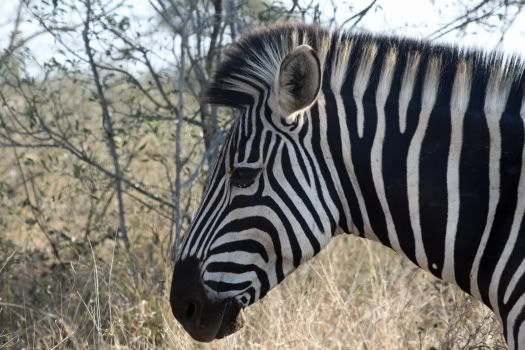 Then Mrs. Kudu crossed the road directly in front of us.
Late in the afternoon, we stopped at Ntandanyathi Hide (say that 10 times fast!)  A hide is a enclosed and secure (relatively) area, usually overlooking a water hole or other water, where you can just sit and watch the wildlife.  There wasn't much to see, except this large bull elephant.
I think this picture really gives the sense of what it's like to be "in the bush".
We also had a visit by from one of the prettiest ugly birds we've ever seen,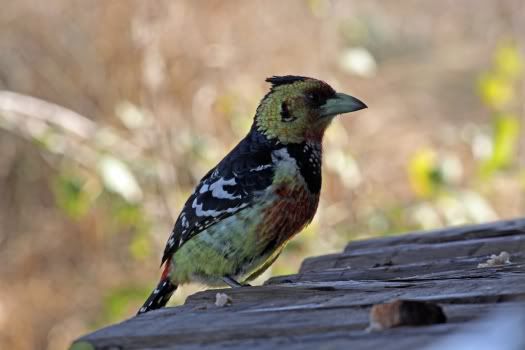 a crested barbet.
As the afternoon sun sank low in the sky, it did marvelous things to the colors of this giraffe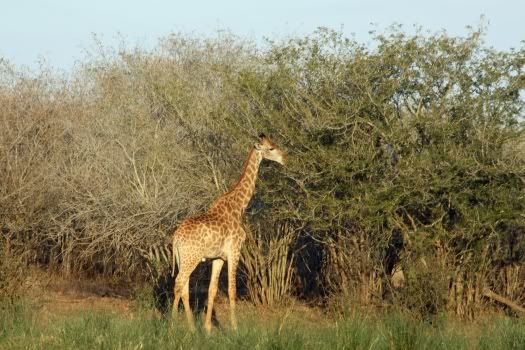 and a lone male Impala.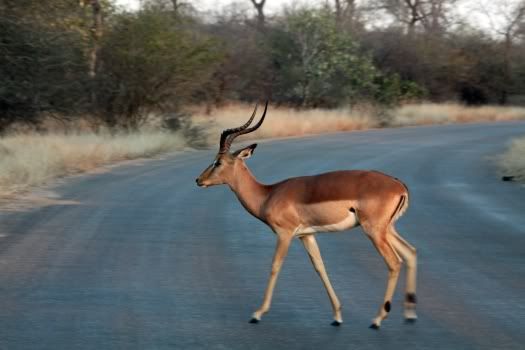 At day's end, with this typical South African sunset, all we could do was look at each other and say, OMG, it can't get much better than today……………………………….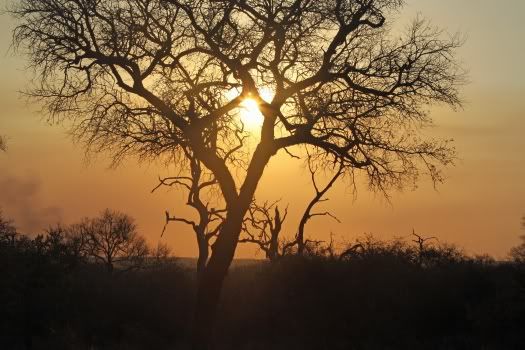 THE DAY'S SIGHTINGS: ANIMALS
              Vervet Monkey                            Giraffe                              Impala
              Warthog                                       Spotted Hyena                Zebra
              Steenbok                                      Waterbuck                       Rhino
              Blue Wildebeest                           Elephant                          African Wild Dogs
              Baboon                                          Hippos                             Kudu
THE DAY'S SIGHTINGS:  BIRDS
              Helmeted Guinea Fowl              Red Billed Hornbill          Crested Francolin
              Swainson's Francolin                 Lilac Breasted Roller       Grey Hornbill
              Blacksmith Lapwing                   Egyptian Goose               Emerald Spotted Dove
              Lappet Faced Vulture                 Ground Hornbill (imm.) Grey Heron
              Red Billed Oxpecker                   Crested Barbet
To view all blog pages, click HERE