6th Day - 21 August, 2010
Submitted by RogerH on Wed, 29/09/2010 - 2:06am
6th Day - 21 August, 2010
To view all blog pages, click HERE
6th Day – 21 August, 2010
We had set our alarm for 5:00 AM, so by the time Jason came knocking on the door at 5:30, we were semi awake and I headed off for the lodge for coffee.  Then out to board the game drive vehicle.  Thomas and Jason had graciously supplied it with blankets and hot water bottles, as it was very nippy before the sun came up.  Speaking of which, while everyone was getting settled, I snapped this of another S. African sunrise!
Shortly after getting underway, we came upon a small herd of Cape Buffalo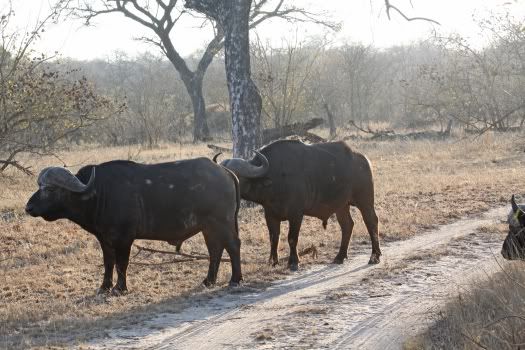 who weren't too keen on letting us use "their" road.  They did finally move off to one side, though not without a dirty look from this guy.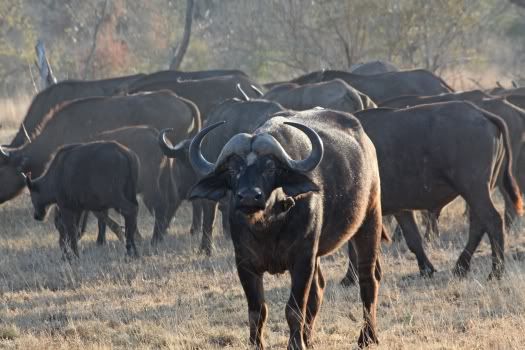 Around 7:30 we came across Black Tip again, without his girl friend, but with his 3 brothers!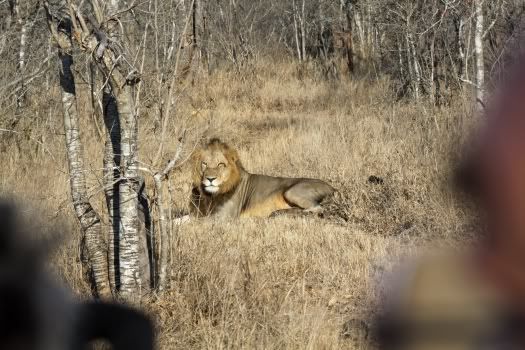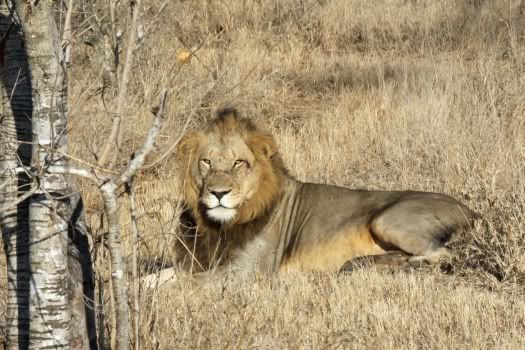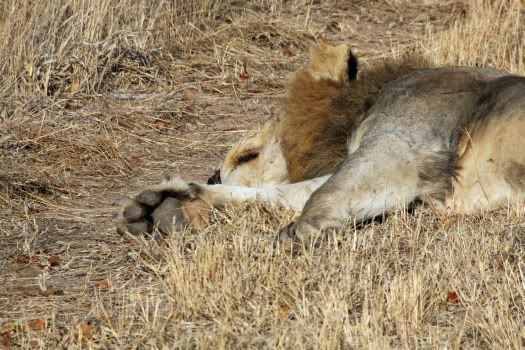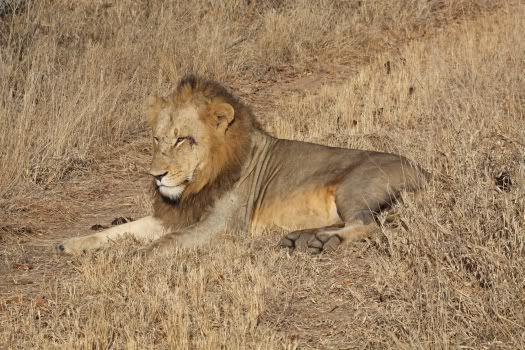 At first we only saw him, but then some movement beyond and to the right turned out to be Smudge Bum (closest)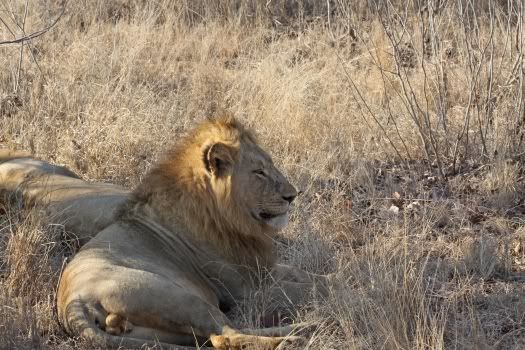 and Pretty Boy (to the rear).  
Smudge Bum is so named because of a dark patch on his butt, and Pretty Boy because he has the fewest battle scars.  The 4th brother is called just "Smudge", though I'm not sure where his smudge is, since we never really got a good look at him.  Keep in mind, these are not official names, just labels that the rangers have put on them, so that they can identify the individuals in conversation.
Before we left the sighting, Black Tip got up and moved up the road a hundred feet or so to lay down with the 4th brother, Smudge, who was pretty well hidden in the brush.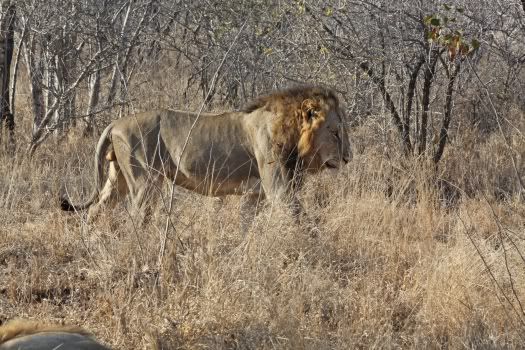 He looked so majestic moving through the grass – truly the King of Beasts.
If it appears from these pictures that all lions ever do is lay around and sleep, that's not too far from the truth.  On average they sleep 20 hours a day, doing their hunting at night.
Here we're stopped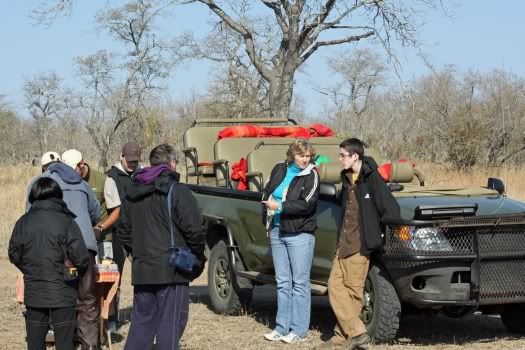 while Jason and Thomas serve up our morning coffee, tea or hot chocolate.
Since we were cautioned about wearing overly bright clothing on the drives, we wondered why they supplied us with these fire engine red blankets??
After coffee, we returned to the lodge, and while we were waiting for breakfast to be served, Jen and Spot (one of the resident dogs) played tug-a-war with a stuffed toy.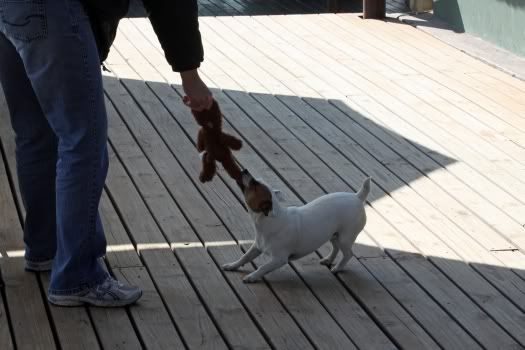 When Spot finally won, then dropped the toy, Milo dashed in and took possession of it, as if to say, "Mine, mine, mine!" .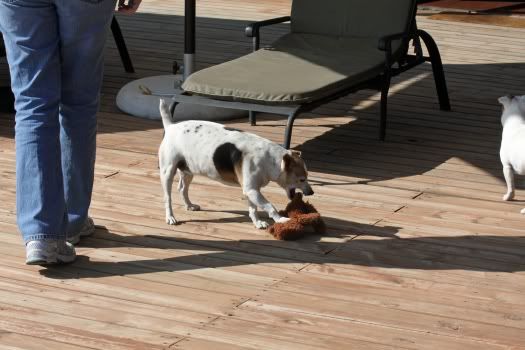 After a hearty breakfast, I went off to reception to buy a Nkorho Bush Lodge hat.  Jen snapped this pic when I was on my way back to the Chalet wearing it.
Jen and Chris went for a bush walk with Peter, and they found this baby monitor lizard curled up in a hole in this dead tree.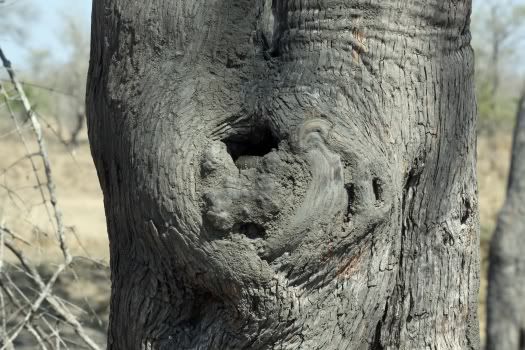 Not far into the afternoon drive, we came upon Mafufunyane, a large male Leopard.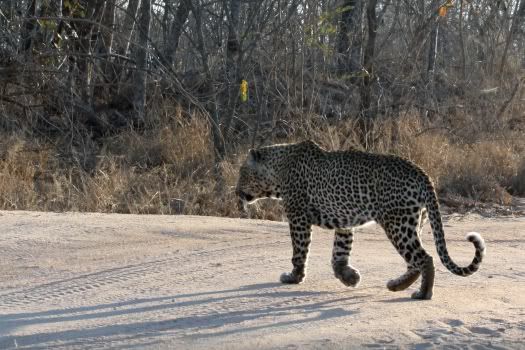 He stayed in the open for a while, but was obviously hunting,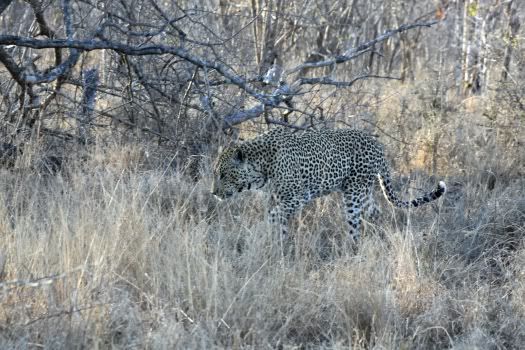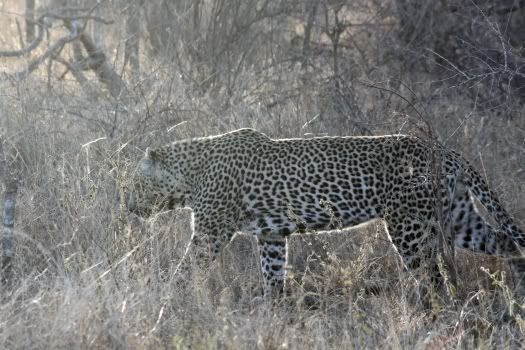 and we soon lost him in the bush.
We watched this small group of Common Dwarf Mongoose for a few minutes.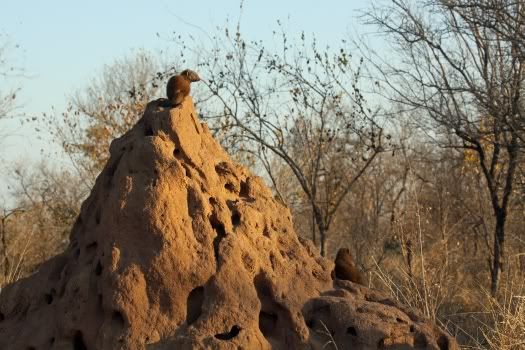 They  take up residence in termite mounds, staying for a few days, then moving on.  They are Africa's smallest predator, weighing about a pound and achieving 10-12" in length.  Though they look cute and cuddly,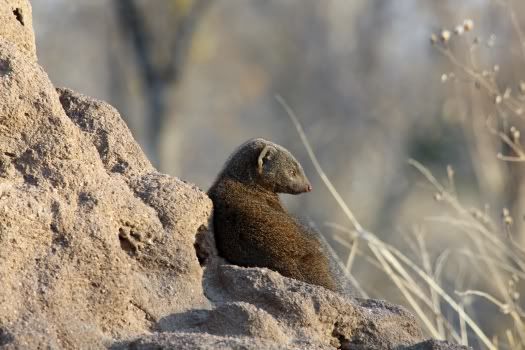 most assuredly they would remove your fingers, should you try and mess with them.
As the sun was going down, we encountered this family of Rhino who had been drinking at the pan at Kudu Corner.  The large male agreed to pose for us, but the other two wanted nothing to do with us.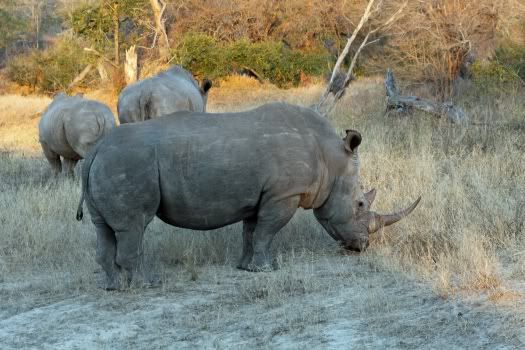 Here we have the moon over Sabi Sands.  Spectacular!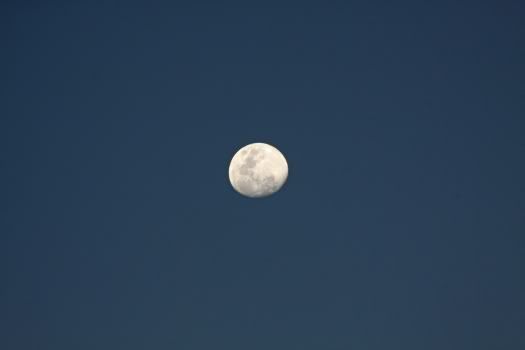 As darkness fell, suddenly in the middle of the track in front of us was the grand old lady herself, Safari, an 18 year old female leopard.  (Note age correction.) 
She is blind in her right eye, the result of a spat she had with a male leopard, Mafufunyane, I believe.  And though, she may have lost a step or two, she is still an accomplished huntress.  Some of the younger girls hassle her from time to time, trying to steal her kills, but for the most part she holds her own.
So, this brings us to the end of another day in the bush.  We saw 4 of the big 5, Buffalo, Lion, Rhino and Leopard, only missing Elephant.  But tomorrow's another day!
THE DAY'S SIGHTINGS:  ANIMALS
Buffalo                                                                         Lions
Black Backed Jackal                                                   Steenbok
Spot & Milo                                                                 Baby Monitor Lizard
Leopard                                                                       Dwarf Mongoose
Rhino
THE DAY'S SIGHTINGS:  BIRDS
None noted, though we must have seen some!
To view all blog pages, click HERE