7th Day - 22 August, 2010
Submitted by RogerH on Sat, 02/10/2010 - 9:36pm
7th Day - 22 August, 2010
To view all blog pages, click HERE
7th Day – 22 August, 2010
This day dawned clear and not so cold.  We didn't need our hot water bottles, but the blankets were still appreciated for the first hour or so.  We were treated to another beautiful sunrise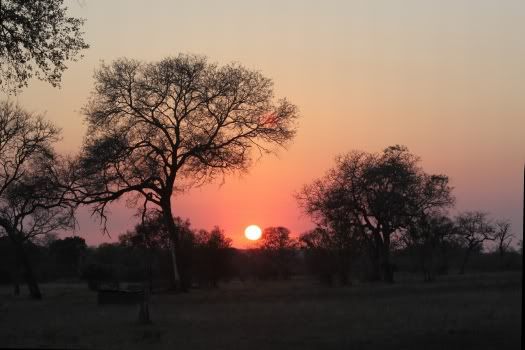 and a small group of wildebeest just off the driveway.  Off to one side and all by himself, was this lone male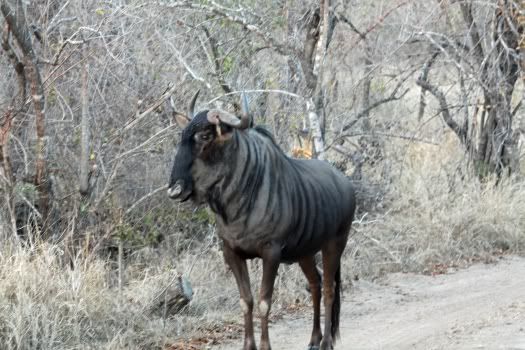 and I remember thinking, "I wonder if that's Lonesome George?"  (Lonesome George was a male wildie who hung out around the water hole for a couple of years, always seeming to be by himself.) 
We headed back down the main road towards Gowrie Gate and found this very old male Giraffe.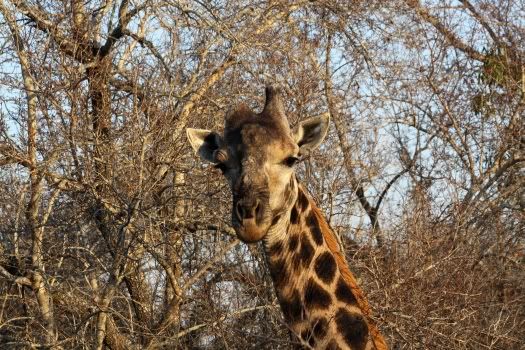 Jason was talking to us about him, telling us how old he was and that he had probably lost one of his horns in a fight, when suddenly he got a radio call which sent us flying back down the road toward Nkorho again.  He wasn't telling us anything, just concentrating on his driving, while we were all concentrating on staying in our seats!  When we got near to the water hole, suddenly he slowed, then stopped, and gave us a look at this beautiful Brown Snake Eagle.
While we were oohing and aahing over the bird, Jason was listening very carefully to what was going on on the radio, and suddenly we were on the move again, to where, only Jason knew.  Suddenly we were looking at a pretty incredible sight.  There in front of us, scattered over a fairly large area were 4 male Cheetah!!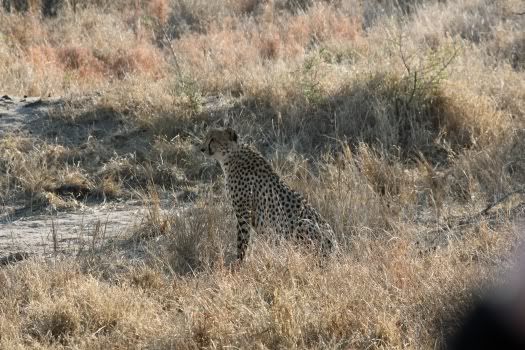 Since, as I said, they were scattered, I didn't get any group shots.  (Not to worry, the group shots will come!)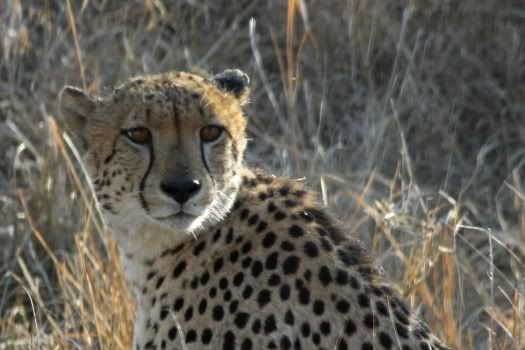 Since they were moving, and attracting a great deal of attention from a host of game drive vehicles, we were only able to stay on them for less than 5 minutes, then we had to back off and give others their turn.  These last two shots were as we were leaving.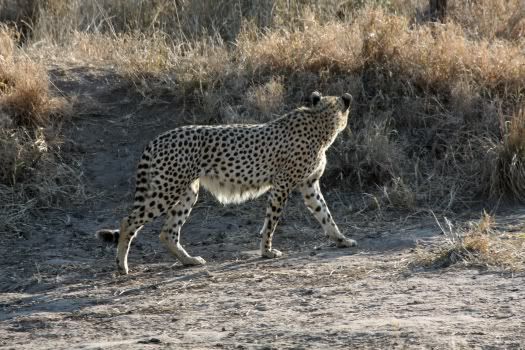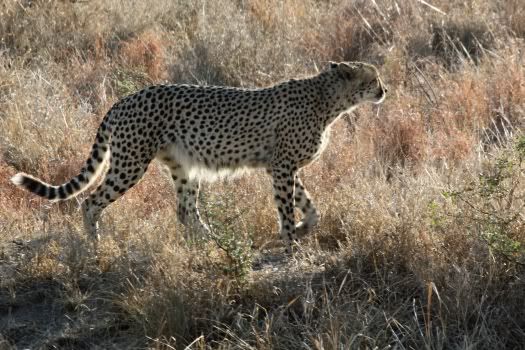 We hung around for about an hour, not too far away, hoping to get another opportunity to spend more time with them, and sure enough, around 8:30 the word came down that we could move back in for a second viewing.
This time, they were all laying around in the shade with what appeared to be very full stomachs, so we assumed they had eaten well the previous night.
Occasionally one would get up and change position,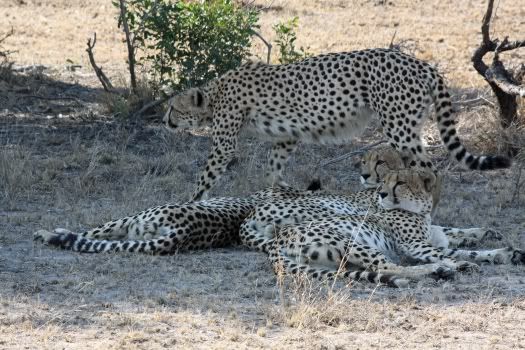 then lie back down.  It seemed that one of them was alert and head up, almost all the time, as if on sentry duty.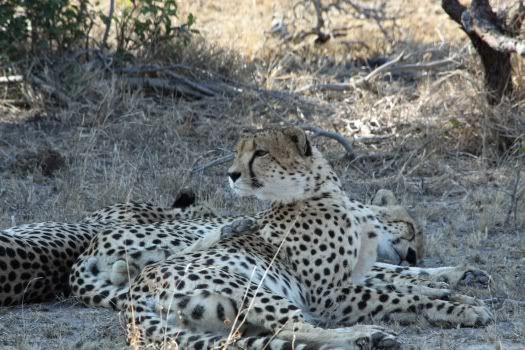 We were able to stay with them for about 20 minutes this time.  We found out that they were 4 brothers who had just recently been seen, moving into this area.  For the sake of all those who come after us, I hope that they will stay around for a while, since they are a sight to behold.  We were extremely fortunate to see this many Cheetah together, a very rare sighting.
I was able to get one picture, which is probably the best of the whole trip.  Jen captured exactly the same thing on the video camera, and she can be heard whispering, "Eyes on Eyes".   Hence, that became the very apt title for this picture.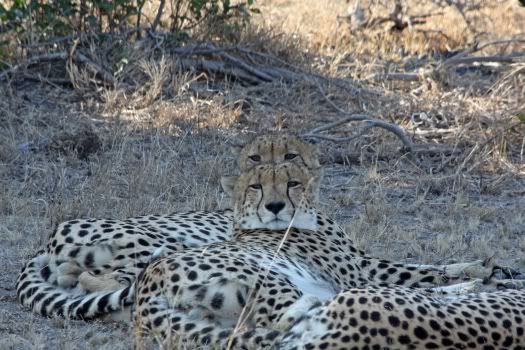 Later, on our way back to the lodge we came across a pair of Egyptian Geese.  This one was really quite handsome, and I decided to include him in the blog.  Actually, though we see them all the time at the water hole, we don't often get to see how really beautiful they are.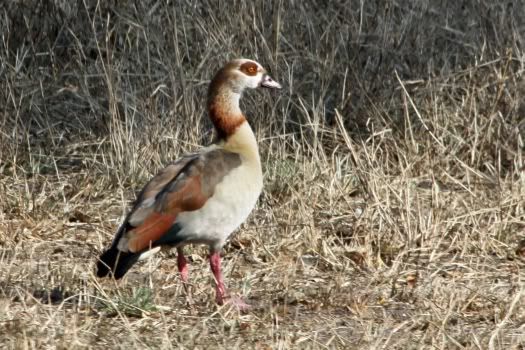 After lounging around the lodge through the middle of the day, Jason drove us down to the waterhole so that we could wave to friends and family on the cam.  Click HERE for a bit of video that Morris recorded off the Nkorho camera.
While we were there we snapped a pic of the camera tree……………….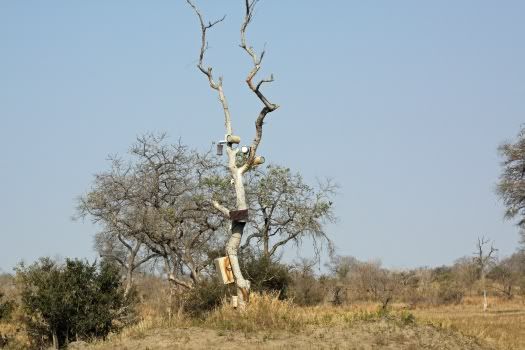 and "Old Faithful".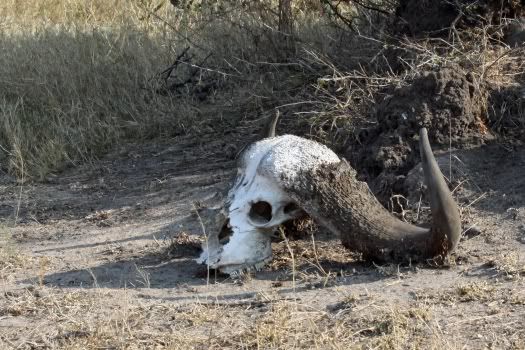 Old Faithful is the skull of an old buffalo who died near the waterhole a couple of years ago.  He's become a bit of a symbol to Africammers.  From time to time, he's disturbed by giraffe who lick the skull for it's calcium.  When this happens, one of the rangers will put him back where he belongs.
As we drove back to the lodge we got this nice shot of the lodge, deck and pool.
As soon as the afternoon drive started, we got one more opportunity to spend a little time with our new Cheetah friends.  We found them, lying in the shade, taking their afternoon nap.  (As opposed to their morning nap which we saw earlier.)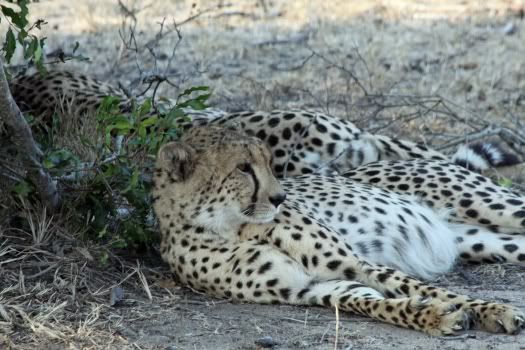 Cheetah don't sleep as much as lions, but if their bellies are full, they spend a fair amount of time resting.  As the world's fastest mammal, they expend a tremendous amount of energy pursuing their prey, and therefore need to recharge their batteries after a kill.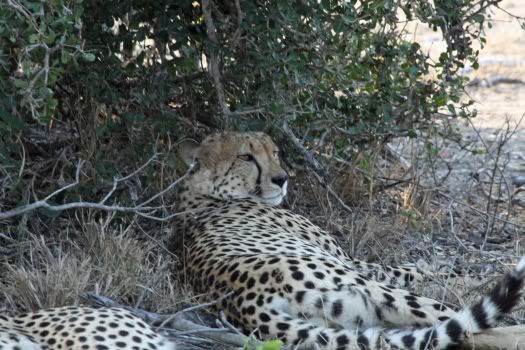 The rest of the drive was quiet, with not much seen except this male waterbuck, who was watching us watch him.
And so, with another beautiful sunset,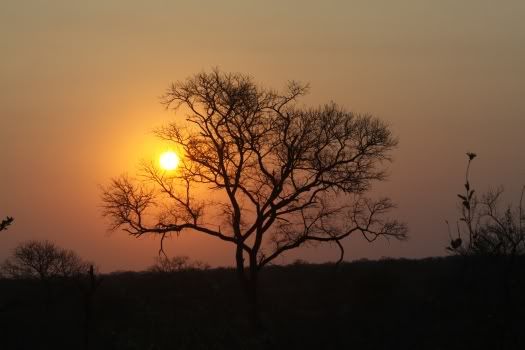 our last full day at Nkorho came to an end.  If this wasn't our best day, so far, it was very close!  It's just not that often that we get to have three separate opportunities to spend time with one of Africa's scarcest and most beautiful animals.
THE DAY'S SIGHTINGS:  ANIMALS
Wildebeest                                                                  Giraffe
Cheetah                                                                       Impala
Waterbuck
THE DAY'S SIGHTINGS:  BIRDS
Brown Snake Eagle                                                    Egyptian Geese
To view all blog pages, click HERE