8th Day - 23 August, 2010
Submitted by RogerH on Wed, 13/10/2010 - 6:18pm
8th Day - 23 August, 2010
To view all blog pages, click HERE
8th Day – 23 August, 2010
Our last morning at Nkorho was cold and clear (though apparently  not cold enough for hot water bottles) and Jen had to doff her new Nkorho Bush Lodge tube hat to keep her ears warm.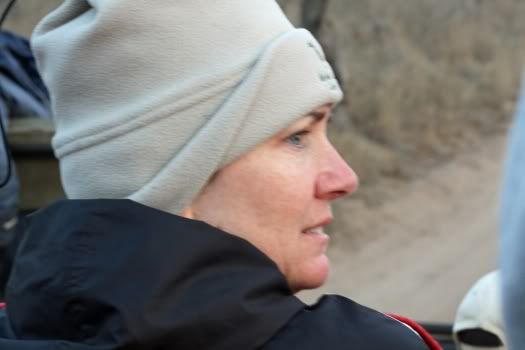 We were greeted by a solitary black backed jackal
as we set out on our morning game drive.  After standing in the middle of the road long enough to assure that we came to a complete stop,
he moved off and let us pass.  About 5 minutes later, the sun poked it's head above the horizon
and,  as usual, the sunrise was lovely!
We set out to see if either the cheetahs or the Majingilanes were still in the neighborhood, and soon came upon Black Tip and his lady friend, lying on a knoll overlooking a waterhole.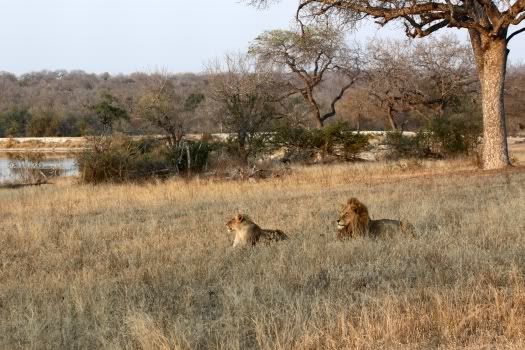 They both looked quite magnificent in the morning sun, with full bellies and not a care in the world.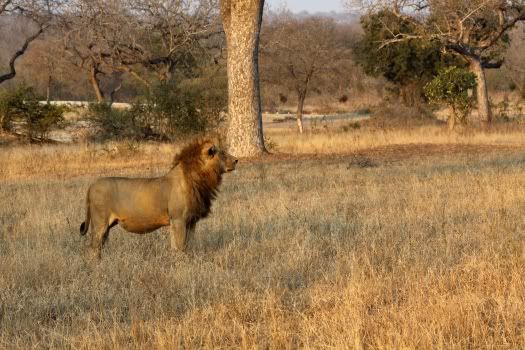 After a few minutes a small group of waterbuck came into view, a few hundred yards away, headed for the waterhole, and the lions went on instant alert.
At one point we were quite sure that the female was going to spring into action, and that we might see something quite spectacular.  Every muscle in her body tightened and she had the look of a coiled spring, ready to release.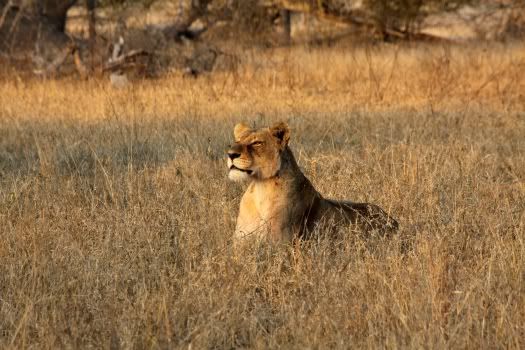 Gradually she relaxed, and it was obvious that their bellies were full enough for the time being.  Later, Jason explained to us that waterbuck are not high on the lion's menu, anyway, as they secrete a water proofing oil from their sweat glands which has a very unpleasant odor and taste.
They began to move around a bit, seeming quite playful, and we thought we might get to see a different sort of "action".  The following picture, however, shows his reaction when the lady advised him that she had a headache.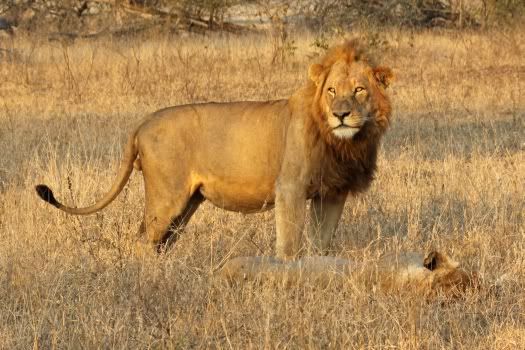 Oh well!
Shortly after leaving the big cats, we encountered these two elephants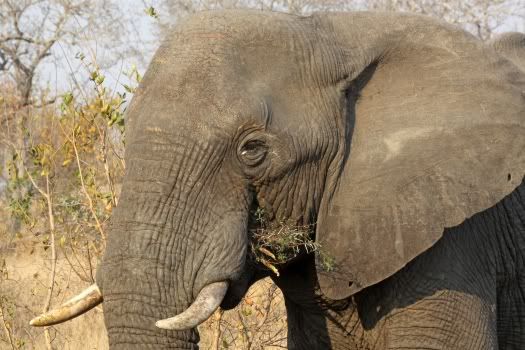 who were having their breakfast.   It's somewhat disconcerting when something this big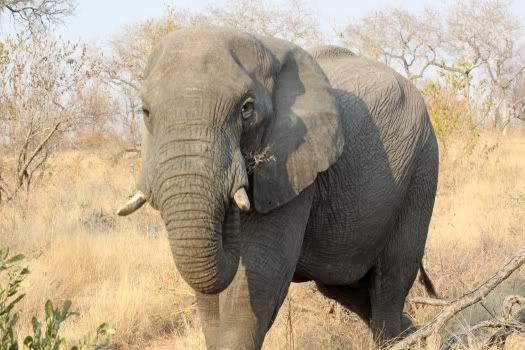 starts coming directly towards you!  However, it turned out that it was not us he was interested in, but rather, some morsel that he had spotted on the other side of the road.  As he passed not 10 feet in front of our vehicle,
you can see that Thomas, our tracker, was hardly concerned.  (he sits on that little seat that sticks out in front of the hood.)   Meanwhile, the other one continued to munch on his breakfast, and ignored us altogether.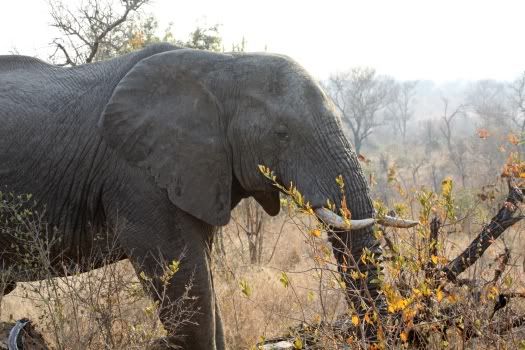 Our next sighting was this lizard buzzard
who was perched in a tree, looking for his breakfast.   The lizard buzzard is a small (14" or 36cm) solitary raptor who spends most of his day perched high in a tree, scanning the ground for lizards or small rodents which he can swoop down upon.
After stopping for our morning coffee, we headed back to the lodge, but were waylaid by Karula, another ever popular female leopard who crossed the road directly in front of us.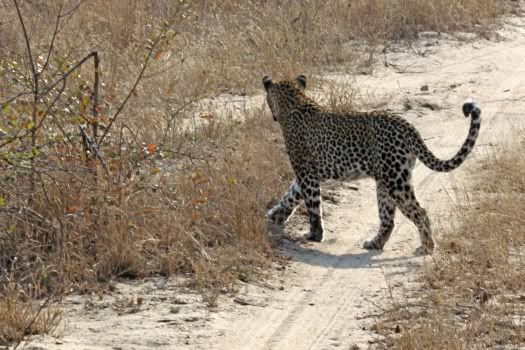 We followed her offroad and into the bush, but due to the heavy cover that she was traveling through, and the fact that I kept getting slapped across the face by tree limbs, I only got one half decent picture of her.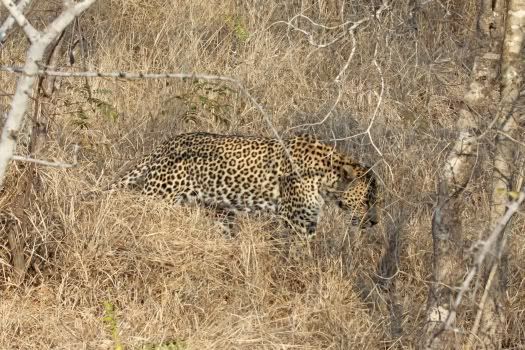 We did observe her leaping high up into a small tree, attempting to catch a squirrel, but sadly (for Karula) and fortunately (for the squirrel) she missed.
We returned to Nkorho, had our breakfast, and Jen snapped this picture of the boma.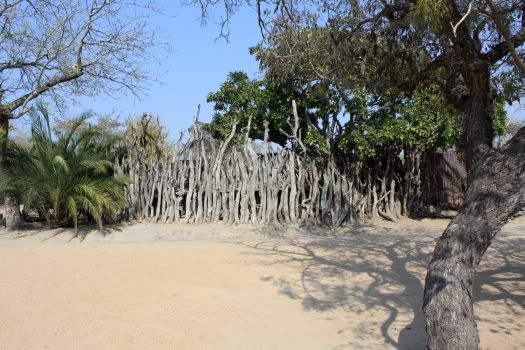 It is an enclosure, constructed of heavy tree limbs, where the evening meal is taken when the weather permits.  Unfortunately, we didn't take any pictures, inside the boma, at mealtime, but for an idea of what it's like, go HERE to the gallery of Nkorho Bush Lodge.
And so, after 3 marvelous days and nights, we bid our farewells to the wonderful folks at Nkorho.  Michelle was nice enough to snap this picture of the 3 of us and our two guides, Jason and Peter.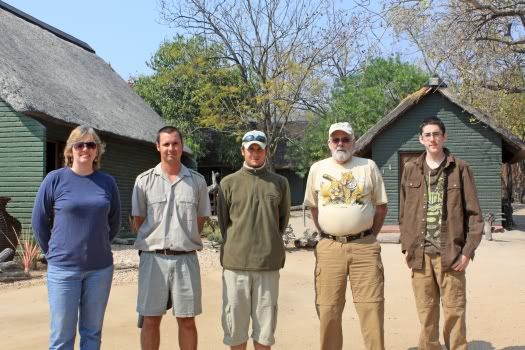 We can't express strongly enough, how marvelously we were treated during our stay.  They made us feel very special.  If anyone is considering a trip to this part of the world, Nkorho Bush Lodge gets our vote as a very special place where one can find the best that the South African bush has to offer.  It was the perfect break, in the middle of our 8 days of fending for ourselves at Kruger.  We'd also like to thank Dirk and Jacqui Becker, the owners of Nkorho, for providing us, through their staff, with a memorable experience!  They were away during our visit, but hopefully next year we will get to meet them, too.
We have to include one last picture of Karin, Michelle, Jason and Peter,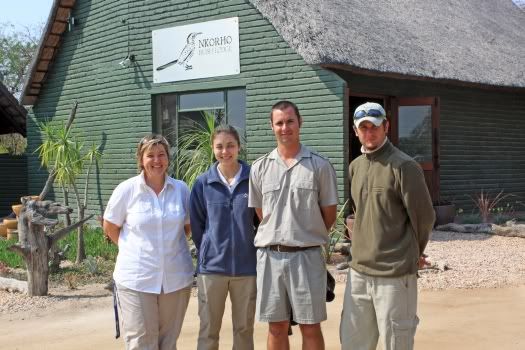 the folks who, along with the rest of the Nkorho staff made our stay so nice!
We will be back………………….
And so, we made our way back out of Sabi Sands and headed once again for Kruger.  It's about an hour and a half trip, through small villages like this one, Hluvukani.  Each has it's general store, (note the satellite dish on the post in front.)
beverage store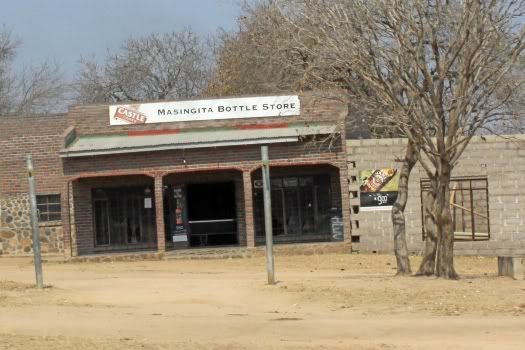 and auto repair shop.
We didn't get a lot of pictures of the people, as we weren't sure they would be thrilled with the idea of a bunch of tourists riding around town taking their pictures.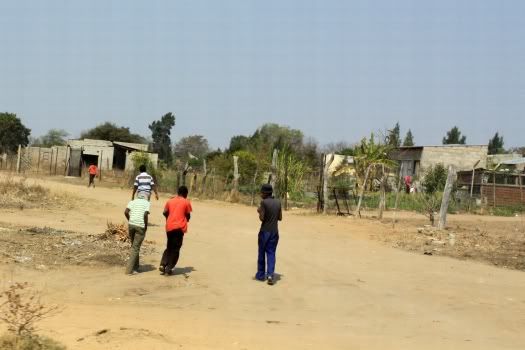 One observation we made was that there wasn't a lot of vehicle traffic in the villages.  People seemed to walk everywhere.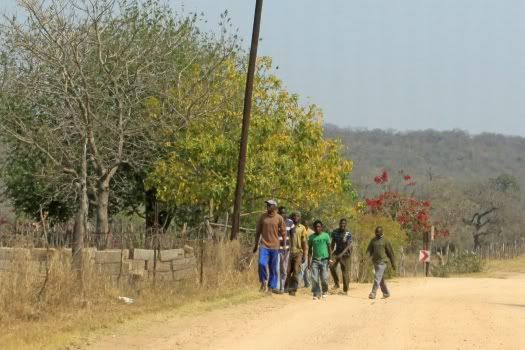 Again, we didn't get a pic, but we observed quite  a few ladies with wheelbarrows, hauling 5 gallon water jugs.  It seemed there must be community wells, with the household water being hauled to the homes by hand.  Stark contrast to the satellite dishes!
Scattered throughout the community were these Kraals (Afrikaans or South African for corral)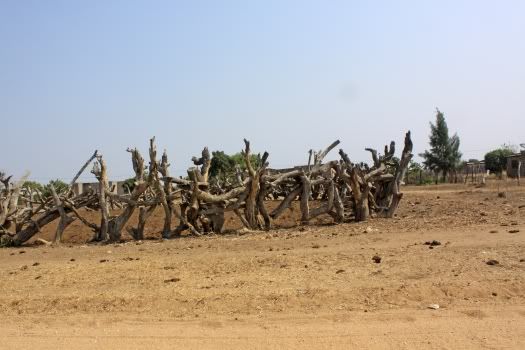 which are meant to keep the goats from straying. (or presumably being eaten by predators)   We noticed, however, that the goats always seemed to be in the road!
Anyway, next year I'll try and hone my skills at capturing more images of life in these small villages.  These are the folks who work at the many game lodges in the area, as well as in the parks, and should therefore be a bigger part of our story!
Soon we were back within the confines of Kruger National Park, and on our way to Olifants Camp where we would spend the next 3 nights.  Before long we came across this mama Baboon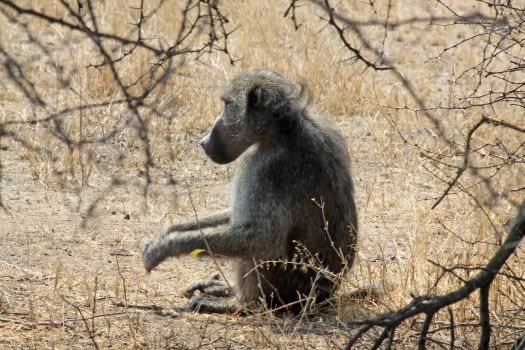 and her baby
snacking beside the road.  The babies have enormous ears for the size of their heads, and have earned the nickname of "Wingnuts", because that's what they look like.
About an hour into the park a small family unit of Elephants was crossing the road.  They had obviously been in a water hole since they were wet and half covered with mud.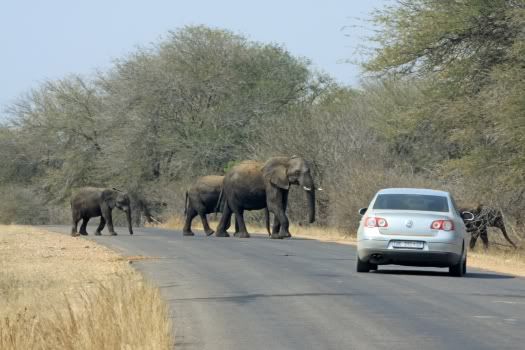 Note that this old cow
who was bringing up the rear and presumably making sure that the youngsters stayed with the group, had somehow lost her tail.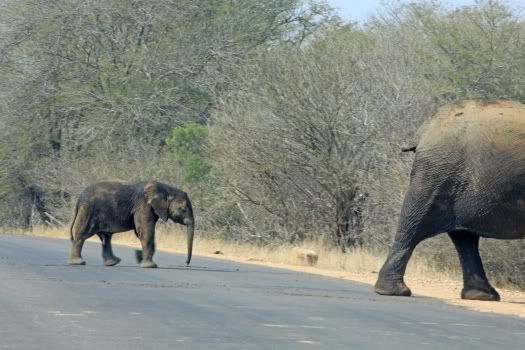 A few hundred yards down the road we indeed found the water hole they were coming from.  There we saw more Elephants and a number of Hippos basking in the sun.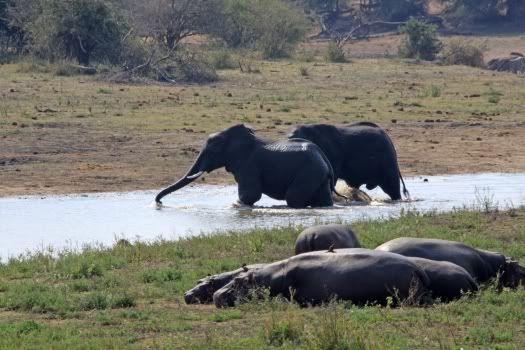 These two young bulls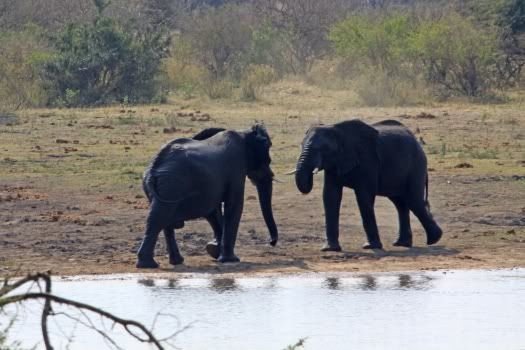 were jousting, sizing each other up for some potential future battle which they might have to fight for a lady's attention.  They do this throughout their lives, filing all the information on each opponent away in their memory banks, for future use.  For now, it may seem like play fighting, but in the end it may become deadly serious.
In this picture, from the same waterhole, we see a little bit of everything.  Hippos, Baboon, Impala, Zebra and the two elephants are to the left, just out of the picture.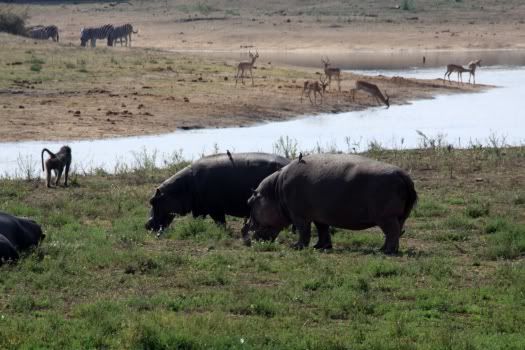 Across the way, a lone Buffalo bull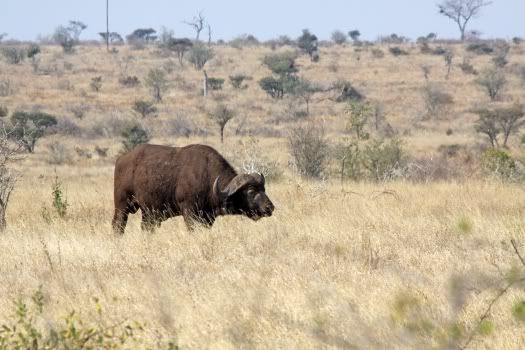 seemed to be sizing up the situation, deciding whether or not to join the party.
A bit further on we encountered one of S. Africa's stranger birds, a Kori Bustard.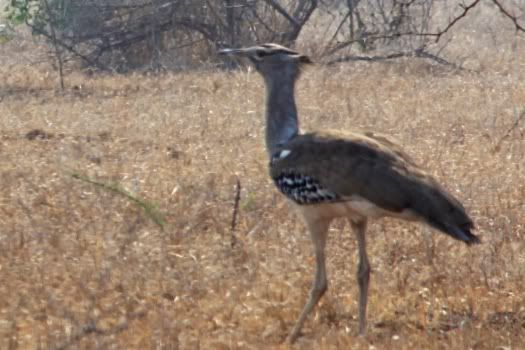 He is a very large bird, 54" (135cm) from head to tail, and standing about 48" (122cm) tall.  He can fly, but is reluctant to do so unless he is seriously threatened.  He strides over the veldt, bobbing his head backwards and forwards as he goes.  Sadly, due to overhunting, he is not often found outside of major game reserves.
As the trip went on, it became obvious that I could hardly pass by a Zebra, without stopping to take his/her picture.  This guy was no exception.
It just doesn't seem real that there could be something in nature with such vivid black and white striped coloration.
In the middle of the afternoon we spotted this male lion
laying up in what little shade he could find.  He was panting and obviously seriously overheated.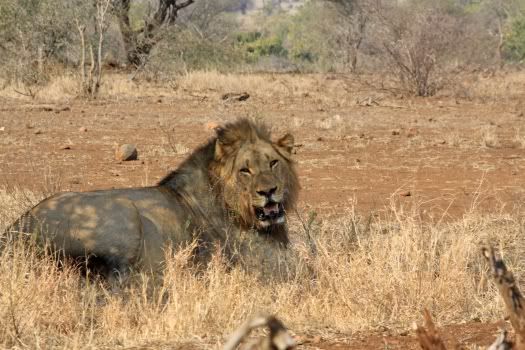 Later we realized that back in the bush, behind him, was another male and a female, but they were too far away and too well hidden to get a decent picture.
A ways down the road, this male Kudu stood and watched us pass.
They are such magnificent animals!
Sorry about the quality of this next pic, but this is a difficult bird to find and photograph, the Lappetfaced Vulture.
He is a fairly large vulture, 40" (100cm) from head to tail and about 36" (91cm) tall.  Note his little friend, a Lilac Breasted Roller on the ground, across the water.  (trust me, he's there)
Here we have a pic taken strictly to show the size comparison between the elephant and a female Impala on the side of the road.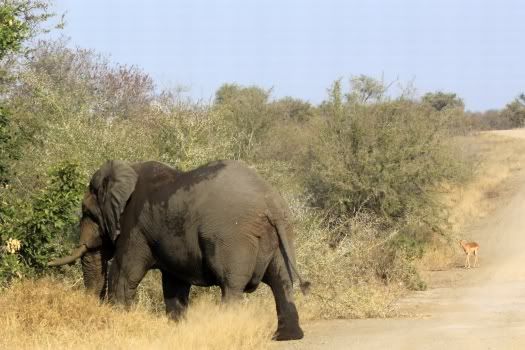 This big boy has been somewhere cooling off, as his tusks are covered in mud and he's been spraying water over his back.
And since I have to take a picture of every Zebra I see, Jen insists that we do the same with Giraffes.  This hansom guy loomed up ahead of us for this nice silhouette shot,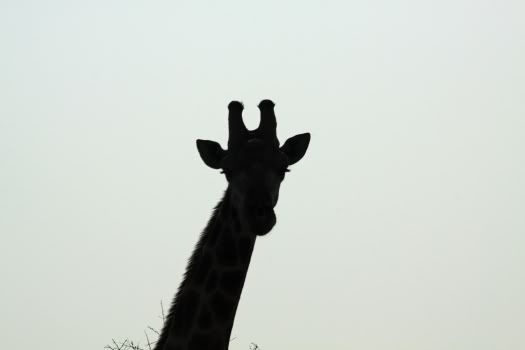 then walked down the road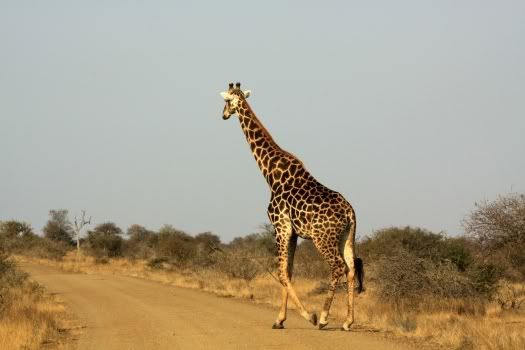 and joined up with a number of friends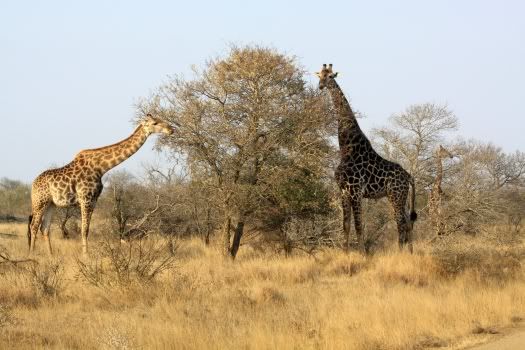 for a treetop meal.
Shortly after the Giraffes, we found another of my favorites.  Especially from this angle.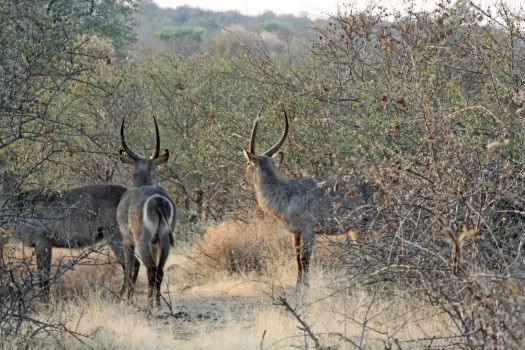 These three male Waterbucks, with the characteristic white rings on their butts, were just standing around, probably wondering where the girls were.
As we came to the end of another day, we encountered another small Elephant family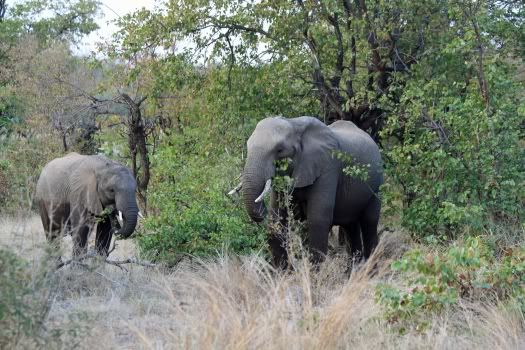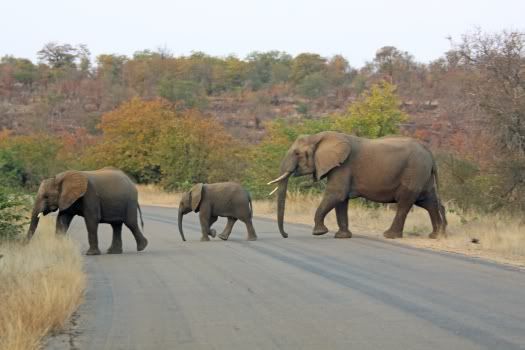 and then were treated to one more South African sunset.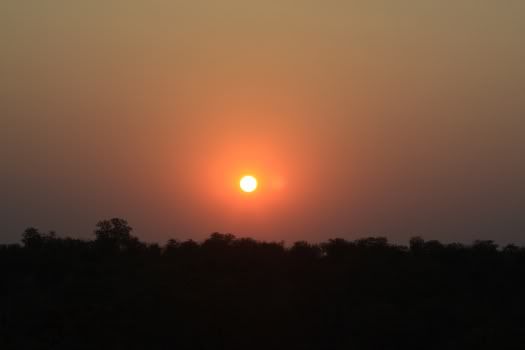 Then we were at the gate to Olifants Camp.
We were tired and stiff from all those hours in the car, yet thrilled at all the marvelous things we had seen.  And, as usual, wondering, "what will tomorrow bring?????"
THE DAY'S SIGHTINGS:  ANIMALS
Black Backed Jackal                                                        Lions    
Elephants                                                                         Leopard
Hippos                                                                              Baboons
Giraffes                                                                            Cape Buffalo
Steenbok                                                                          Zebra
Kudu                                                                                 Waterbuck
Impala
THE DAY'S SIGHTINGS:  BIRDS
Lizard Buzzard                                                                 Guinea Fowl
Kori Bustard                                                                     Lappetfaced Vulture
Lilac Breasted Roller                                                        Black Bellied Bustard
To view all blog pages, click HERE