9th Day - 24 August, 2010
Submitted by RogerH on Thu, 21/10/2010 - 7:05pm
9th Day - 24 August, 2010
To view all blog pages, click HERE
9th Day – 24 August, 2010
Late start today.  Left camp at 8:00 and took the S93/S44 loop to the Olifants River Lookout.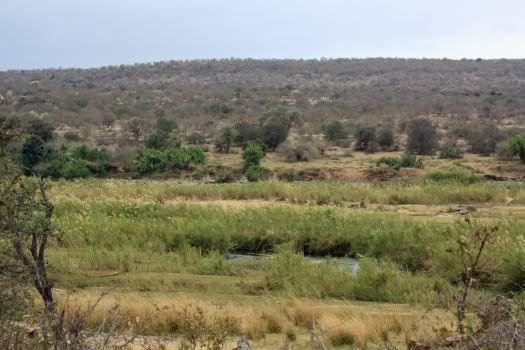 This is a beautiful spot to observe wildlife along the river.  We didn't really take enough time to enjoy it.  Next year we will spend more time there.
We headed south, on the dirt roads and spent a fair amount of time on and around this causeway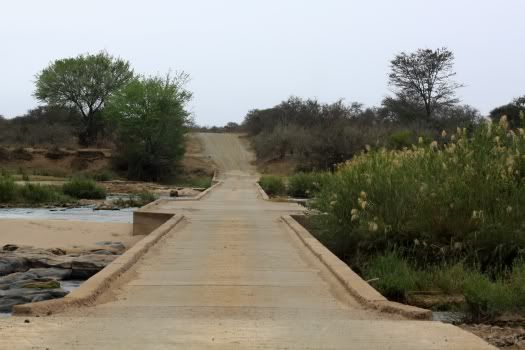 over a small river.
It turned out to be a birder's paradise.  Fani, when you come to Africa this is one place you must go! 
We watched a Giant Kingfisher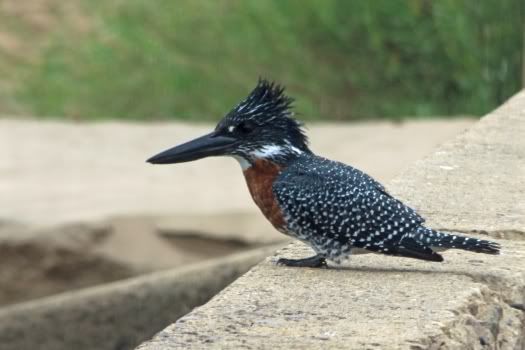 on the causeway, periodically diving into the water, then returning to watch for prey.  Honestly, we didn't see him come back with anything, but he sure was trying.  After watching him for a while, we moved just off the causeway to where there were thickets, close to the road, and were amazed at the birds we found there.
First, this Blue Waxbill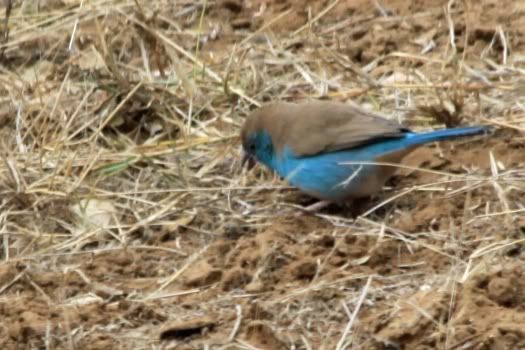 a member of the finch family, who was pecking and digging in the grass, looking for insects.
Then there were two different varieties of Bee-eater, the Little Bee-eater,
and this pair of White Fronted Bee-eaters.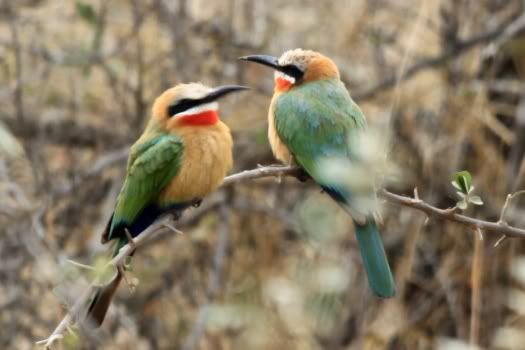 Honestly, our first reaction to seeing these incredibly colorful little birds, was, "They can't be real!"  They look more like the product of an artist's brush, than something real, in nature.  But, then, isn't nature the greatest artist of all?
Moving on down the road, we found a female Martial Eagle, sitting on her nest in the top of a tree,
and a pair of Lilac Breasted Rollers.
Because it was the dry season, many, if not most of the water holes we checked were dry.  One exception was Goedgegun Waterhole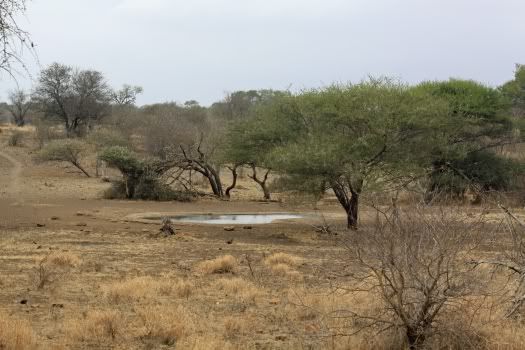 which, though quite shrunken did have some water in it.  It was surprising not to find some kind of wildlife nearby. 
A bit further down the road we came across this lovely Acacia Tree,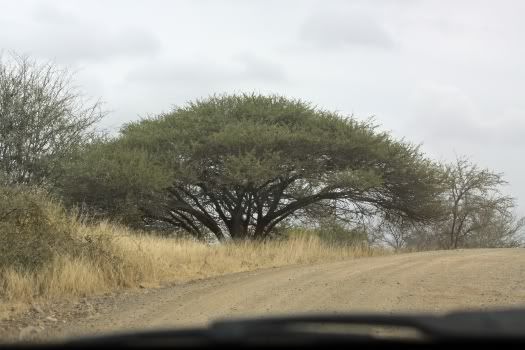 and a spectacular rock formation.  (Note that we're finally starting to notice something other than the animals!)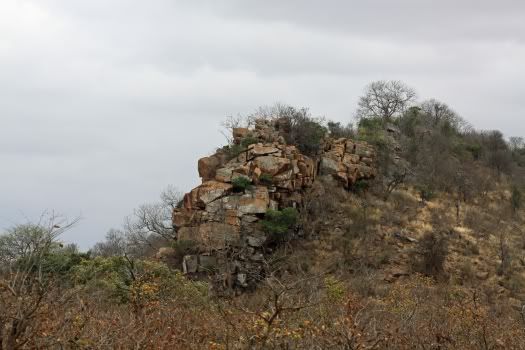 At mid-day we saw this trio of hansom male Impala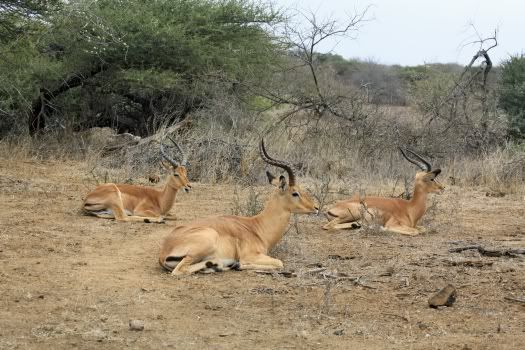 along with another solitary male, laying nearby.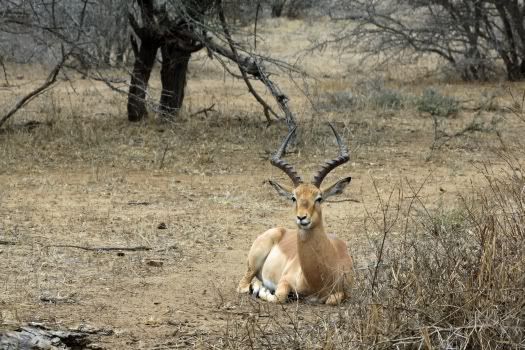 Although we frequently see this bird, the Blacksmith Lapwing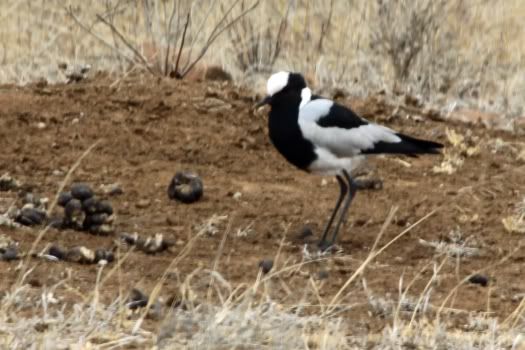 (or Blacksmith Plover – it is known by both names) at the waterholes, this was the first one we encountered.
At Ratelpan Hide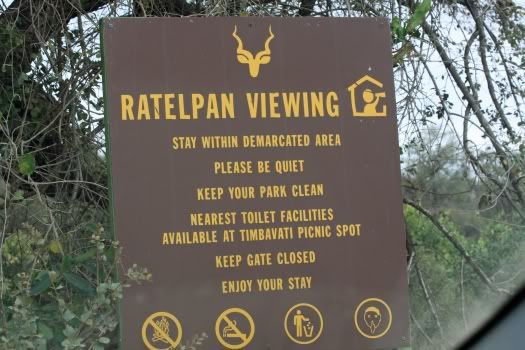 we watched a very large crocodile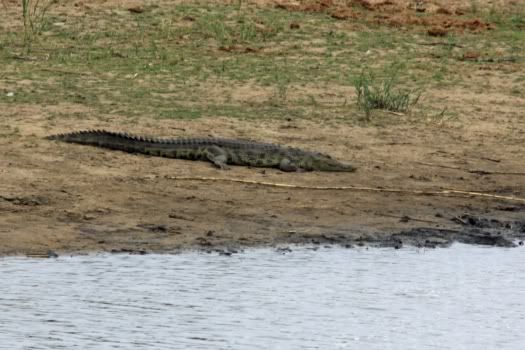 doing what they seem to do best – laying on the bank, sleeping!
This female Kudu watched us pass, from the brush beside the road.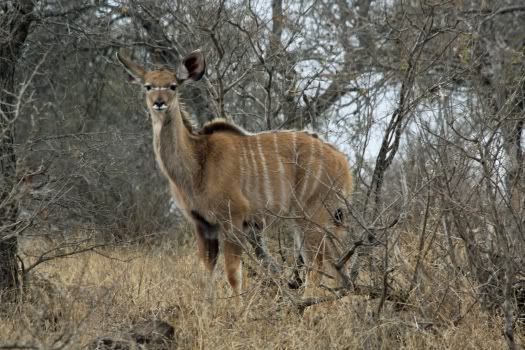 Here we have a Baobab Tree,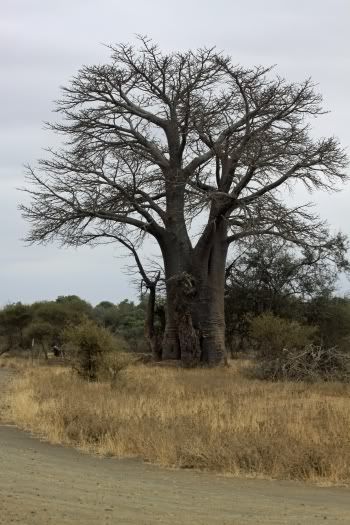 one of Africa's largest trees, some with trunks approaching 40 feet in diameter.  It is known by bushmen as the "Tree of Life", partly because of it's ability to store water.  A large Baobab tree can contain upwards of 30,000 gallons of water and they use hollow pieces of grass, like a straw, to suck the water out.  It is also know as the "Upside Down Tree", since, when it is without its leaves, in the winter, its limbs look much like the root structure of many other trees.
Our next stop was the Timbavati Picnic Area (with restrooms!!!)  It is a very nicely kept area, complete with barbecues where some people were preparing  quite elaborate lunches.  The afore mentioned restrooms were clean and there were a couple of rangers on duty there to answer our questions and to see to the upkeep of the area.  
We spotted a Blue Waxbill and snapped this picture,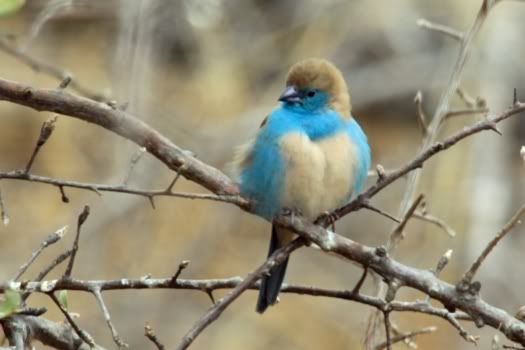 much better than the one we got in the morning at the causeway.
There were tons of Cape Glossy Starlings, and this one posed for us, giving us his best orange eyed stare.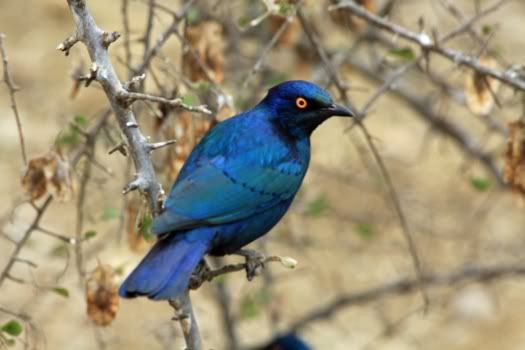 As usual, there were Yellow Billed Hornbills in abundance, ready to pounce on any scraps of food that happened to be dropped.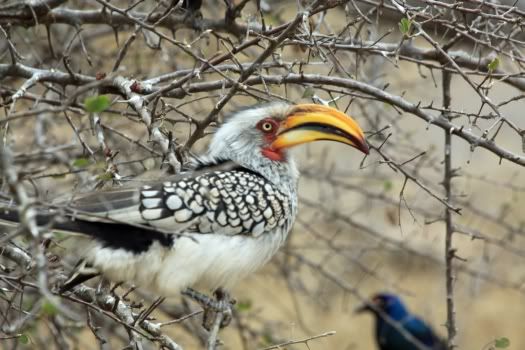 This Bluebilled Fire Finch was pecking around, looking for food,
and we almost missed him, his camouflage was so good.  Not a great picture, but it was the only Bluebilled Fire Finch we saw!
Just over a bank, off the edge of the parking lot, a little bushbuck was feeding, with little regard to having her picture taken.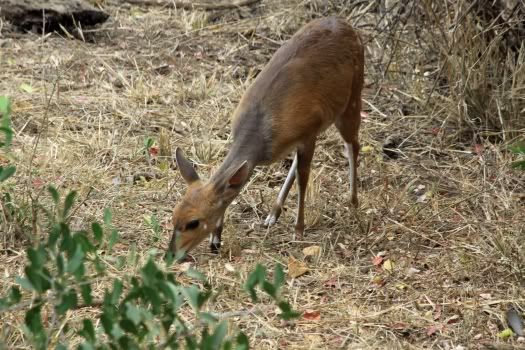 And last but not least, this common  House Sparrow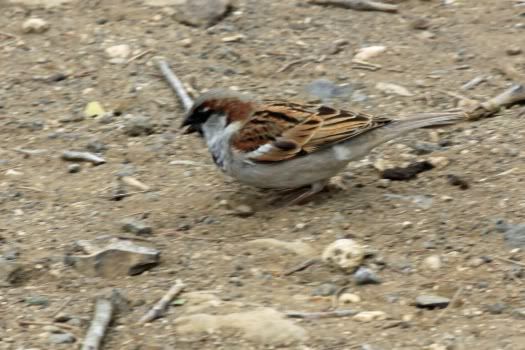 was hopping around in the parking lot as we returned to the car.
Continuing on our way, we came across another Kori Bustard,
striding through the grass.  Such an unusual bird, and fun to watch, as their gate is almost mechanical, head bobbing as they go.
Continuing on along the Timbavati River, we saw a bit of an unusual sight – a hippo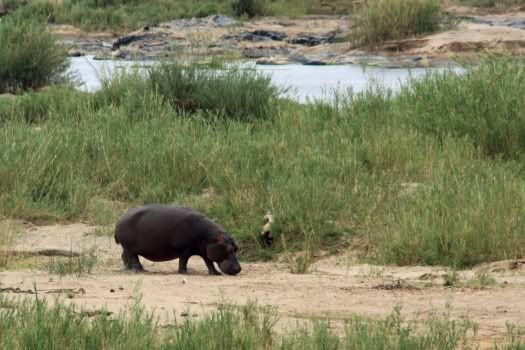 out of the water and moving around in broad daylight.  Normally, during the day, if they aren't in the water, they are sleeping on the bank, preferring to do their wandering and grazing at night.
In the middle of the afternoon, we returned back to the causeway where we had seen so much bird activity in the morning.  It was quite windy, and this young Wiretailed Swallow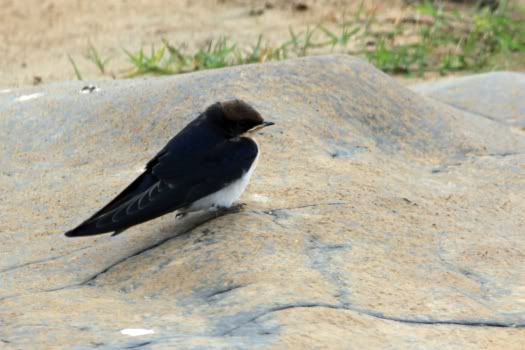 was hunkered down on a rock, trying desperately to keep from being blown away.
On a thorn bush overlooking the river, a Brown Hooded Kingfisher
sat watching for an afternoon snack, while this Fiscal Flycatcher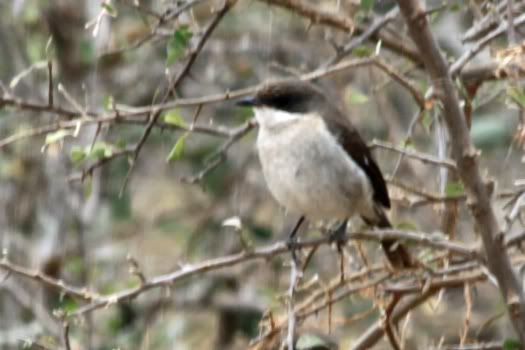 perched nearby.
On our way back to Olifants Camp, we watched a small group of elephants.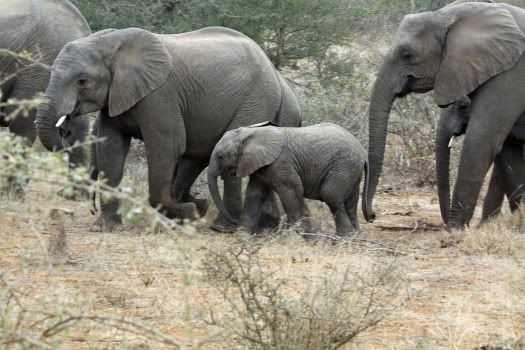 This bull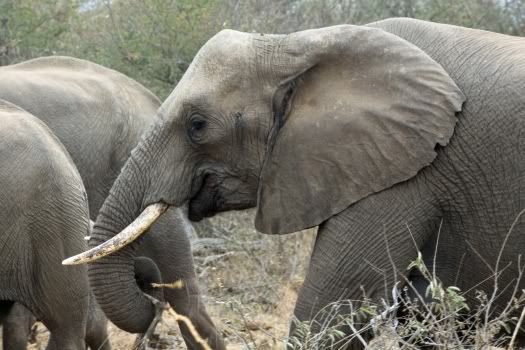 was in musth, as can be seen by the dark secretion from the temporal duct on the side of his head, behind the eye.  Musth is a periodic condition in bulls, which is characterized by aggressive behavior and an increased level of testosterone, often reaching 60 times greater than normal.  A large bull elephant is nothing to be messed with at any time, but he can be especially dangerous at this time.  This was always the first thing we looked for when we encountered bull elephants and we always kept our distance.  This is another reason to have a really good telephoto lens!
Back at Olifants, we went on an afternoon game drive, which though enjoyable, didn't yield too much in the line of critters.  We did see this immature Bateleur.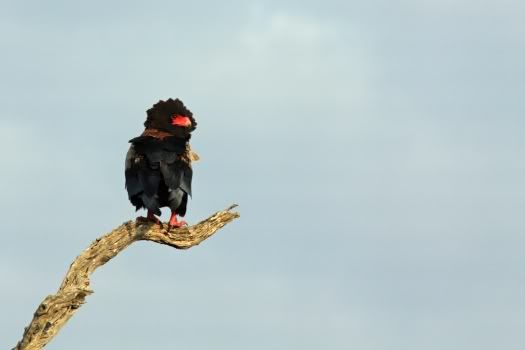 The Bateleur is the most easily identifiable eagle of the region, due to his very distinctive coloration.
And so we came to the end of another wonderful day at Kruger.  We've become "birders" it would seem – hard not to, when confronted with such beautiful creatures as we saw today.
THE DAY'S SIGHTINGS:  ANIMALS
Impala                                                           Hippo
Wildebeest                                                   Crocodile
Kudu                                                               Bushbuck
Giraffe                                                           Elephant            
THE DAY'S SIGHTINGS:  BIRDS
Giant Kingfisher                                                         White Fronted Bee-eater
Little Bee-eater                                            Blue Waxbill
Martial Eagle                                                Lilac Breasted Roller
Blacksmith Lapwing                                    Pied Kingfisher
Cape Glossy Starling                                   Yellow Billed Hornbill
Blue Billed Fire Fince                                   House Sparrow
Kori Bustard                                                  Wiretailed Swallow
Brown Hooded Kingfisher                         Fiscal Flycatcher
Bateleur
To view all blog pages, click HERE