Mopane Worms -
Gonimbrasia belina click here
List of Edible Insects
Bugs you can eat, from A to Z!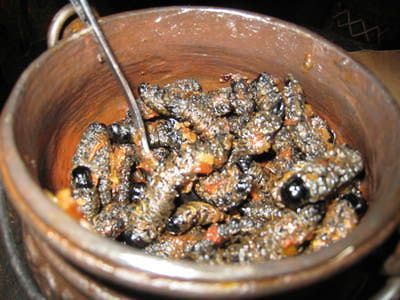 is a species of moth found in much of southern africa , whose large edible caterpillar the mopani or mopane worm, is an importasource of protein for millions of indigenous southern africans
Mopane worm: largely eaten in Southern Africa, during their season, mopane worms can fetch a higher market price than beef. When dried, they are said to taste like an earthy jerky.
What Did the Mopane Worm Taste Like?
More Facts and Fascinating Information About the Mopane Worm
How to Cook Mopane Worms