I would like to recommend 2 fantastic books written by Trevor Carnaby,
Beat about the bush - Mammals
Author : Trevor Carnaby
ISBN 9781770092402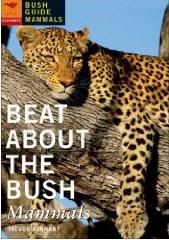 Book description :

Filling the gap between basic mammal guides and extensive academic texts, this resource answers everyday questions about mammals in an understandable fashion that will appeal to tourists, bush enthusiasts, and field guides. Addressing everything from how an elephant's trunk works to why the blue whale is not a fish, this question-and-answer guide includes more than 700 color photographs and a detailed section on tracks and signs, making it a must-have for anyone wanting to know about the mammals of the bush region.
Beat about the bush - Birds
Author : Trevor Carnaby
ISBN 9781770092419
Book Description :

Revealing fascinating insights into the mysterious lives of birds native to the mother continent, this remarkable guide exhibits the many vibrantly colorful species found in the South African bush. Providing an in-depth discourse on all aspects of bird life—detailing their myriad forms, survival strategies in a harsh landscape, breeding and feeding behaviors, movements, migrations, preferred habitat, unique behavioral patterns, and vocalizations—this comprehensive manual also expertly advises on how to easily and accurately identify each individual species. Populated with more than 900 brilliantly vivid photographs and exhaustively researched to fill the gap in existing literature and field guides, this essential reference will delight nature lovers, tourists, birdwatchers, and bush lovers alike.