Happy Birthday GrandmaChris
Wed, 04/03/2009 - 8:33pm
#1
Happy Birthday GrandmaChris
Happy, happy birthday GrandmaChris!!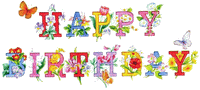 May the next year bring you many great sightings.
Fri, 06/03/2009 - 5:28am
#2
OH Dear, Oh Dear - thanks everyone for your lovely wishes, but it's not my birthday yet - think the numbers got reversed as it's not until May 3rd - not March 5th!

I won't forget because it's the same day as my eldest son.  Everyone should have at least two birthdays