Happy Birthday Kokodog1
Tue, 26/08/2008 - 10:53am
#1
Happy Birthday Kokodog1
Happy birthday Kokodog1
Have a wonderful day and many enjoyable sightings on the cams.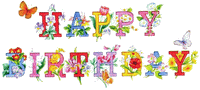 Sat, 30/08/2008 - 9:15pm
#2
Hey Everyone !! 
Thanks so much for the well wishes !!  I had a wonderful birthday !!! Black balloons, over the hill hat ..... man, life is tough when you hit the big 5-0  !!! hee hee.... actually, it doesn't bother me at all  .... I like that getting older stuff, sure beats the alternative!! Once again, thanks so much !!! I appreciate you all !!!