Kruger 2010 - part 1
Submitted by Anonymous on Fri, 03/12/2010 - 4:29pm
Kruger 2010 - part 1
---
Kruger National Park 2010
A blog from my recent trip to Kruger in October 2010.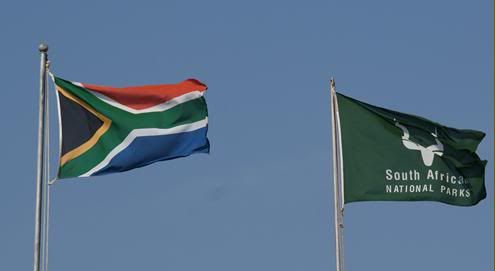 Day 1 - 11-10-2010

10h25 - After leaving home at 12 pm the previous day, Joey (Cerinthe) and I finally landed at Nelspruit Kruper Mpumalanga International Airport. First thing I thought when coming out of the airplane was : "I'm soooooooooo happy to be here but...... Jezus it's hot !!!!"
We immediately had our first surprise as we got welcomed by Penny and Jurek at the airport. It was so nice to meet them in person, and after picking up the keys of our rental car we had a drink and a chat together in the airport bar.
Then it was time for our adventure to begin.
What makes you sweat ? Well for me it's definitely the first moments in a SA rental car... as it takes some getting used to - having to drive on the "wrong" side of the road and also sitting at the "wrong" side of the car - but we made it safely to our first stop, the Malelane Spar Supermarket. While Joey was doing our shopping I was guarding the car & I don't think I have ever sweated this hard before in my life and me still being dressed for the cold Belgian temperatures didn't really help !
Later that week we heard that temperatures had gone up to 49°C (120.2 °F) that day.
With a car full of shopping bags we drove off to Marloth Park where we would spend our first night with Freda & Malcolm.
It was sooooo great to see Freda & Malcolm again after many years. Next time it won't be this long !
After a tour around Castle Corner (don't you love the name of their house), catching up, and a delicious Savanna dry cider, Freda, Joey and I went -for what turned out to become - a "refreshing" walk to the Kruger fence - & saw a herd of elephants at the other side of the Crocodile River while the heavens opened up for us and it started pouring down. But after such a hot day, this rainshower felt like heaven to me
.
A few kudu and a herd of impala came to visit us at Freda's house before the sun went down, and later in the evening Malcolm made us a great barbecue while the bushbabies kept us company in the trees.
I went to bed feeling very happy but still very ... warm !
♦♦♦
Day 2 - 12/10/2010
The next morning we met one of Castle Corners's daily visitors, Mr. Al, the bushbuck !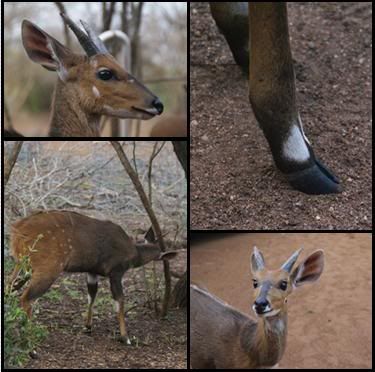 Birds are abundant around Freda's house and our bird list was growing by the minute. This bird was a new one for me, never seen it before, the Thick-billed Weaver
I can't remember exactly but I think that by the time we left Marloth Park we had reached more than 50 birds on our list. On following picture you see the Blue Waxbill, the Black-collared Barbet and the Purple-crested Turaco.

Little after meeting, Al the bushbuck, a group of zebra arrived and headed straight for the birdfeeder in Freda's garden
.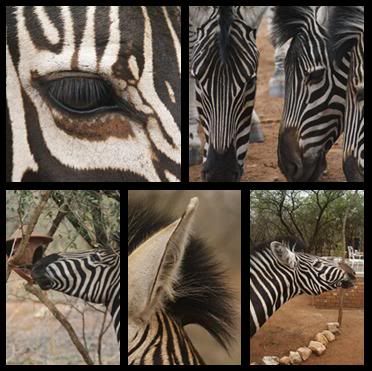 With all these animals & birds around the time flew by and after an abundant breakfast it was really time for Joey and I  to start our Kruger adventure. We would come back to Castle Corner on our last night.
It was only a short drive from Marloth Park to the Kruger Gate at Crocodile Bridge & we made sure that everyone would see that there were "Africammers" in the park
Our first elephant sighting was one to remember. A herd of elephants were standing further off in the bush except this little guy who was standing near the road. He was very relaxed with us and was eating, untill suddenly this other vehicle arrived and it must have startled the elephant, because he decided to give us a little mock charge. I'm happy he was just a little guy  lol

I love the dead trees... and most of the time, can't pass one without taking a picture.

On our way to Lower Sabie we saw lots of the general game and we had a fantastic sightIng of a Bateleur Eagle. It landed right in front of us on the road.No pictures as like most of the times....if flew off before I had reached my camera.
On the bridge at Lower Sabie, a water monitor greeted us. Little swifts were flying everywhere and Joey was in swift-heaven ! Here started our attempts of taking pictures of swifts in flight.... For the next 2 weeks this turned out to be a "mission impossible" !
A tent with a view....
At 2 pm, we checked in at Lower Sabie in safari tent nr. 20
After a quick sandwich while watching the hippo's on the sandy patches in the river, we went for our first afternoon drive in the park.
Not long after leaving the camp we had our first "leopard in a tree" causing a Kruger traffic jam. This leopard had an impala kill but was going up towards the top of the tree when we arrived. We did manage to get a good look at it before it dissapeared into the top branches of the tree.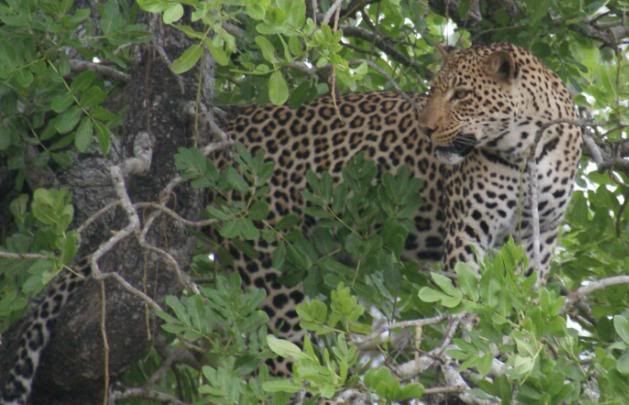 We decided to continue our drive and come back later to see if it had come down again and only a few km further we had our first lion sighting. It was a pride of 6 lions and they were doing what lions like to do in daytime.... hiding in thick bush and sleeping.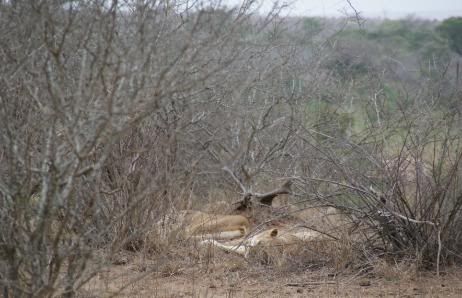 Excited about seeing leopard and lion in less than 1 hour we continued our drive along the Sabie river, to find this :

Yes, there was another leopard in a tree a few km further ! Again it had killed an impala but this one decided to go down the tree instead of up the tree like the first one did, and it dissapeared into the thick grass.
I don't think a first afternoon in the park can get any better than this. We saw lots of the general game and had 2 leopards and a lion sighting. Before heading back to camp we stopped at Sunset Dam but since it had been a very cloudy day we didn't see much of a sunset
Our first day ended with a barbecue and savannah cider, a common duiker at the fence and lions roaring in the distance.
& our birdlist grew to 63 different species. (will post the full list of birds at the end of the blog)

Animals seen so far : Lesser bushbaby - Kudu -Vervet monkey - Chacma Baboon - Lion - Leopard - Elephant - Bushbuck - Warthog - Hippo - Wildebeest - Crocodile - Impala - Waterbuck - Nyala - Water Monitor - Fruitbat -  Giraffe - Zebra - Common Duiker

---
to read Part 2 -  click here

»