Kruger 2010 - Part 10
Submitted by Anonymous on Fri, 17/12/2010 - 3:59pm
Kruger 2010 - Part 10
Kruger National Park 2010
A blog from my recent trip to Kruger in October 2010.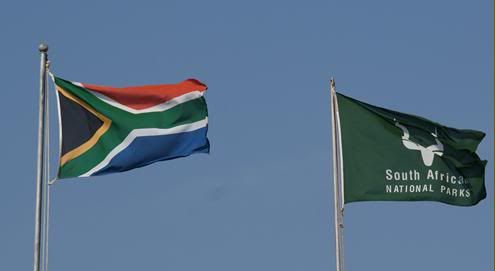 Day 12 - 21-10-2010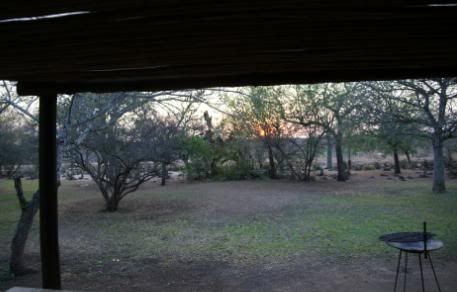 5.30 am at Orpen Camp.
Time to wake up, pack the car, have a coffee and enjoy the sunrise and feeling happy, just due to the fact that you are in the Kruger Park.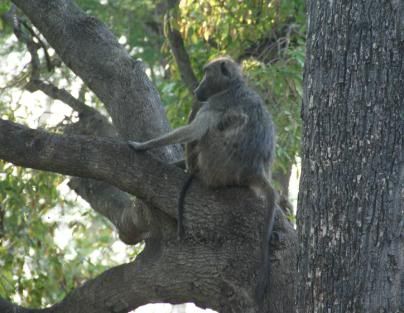 Today we are leaving the park again. We will spend our next 2 nights in Hazyview with Penny and Jurek.
We could take different roads to go to Hazyview, one was have a little drive around Orpen and leaving Kruger at Orpen gate or driving through the park towards Skukuza and leave the Kruger at Phabeni or Paul Kruger Gate.
Choosing wasn't difficult, we decided to spend most of our day in the park and to drive direction Skukuza.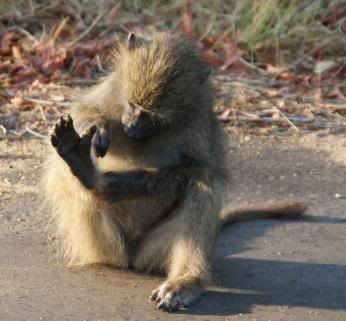 We, humans, give a handshake, elephants give a trunkshake
and I really enjoyed watching these 2 greating each other.

They must have been good mates, as the greeting was very affectionable.
They started with holding up their trunks and smelling each other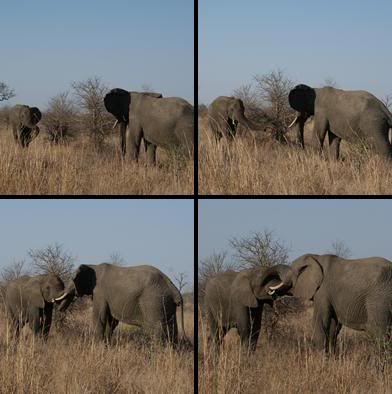 They were gently touching each other's head and I could hear a low rumble.
This starling came sitting right next to me, on the car-mirror, at Nsemani Dam.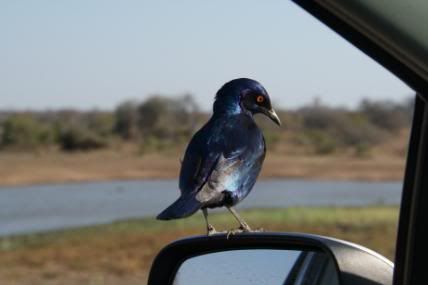 Showing off his wonderfull blue plumage.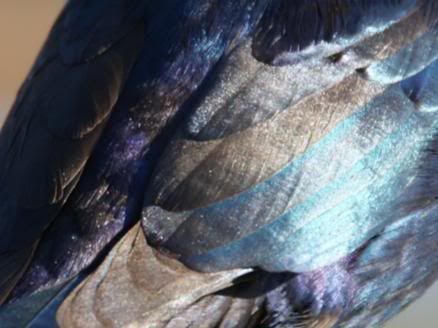 As this would be one our last days in this area of the park, we drove up to Satara camp one more time.
On our way there we watched another elephant and saw a spotted Hyaena who looked very skinny.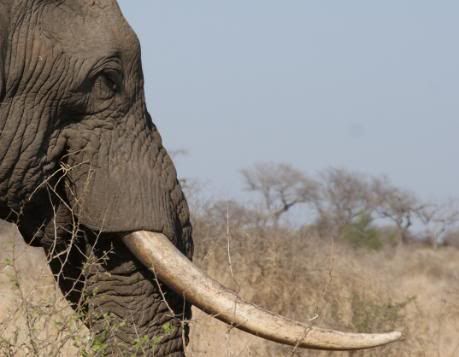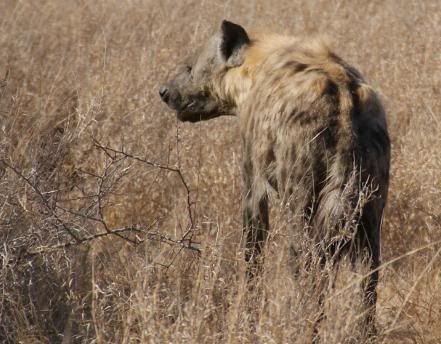 Satara Camp, the waterhole and cam are right behind the fence in the front.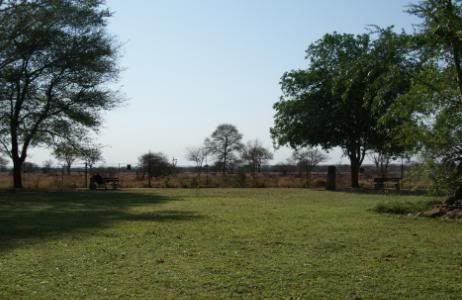 while sitting there I could hear a high-pitched whistle and soon I found a new bird for our list. A few Brown-headed Parrots were sitting high up in the tree.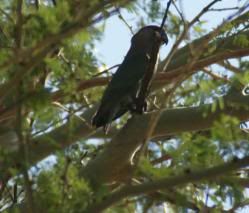 The high pitched whistle was soon followed by a high-pitched scream of a lady near the restaurant. She sounded like she had seen a ghost or something.
I got up from my bench and had a look what gave her such a fright and heard the word "spider"....
OK, if there is something I run from... it's a spider ! lol I really don't like them, big or small.

And there was this "giant" spider on the floor ! I think I would have screamed even harder than she just did !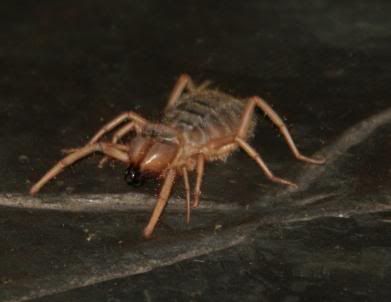 Somebody said this was a Rain spider and that they are harmless, but I did keep a safe distance when taking this picture and i'm surprised the picture is still ok, as I'm sure I was shaking while taking this picture
We moved far away from the spider and had a coffee & did some more birding at Satara.
A giraffe has such beautiful eyelashes. They don't need mascara !
It was still morning but already getting hot again and this Spotted Hyaena was looking for some shade.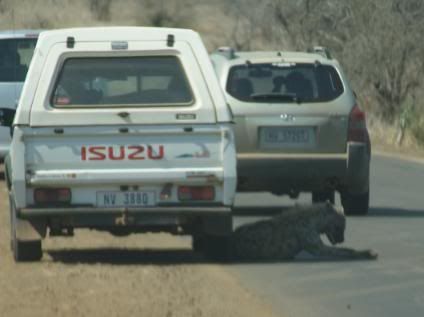 Hyaena and vultures were feeding off a kill. It was hard to see what they were feeding on. The grass in front was a bit too high.
Loved how this one was lying on the tar road.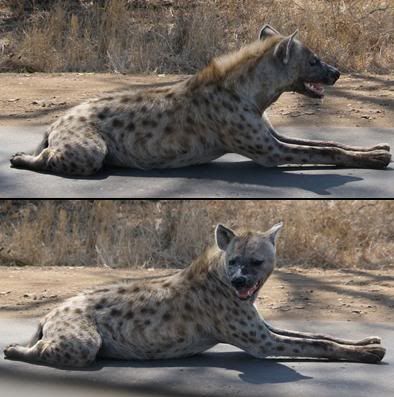 Around 11am we stopped at Tshokwane and had a late breakfast surrounded by starlings. I love how their color changes with the different light.

We found some ground hornbills trying to cool off along the road.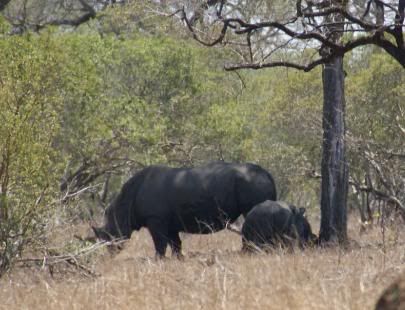 and White Rhino
In the afternoon we arrived at Lake Panic.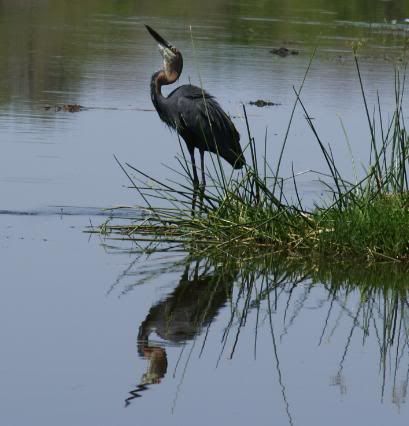 Goliath Heron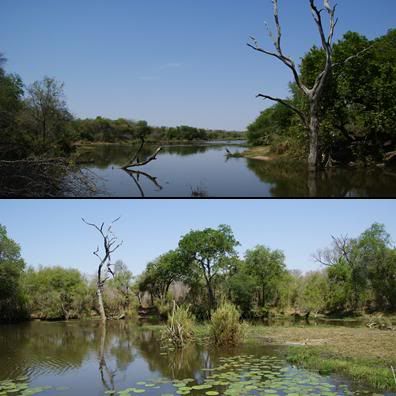 Lake Panic is another lovely hide to spend some time and we had nice sightings of a brown-hooded Kingfisher fishing. We also saw a Malachite Kingfisher and a beautiful African Darter and many other birds.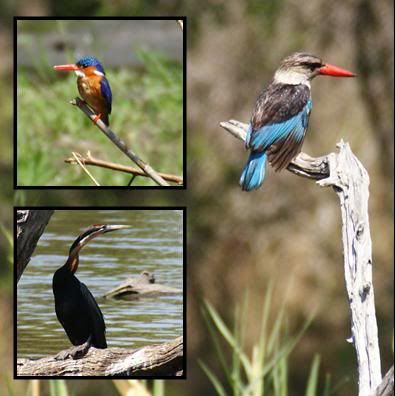 and bushbuck came for a drink
We left Kruger at Phabeni gate and arrived in Hazyview in the late afternoon. Tonight we stay with Penny & Jurek in Kruger Park Lodge.The house at the golfcourse, has a lovely view over the mountains.

After a nice barbecue and some catching up, it was time to go to bed as the next morning we would experience the thrill of Africa's longest areal cable trail. The Skyway Trails !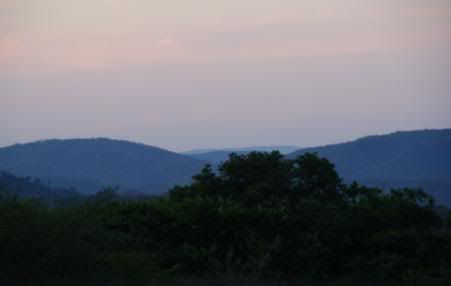 Animals seen so far : Lesser bushbaby - Vervet monkey - Chacma Baboon - Lion - Leopard - Elephant - Bushbuck - Warthog - Hippo - Wildebeest - Crocodile - Impala - Waterbuck - Nyala - Kudu - Water Monitor - Fruitbat - Giraffe - Zebra - Common Duiker - Steenbok - Buffalo - Spotted Hyaena - White Rhino - White-tailed Mongoose - Black Rhino - Scrub Hare. - Leopard tortoise - Reedbuck - Dwarf Mongoose - Slender Mongoose - Small spotted Genet - Black-backed Jackal - Chameleon - Cheetah - Banded Mongoose - Squirrel - Tree Agama - Plated Lizard

---
to read previous parts of this blog click here
»