Kruger 2010 - Part 11
Submitted by Anonymous on Sun, 26/12/2010 - 11:09am
Kruger 2010 - Part 11
Kruger National Park 2010
A blog from my recent trip to Kruger in October 2010.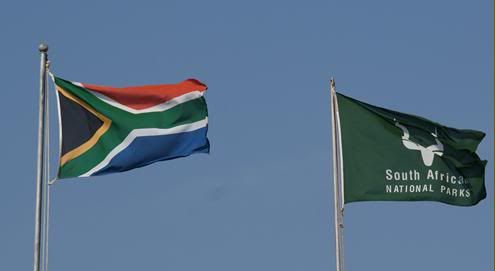 Day 13 - 22-10-2010

No animals today, as today we are going to slide from platform to platfrom through the trees of Hazyview !
Skyway Trails here we come !
I'm a little afraid of heights so this would be an interesting morning.
At 8.30 we had to be at Gecko Lodge in Hazyview.
On arrival there, we got a little briefing from our guides and got our kit. We also did a little training on a short slide and they learn you (very important) how to STOP ! lol.
This training slide was only a few metres long, so it was ok, but I was not sure how I would feel if I had to do one of 200 m long !!!!
I didn't take my camera that day, but Penny did, so thanks to her I can post some pictures here of the trail.
Our guides were Ismael and Phindi. They were great !

Skyway Trails is Africa's longest cable trail. 1,2 km long, split over 9 slides. If I remember well the longest slide was 230m far and 30 m high !
One of our first slides was pretty far....

On the different platforms you have to wait for all the other participants to get there and meanwhile you can enjoy the lovely views.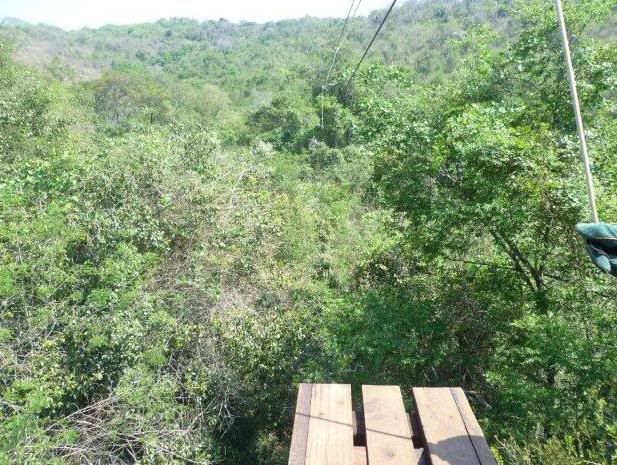 I must say that after my first slide I had shaking hands and the adrenaline was pumping
I didn't really think about "enjoying" the lovely surroundings during the first slide either because I was focusing too much on holding one hand on the cable and leaning backwards and holding the other hand on the harnas and was also much too busy keeping my eyes on the platfrom where I had to land.... & I made it !!!!

But after my 2nd slide it got better and after my 3rd slide I actually enjoyed it !!!
This is me in action on one of the last slides. Yeeehaaaaaaaa !
Our group, with Penny and Jurek (top left) and me and Joey (middle left).

Joey coming down, you can see other people still standing on the platform high up there.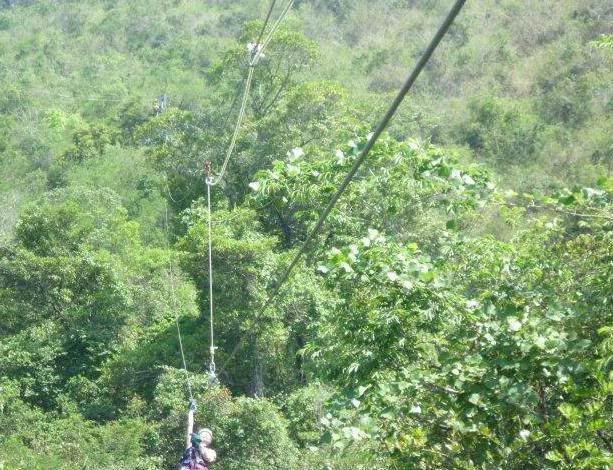 We had a great bird-sighting on one of the last platforms. We saw a Narina Trogon ! A very beautiful bird. I had never seen one before. This was wonderful, I had never thought that we could add this one to our list !
Around midday we finished the trail.
We really enjoyed it and I would do it again. It hadn't been a scary experience at all, except for Penny's finger...
We went for lunch in Graskop where I had the most delicious pancake filled with fruit !
Penny had hurt her finger on the Skyway trail and as it was starting to get pretty swollen we decided that she should go to a doctor to check it so we drove back to Hazyview after lunch and spend the afternoon at the house in Kruger Park Lodge.
Penny came back from the doctor with a  nicely-wrapped finger.  It got bruised pretty bad.
In the evening we had a nice dinner in an Italian restaurant. Pizzaaaaaaaaaaaaaaaaaaaaa time !
Buona notte everyone, tomorrow we drive back to Kruger !
Animals seen so far : Lesser bushbaby - Vervet monkey - Chacma Baboon - Lion - Leopard - Elephant - Bushbuck - Warthog - Hippo - Wildebeest - Crocodile - Impala - Waterbuck - Nyala - Kudu - Water Monitor - Fruitbat - Giraffe - Zebra - Common Duiker - Steenbok - Buffalo - Spotted Hyaena - White Rhino - White-tailed Mongoose - Black Rhino - Scrub Hare. - Leopard tortoise - Reedbuck - Dwarf Mongoose - Slender Mongoose - Small spotted Genet - Black-backed Jackal - Chameleon - Cheetah - Banded Mongoose - Squirrel - Tree Agama - Plated Lizard

---
to read previous parts of this blog click here
»