Kruger 2010 - Part 12
Submitted by Anonymous on Mon, 03/01/2011 - 11:44am
Kruger 2010 - Part 12
Kruger National Park 2010
A blog from my recent trip to Kruger in October 2010.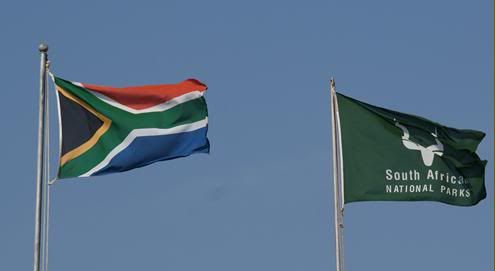 Day 14 - 23-10-2010

After a lovely breakfast with Penny and Jurek it's time to go back to Kruger to spend our last night there. The past 2 weeks have really flown by and I'm feeling sad already that today will be our last night to spend in the park.
It's only a short drive from Penny's house at Kruger Park lodge to the Phabeni gate.
Not long after entering the park a few cars were parked at the side of the road. We couldn't see what they saw and asked them what was there. There was a leopard lying under a tree and after several minutes we finally saw something that looked like spots... The leopard was really hidden well ! Someone must have seen it crossing the road or walking there because it was simply impossible to spot this one lying down in the thick bush. It didn't look like the leopard was going to do much except sleep so we continued.
This buffalo was watching me watching him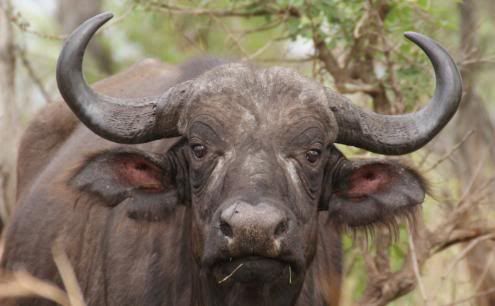 We saw this little guy crossing the road... I'm not good in insects, so not sure what it is..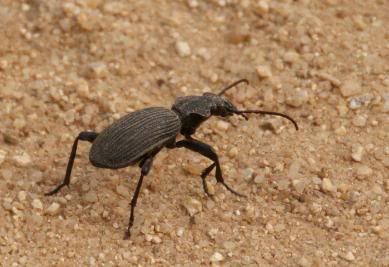 And this big guy was standing next to the road on the S1. It was the biggest tusker we had seen on this trip.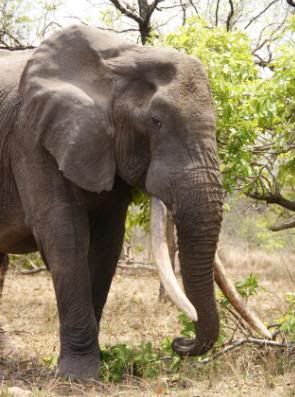 Thanks to Aat from www.tuskersofafrica.com I have ID'd this big boy.
Thank you Janine, for sending me the link to this website !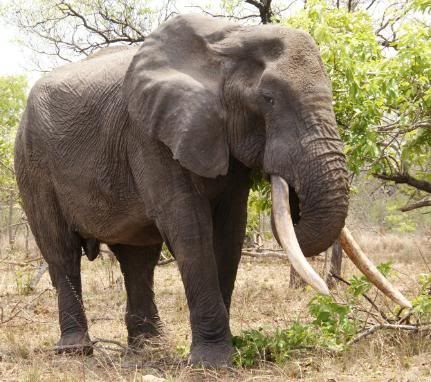 He is one of the named tuskers in Kruger. His name is Madolo. More info about him can be found here. As you will see on the link, some of the pictures say that he has been seen close to Nkorho Lodge as well, so who knows maybe one day I will see him back on the Africam cams again !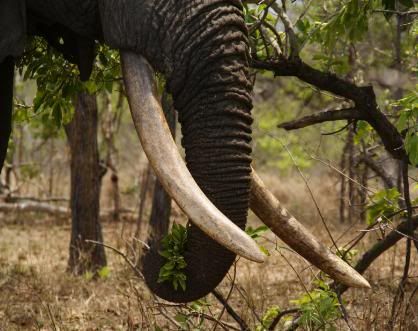 We drove to Transport Dam (this is where the famous video Battle of Kruger was filmed)
When we arrived there a few elephants were swimming in the Dam !
It was a lovely sighting and it turned out to be the highlight of the day for me.
Very clean tusks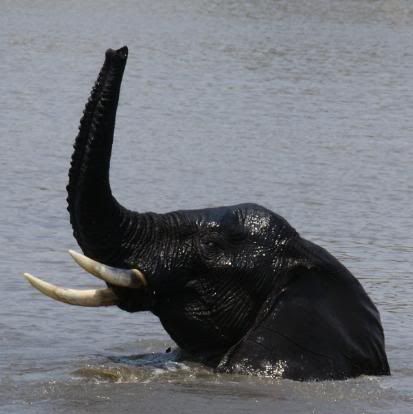 The elephants were having so much fun in the water ! Sometimes all you could see was a trunk sticking out of the water as they moved along.
It was wonderful to see how these gentle giants were enjoying themselves !
While others were swimming another elephant approached the dam and had a little mudbath close to where we were parked.
We had a 2nd leopard sighting in the afternoon, but again it took us ages to find it... or at least to see part of it. This time it was even better hidden than the one we saw this morning. All I saw was a tip of his tail lying behind a branch on the ground.
We did add a new mammal to our list, we hadn't seen Klipspringer yet on this trip and today they finally showed for us
.

On the H3 4 young lion cubs were having an afternoon siesta. They were still looking pretty young but we couldn't find any adults around anywhere...

We are spending our last night in Kruger at Byamiti.
It was my first time to go to Byamiti. Byamiti has its own private road, about 18 km long. This road can only be accessed if you have booked at the camp.
The road was very narrow at some points and going up and down, up and down the whole time, and the vegetation was dense and it was FULL of elephants on their way to the riverbed. I don't think we have driven 5 min. without seeing elephants along the side of the road here. The scenery however was beautiful as the road is close to the river.
Anyway.... I was kinda relieved to arrive at the camp. Driving on narrow roads combined with herds of elephants are not one of my favorite things...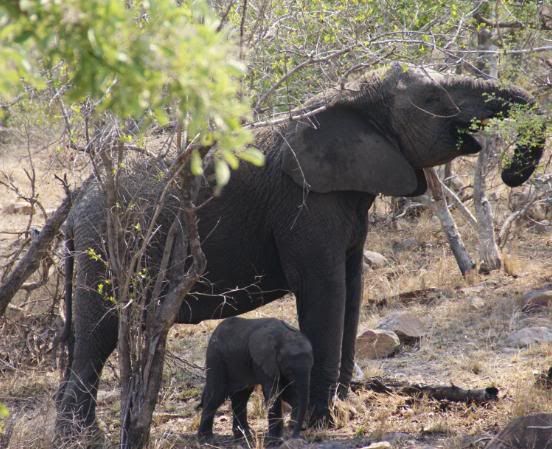 This was really an Elephant-day !!!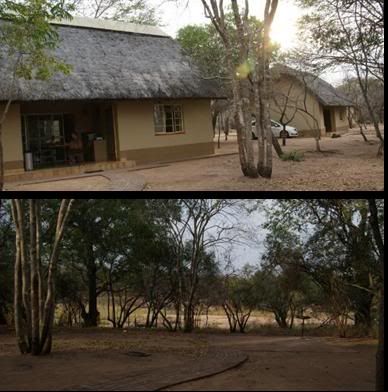 Our bungalow and view at Byamiti.
We decided to book for a night drive at Byamiti.
There was only 4 people on the drive, Joey, me and a couple from France.
We started talking and mentionned that we were Africammers, and they looked at us and said : "Africam", we know that !!! We have it on ALL THE TIME at home !!!
It was an Africammers' drive !

I'm very sorry, but I forgot the names of this couple. Maybe if they happen to read this blog they will recognise that i'm talking about them.
But.... I'll never forget how they used other words to remember the name of certain birds. We saw Woolly-necked storks on the drive and they called them Moulinex storks. I'll always think of that now whenever I see a Woolly-necked Stork
.
What else did we see on the drive... you can guess....
Elephants, elephants, more elephants, kudu, steenbok, our first Martial Eagle and a total of 13 rhino. ! The rhino was all we needed to have a Big 5-day.

We watched a gorgeous sunset on the drive.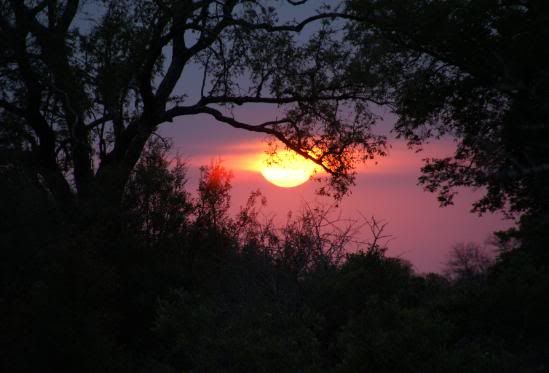 When returning to camp that evening, we had a scorpion in our room. Ok I don't like spiders and I don't like scorpions !

Manned with a towel Joey, very bravely, got it out of our bungalow. We were so concerned about getting the scorpion out, that we forgot to take pictures of it.
That night we heard a Giant Eagle Owl calling, and all I could think about before falling asleep was..... "Ellielujah !"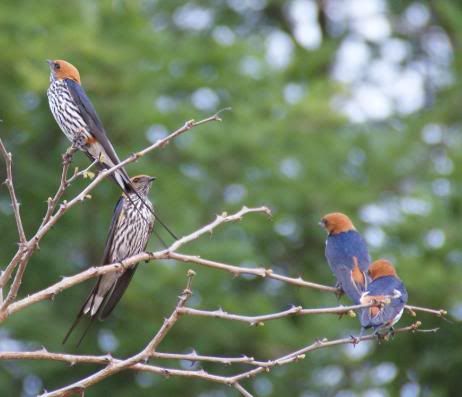 Lesser Striped Swallow

Animals seen so far : Lesser bushbaby - Vervet monkey - Chacma Baboon - Lion - Leopard - Elephant - Bushbuck - Warthog - Hippo - Wildebeest - Crocodile - Impala - Waterbuck - Nyala - Kudu - Water Monitor - Fruitbat - Giraffe - Zebra - Common Duiker - Steenbok - Buffalo - Spotted Hyaena - White Rhino - White-tailed Mongoose - Black Rhino - Scrub Hare. - Leopard tortoise - Reedbuck - Dwarf Mongoose - Slender Mongoose - Small spotted Genet - Black-backed Jackal - Chameleon - Cheetah - Banded Mongoose - Squirrel - Tree Agama - Plated Lizard - Klipspringer

---
to read previous parts of this blog click here
»