Kruger 2010 - Part 14
Submitted by Anonymous on Sat, 05/02/2011 - 12:09pm
Kruger 2010 - Part 14
Kruger National Park 2010
A blog from my recent trip to Kruger in October 2010.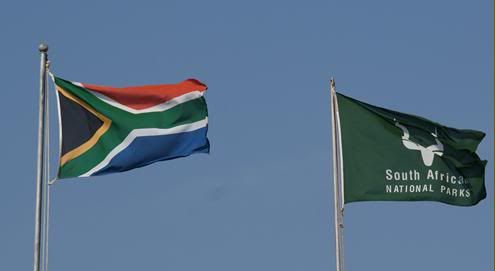 Day 16 - 25-10-2010

Marloth Park, around 6.30am, having coffee and watching birds.
Today I'm going back home to Belgium.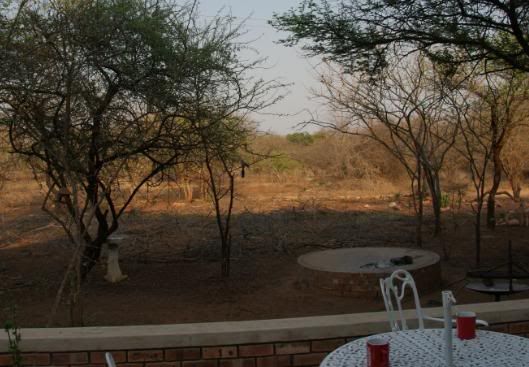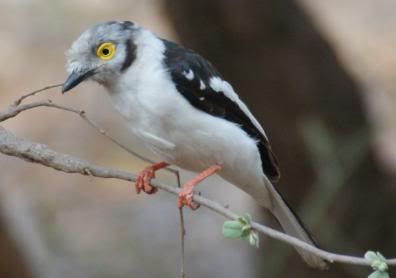 White-Crested Helmet Shrike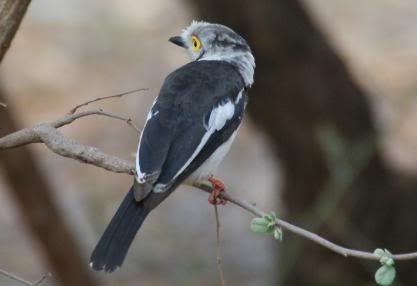 Freda's garden is always good to find new birds to add to your list and also this morning we found another new one !
Cut-throat Finch. This one is the female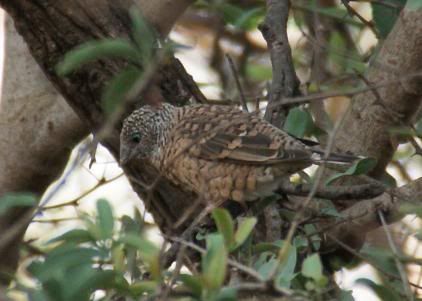 And here is the male Cut-throat Finch and a Blue Waxbill !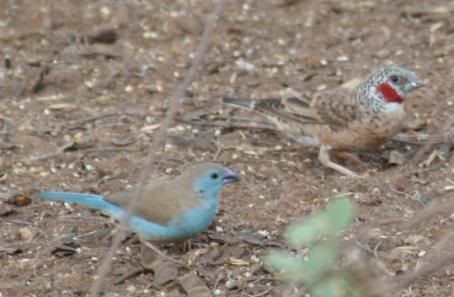 Not sure about this one anymore, but I think it was an Ashy Flycatcher.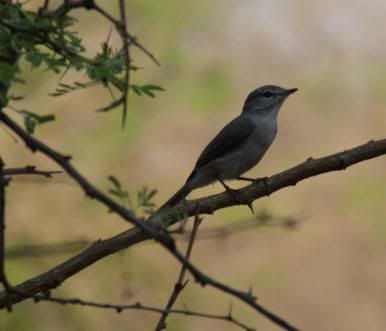 After breakfast, it was time to load the car and say goodbye to Freda. I wish I didn't have to go home yet...
As we only had to be at Nelspruit airport early afternoon, we could spend another morning in the park. It was a quiet drive but we saw klipspringer again.
Can you see it ?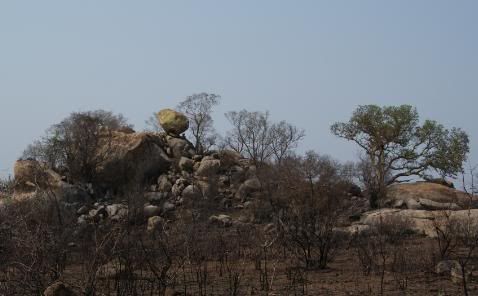 Maybe now you can
?
On the road to Transport dam we saw a breeding herd of elephants further off in the bush. They were walking in the direction of the dam.
When we arrived at the dam we watched a giraffe drinking and a few minutes later the breeding herd of elephants arrived.

Pretty soon there were elephants everywhere. On our left we had the breeding herd.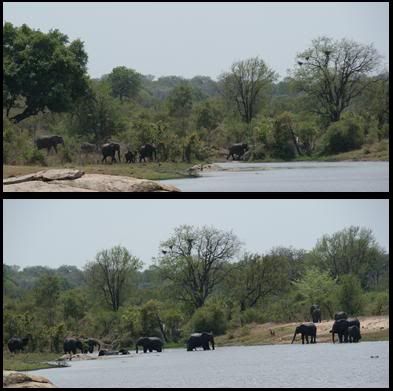 and on our right 2 bull elephants arrived for their daily swim.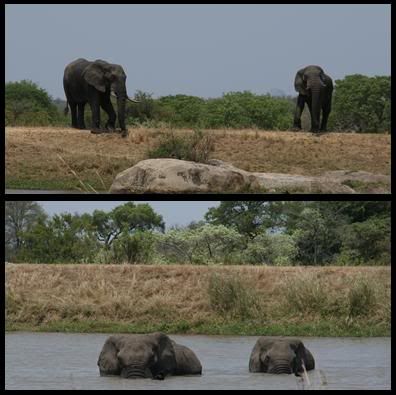 Watching the elephants swimming was a perfect end to our Kruger adventure which ended much too soon.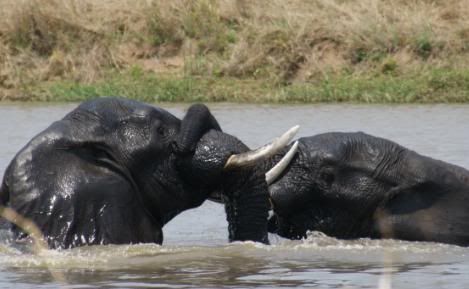 At Johannesburg airport Joey and I said goodbye. Joey was staying for a few more weeks in SA to spend some time with her family.
Don't remember much of my flight back home because I slept most of the time and only woke up 1/2 hour before landing in London.
Another short flight to Brussels and I would finally see my cat again.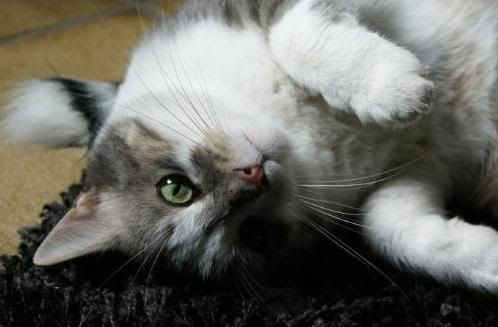 This has been a wonderful trip.
Thanks Joey for being such good company and also a big thank you to Freda & Malcolm, Janine and Penny & Jurek for your friendship & hospitality.
& to Kruger National Park : I'll be back !!!

We've seen lots of birds on the trip, some we could identify and others we couldn't. Here is the list of the birds we saw and were able to identify (151 birds) :
Secretary Bird

Hooded Vulture

White-backed Vulture

Lappet-faced Vulture

Yellow-billed Kite

Tawny Eagle

Martial Eagle

Brown snake-eagle

Bateleur

African harrier-hawk

African scops owl

Common Ostrich

Dabchick

White-breasted Cormorant

Darter

Grey Heron

Black-headed Heron

Goliath Heron

Great Egret

Little Egret

Cattle Egret

Green-backed Heron

Hamerkop

Black Stork

Woolly-necked Stork

Saddle-billed Stork

Marabou Stork

Yellowbilled Stork

Hadeda Ibis

African Spoonbill

White-faced Duck

Egyptian goose

Spur-winged Goose

Crested Francolin

Swainson's spurfowl

Natal Francolin

Helmeted Guineafowl

Black Crake

Moorhen

Red-crested Korhaan

African Jacana

Kittlitz's Plover

Three-banded Plover

Crowned Lapwing

Senegal Lapwing

Blacksmith Lapwing

Whitecrowned Lapwing

African Wattled Lapwing

Common Sandpiper

Black-winged Stilt

Spotted Thick-knee

Water Thick-knee

Temminck's courser

Bronze-winged courser

Double-banded Sangrouse

Red-eyed Dove

African Mourning Dove

Cape Turtle Dove

Laughing Dove

Namaqua Dove

Emerald-spotted Dove

African Green Pigeon

Brown-headed Parrot

Purple-crested Turaco

Grey go-away bird

Klaas's Cuckoo

African Cuckoo

Burchell's Coucal

Fiery-necked Nightjar

Little Swift

African Palm Swift

Speckled Mousebird

Narina Trogon

Pied Kingfisher

Giant Kingfisher

Malachite Kingfisher

Brown-hooded Kingfisher

European Bee-eater

Striped Kingfisher

Grey-hooded Kingfisher

White-fronted Bee-eater

Little Bee-eater

Lilac-breasted Roller

Purple Roller

Hoopoe

Green wood-hoopoe

Trumpeter Hornbill

African Grey Hornbill

Red-billed Hornbill

Southern Yellowbilled Hornbill

Southern Ground Hornbill

Black-collared Barbet

Crested Barbet

Golden-tailed Woodpecker

Cardinal Woodpecker

Bearded Woodpecker

Fork-tailed Drongo

Black-headed Oriole

Barn Swallow

Red-breasted Swallow

Lesser-striped swallow

Brown-throated Martin

Pied Crow

Southern Black Tit

Arrowmarked Babbler

Dark-capped Bulbul

Kurrichane Thrush

Groundscraper Thrush

Mocking Cliff-chat

White-browed Srub-robin

Yellow-breasted Apalis

Long-billed Crombec

Ashy Flycatcher

Southern black Flycatcher

Chinspot Batis

African Pied Wagtail

Cape Wagtail

Yellow-throated Longclaw

Magpie Shrike

Southern Boubou

Black-backed Puffback

Brubru

Black-crowned Tchagra

Orange-breasted Bush Shrike

Grey-headed Bush-shrike

White-crested Helmet Shrike

Retz's Helmet Shrike

Southern White-crowned shrike

Wattled Starling

Violet-backed Starling

Cape Glossy Starling

Greater Blue-eared Starling

Red-winged Starling

Red-billed Oxpecker

Marico sunbird

White-bellied Sunbird

Scarlet-chested Sunbird

Red-billed Buffalo Weaver

House Sparrow

Southern Greyheaded Sparrow

Thick-billed Weaver

Southern Masked Weaver

Red-billed Quelea

Green-winged Pytilia

Red-billed Firefinch

Blue Waxbill

Cut-throat Finch

Pin-tailed whydah

Village Indigobird

Yellow-fronted Canary

Golden-breasted Bunting
Animals seen on this trip : Lesser bushbaby - Vervet monkey - Chacma Baboon - Lion - Leopard - Elephant - Bushbuck - Warthog - Hippo - Wildebeest - Crocodile - Impala - Waterbuck - Nyala - Kudu - Water Monitor - Fruitbat - Giraffe - Zebra - Common Duiker - Steenbok - Buffalo - Spotted Hyaena - White Rhino - White-tailed Mongoose - Black Rhino - Scrub Hare. - Leopard tortoise - Reedbuck - Dwarf Mongoose - Slender Mongoose - Small spotted Genet - Black-backed Jackal - Chameleon - Cheetah - Banded Mongoose - Squirrel - Tree Agama - Plated Lizard - Klipspringer

---
to read previous parts of this blog click here
»