Kruger 2010 - Part 2
Submitted by Anonymous on Sat, 04/12/2010 - 4:16pm
Kruger 2010 - Part 2
---
Kruger National Park 2010
A blog from my recent trip to Kruger in October 2010.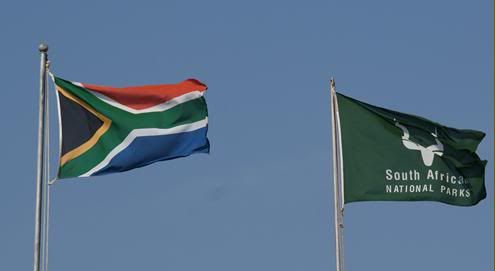 Day 3 - 13-10-2010

5am - Time to get up and hit the Kruger roads.
When walking to our car we noticed that we were not the only ones who set our alarm at 5am....  the "B.S.I (bin-scene-investigation) -squad", were allready at work. Baboon-proof bins are needed at Lower Sabie...

We left Lower Sabie and our first stop of the day would be Mlondozi dam, we would have our breakfast there... at least that was the plan....

We arrived at Mlondozi a little after 7am and as you see it was a very cloudy day. I took an apple out of the cooler box and went bird-hunting with my camera. It turned out to be a succesfull hunt as I found a Black-eyed bulbul and an Orange-breasted Bush Shrike that were kind enough to pose for a picture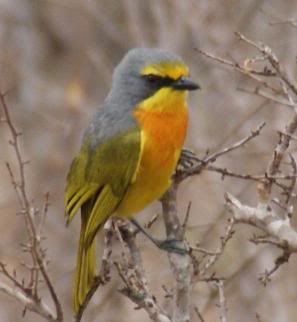 And then there was this vervet monkey... a few seconds after me taking this picture I realised he wasn't interested in me taking his picture but he was especially interested in my "apple" ! He jumped out of the tree and in a flash he had grabbed the apple out of my hand, and ran off with it.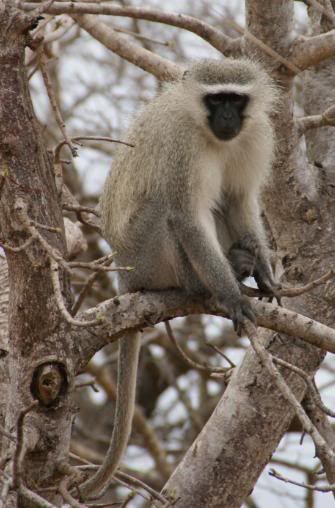 Apple-less I walked up to Joey. While I was telling her what happened she took her sandwiches out of the coolerbox and she just had the time to unwrap them and there he was again, the vervet monkey came running and jumped up and stole her sandwiches ! There we were.... at a picnic spot.... breakfast-less and also a bit breathless
At least we made the vervets leave because all that were there, ran after the one that stole Joey's sandwiches ! ROFL ! A little later, the guards arrived and the other people all started getting their cooler bags out....
What did we learn today ? "Wait for the guards to arrive at picnic spots, before eating with vervets around !"
Along the road we saw several rhino middens, but we still had to find our first rhino. A little after leaving Mlondozi dam it happened... it was far off but hey, we saw one !!!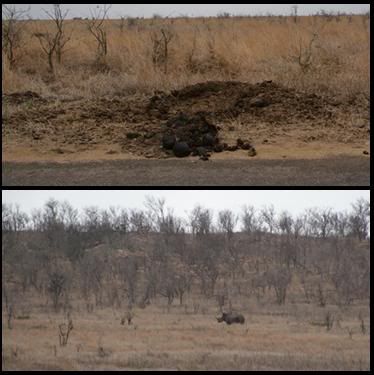 some of the critters we saw on our way
and we found an elephant with some blush on his cheeks....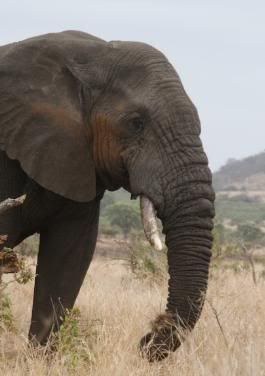 After a few hours of driving, it was time to stretch our legs again at our next stop, the Tshokwane Picnic spot. No vervets around there
, but plenty of starlings and doves.
We continued our drive and saw steenbok, buffalo and common duiker. Along the way another car stopped us & told us that there was a lioness lying not much further along the road. She was lying on some rocks and you could see her from the bridge. So off we went to see if we could find her.
And we did..
We had booked for the sunset drive at Lower Sabie so we decided to return to camp a bit earlier to get ready for the drive.
just before getting back to the camp, we had another great sighting at one of the little river loops along the Sabie River. It was a beautiful African Fish Eagle with a kill. Not sure what it was eating but it looked like a bird. It was posing nicely and several cars were watching it from a distance. But then one car arrived and decided to drive right up to the eagle and he not only blocked everyone's view but he ruined the whole sighting for everyone else as the eagle flew off...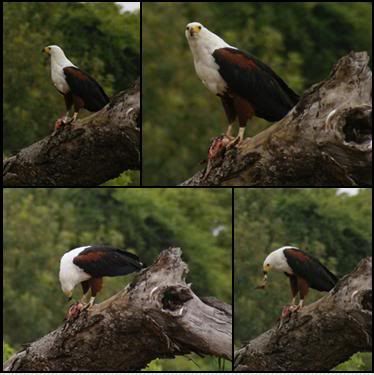 As I said, we had booked seats for the sunset drive at Lower Sabie and right before the drive left it started to rain...it turned out to be a pretty wet but great drive.
We had 3 lion sightings, 7 lions in total, white-tailed mongoose, hippo, spotted hyaena, Lesser bushbaby, Steenbok, Scrub Hare and Rhino. We had 2 rhino sightings, and our guide said that one of the rhino's we saw was a black rhino. We only saw the rhino for a few seconds as it was running into the bushes and it was dark so I'm not 100% sure if it really was a black one or not...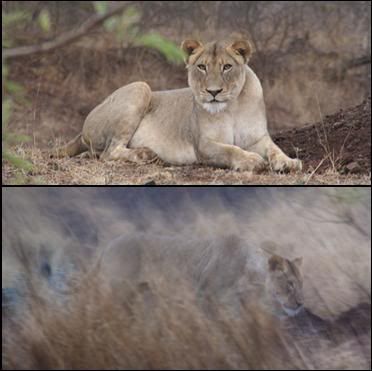 These are the only pics I got on the drive as once it got dark my camera decided not to focus anymore and if it did decide to focus the animal was long gone....

I did catch a little video of lions and hyaena on the drive
[video]
Our second day in the park ended a bit like it began... when we arrived back at our tent we saw that  the B.S.I had been back again to do some more investigation ! .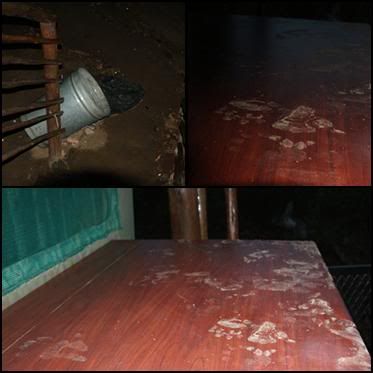 After another great day in the bush we went to bed,  this time listening to the wind and rain...

& our bird list grew to 84 species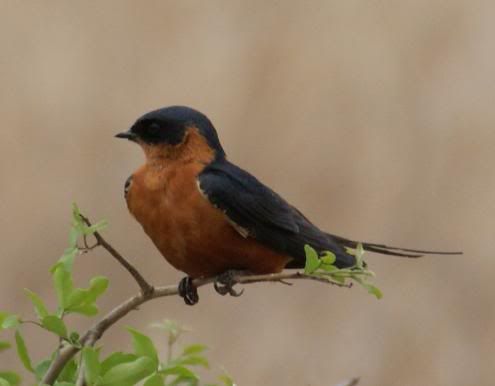 Red-breasted Swallow
and the trees of the day
Animals seen so far : Lesser bushbaby - Vervet monkey - Chacma Baboon - Lion - Leopard - Elephant - Bushbuck - Warthog - Hippo - Wildebeest - Crocodile - Impala - Waterbuck - Nyala - Kudu - Water Monitor - Fruitbat - Giraffe - Zebra - Common Duiker - Steenbok - Buffalo - Spotted Hyaena - White Rhino - White-tailed Mongoose - Black Rhino - Scrub Hare.
---
Part 1 (click here)
Part 3 - click here
»