Kruger 2010 - Part 3
Submitted by Anonymous on Sun, 05/12/2010 - 2:32pm
Kruger 2010 - Part 3
---
Kruger National Park 2010
A blog from my recent trip to Kruger in October 2010.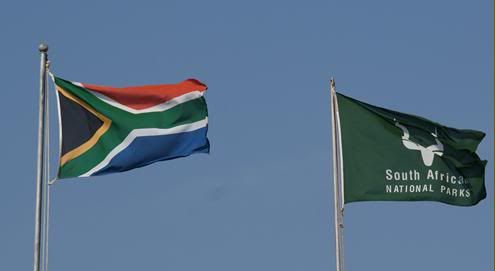 Day 4 - 14-10-2010

It's still raining when we get up and leave Lower Sabie.

Today we are heading towards Satara, where we will spend our next night.
On the H10, about 2 km after passing the bridge at Lower Sabie, Joey suddenly called : "STOOOOOP LEOPARD !" On the left side of the road was this beautiful leopard lying down. It crossed the street and just stayed with us for the next 15 min or so.
What made it extra special was that we had this sighting all for ourselves, there were no other vehicles around. We stayed with it untill it walked off into the thick bush.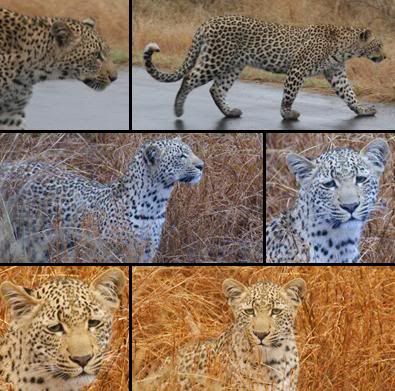 What a perfect start, we would have a big smile on our face for the rest of our day.
Time for more spotted critters.... a few Spotted Hyaena were lying on the road a few km further.
They seemed to be enjoying the rain and one of them just had a nice roll in the mud. Every time we drove past this spot we saw the hyaena there so probably they had a den nearby somewhere but we never saw very young ones around.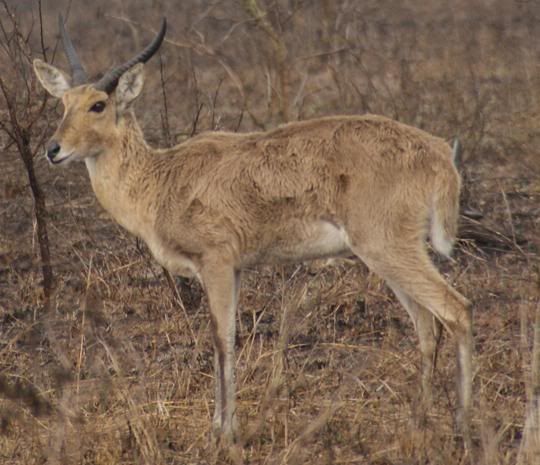 Another highlight was seeing 3 reedbucks, one male and 2 females. We hadn't seen reedbucks before so we could tick off another mammal on our list.
I think RogerH has also mentioned it in one of his recent blogs, but one thing I kinda miss when being in Kruger is a good cup of coffee in the morning. Instant coffee just isn't my thing. But I must say that the capuccino I had at the Tshokwane Picnic Spot was pretty good.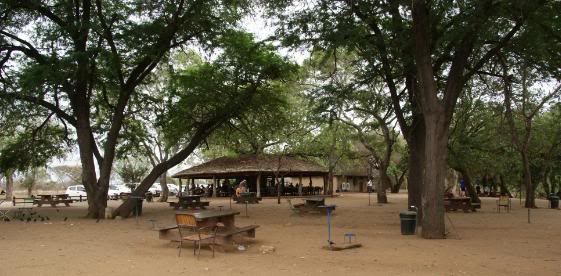 I love the trees at Tshokwane, one of them is this huge Jackalberry tree.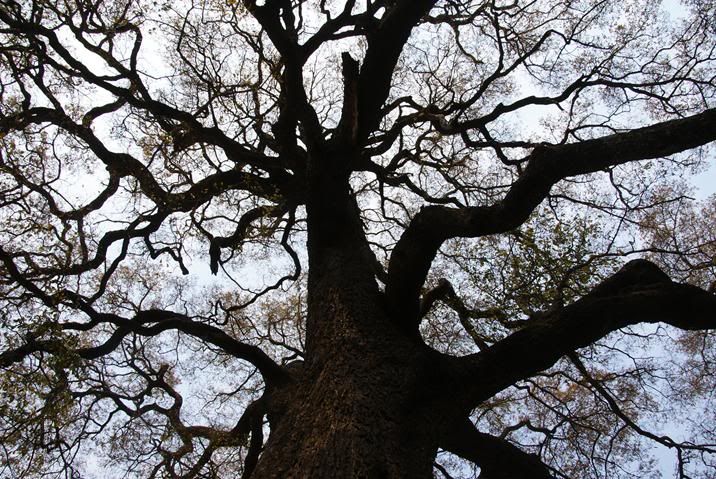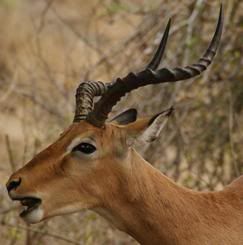 Somewhere along the way we watched an impala that was almost choking while trying to eat the fruit of a sausage tree.
On the sand road that led us to the Southernmost Baobab we found other cars that were looking for a leopard. Apparently it had just come out of a tree and we must have missed it by a few minutes. We had a drive around but never saw the elusive cat so we continued our road to Satara.
Around midday we arrived at Satara camp and we sat down watching the Satara waterhole. In the early years Africam had a refresh-camera here (camera is still there but now owned by sanparks). It always feels special to be at a place that you watch so many hours on your pc at home.
After checking in, we heard from a ranger that there were lions seen close to camp on the S100. So we quickly dropped off our luggage at the bungalow and went searching for the lions.
You can only see 4 on the picture but there was 7 lions in total lying around and playing hide & seek behind the bush.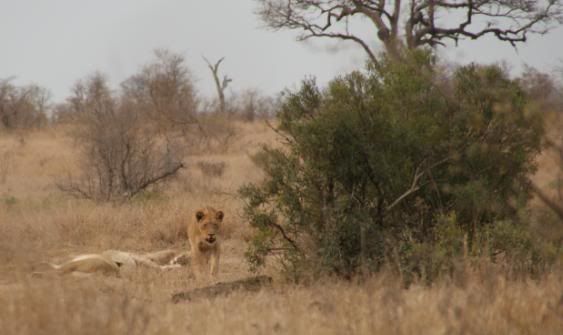 When returning to camp we found the resident Scops Owl in the tree at the reception. On this trip, whenever we would stop at Satara, we saw the Scops Owl sitting on the same branch... we sometimes began to wonder if it was a real one lol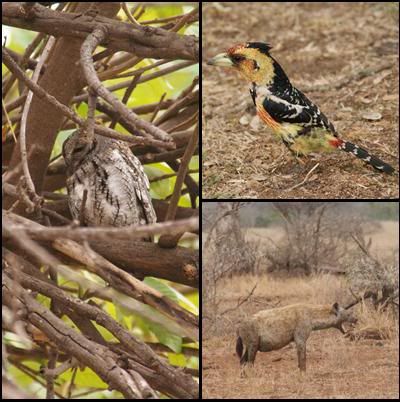 A Crested Barbet kept us company while we were watching a Spotted Hyaena near the waterhole. After a few phone-calls to friends & family and some shopping, it was time to get our barbecue started.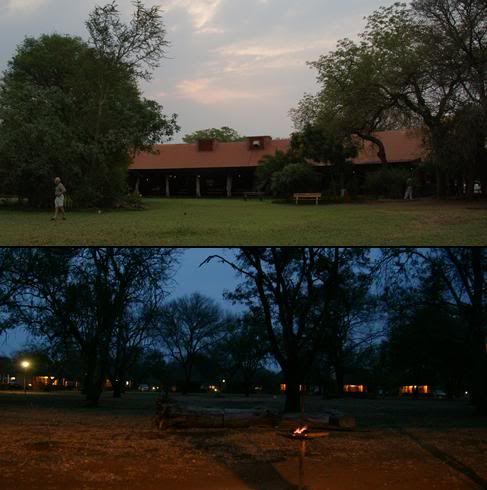 Satara restaurant and the view from our bungalow... the barbecue is on. We were hoping to catch a glimpse of the resident honey badger that wanders around Satara camp at night, but didn't get to see him.
We went to bed with a background-choir of Fruitbats.
The trees of the day were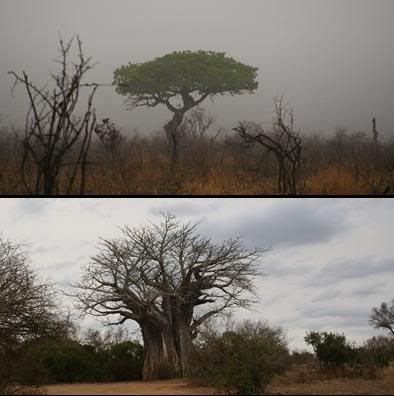 & we had reached 101 birds on our list.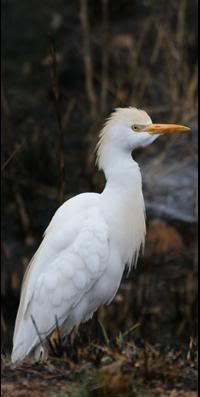 Cattle Egret
Animals seen so far : Lesser bushbaby - Vervet monkey - Chacma Baboon - Lion - Leopard - Elephant - Bushbuck - Warthog - Hippo - Wildebeest - Crocodile - Impala - Waterbuck - Nyala - Kudu - Water Monitor - Fruitbat - Giraffe - Zebra - Common Duiker - Steenbok - Buffalo - Spotted Hyaena - White Rhino - White-tailed Mongoose - Black Rhino - Scrub Hare. - Leopard tortoise - Reedbuck - Dwarf Mongoose - Slender Mongoose

---
part 1 - click here
part 2 - click here

part 4 - click here

»