Kruger 2010 - Part 4
Submitted by Anonymous on Mon, 06/12/2010 - 4:39pm
Kruger 2010 - Part 4
---
Kruger National Park 2010
A blog from my recent trip to Kruger in October 2010.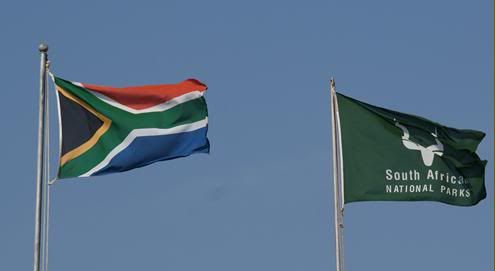 Day 5 - 15-10-2010

Around 5 am, on my way to the communal kitchen, something suddenly came running behind our neighbours bungalow. It was the honey badger ! I couldn't believe it, we had so hoped to see him here ! I quickly ran back to our bungalow to get Joey.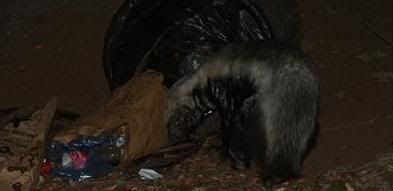 Soon after leaving camp, we found a big buffalo herd. There were hundreds of them.
Some of the buffalo didn't survive the trip as a little later we found a few hyaena and lots of vultures feeding on a buffalo carcass.

and a little further a male lion was sleeping next to his kill.

Our first hour of the day was another one to remember !
We stopped at the Timbavati Picnic spot & on the way we found a new bird to add to our list.
The Namaqua Dove, Oena capensis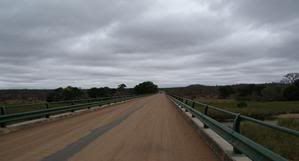 We continued our way direction Olifants and on the high-level bridge the wind was blowing so hard that we could hardly stand still.
Every time I have stopped on this bridge I have seen a Yellow-billed Kite & also this time it was one of the first things we saw after getting out of our car.
The view from the bridge.
We had lunch at Olifants Camp & there and I saw my tree of the day.
It had these apple-looking things growing on it everywhere.
The name-tag on the tree told us this was a Knobbly Fig, Ficus sansibarica.

With the heavy wind we didn't spend that much time to enjoy the lovely view from the deck at Olifants Camp.
I'm hoping that tomorrow the weather will be better because the wind and rain are making it a bit chilly.
our next stop was at the N'wamanzi viewpoint.

We saw this beautiful Impala female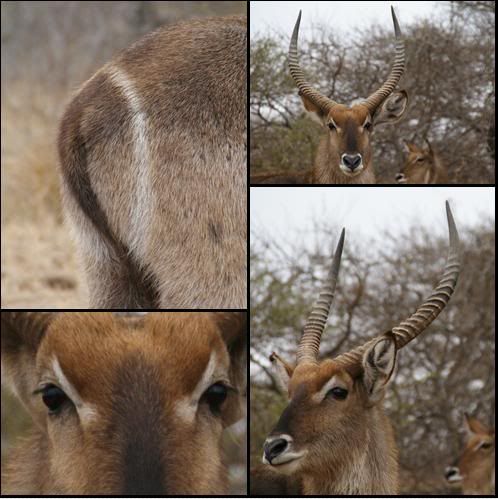 and waterbuck
Tonight we are sleeping at Balule, definitely one of my favorit camps in Kruger. The camp only has a small campsite and 6 huts.
Close to Balule there is a lovely low water bridge.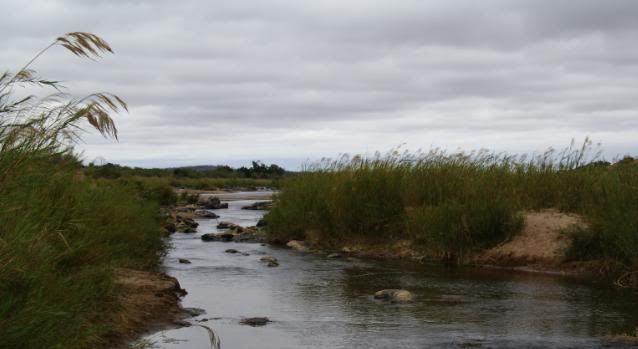 this hippo was swimming close to the bridge.
What adds to the the charm of Balule is that there is no electricity in the camp. Paraffin lamps are provided in the evening but a torch does come in handy when staying here.

We found little swifts nesting at the abolution blocks.
Before it got dark I went for a shower. Once in the shower there seemed to be no hot water so I ended up taking a cold shower.
An empty gas bottle was the reason and soon after, this lovely lady (I forgot her name) came to the rescue. She came running towards the abolution block while kicking this big full gas bottle with her feet, as if it was a football.
Joey and I wanted to help her out with getting the gas bottle into the building as there were a few steps to get in, but we ended up not being much of a help. This lady was strong !
a few minutes later Joey enjoyed a nice & hot shower.

We stayed in hut nr. 6, close to the fence. In the evening it was still very windy but we managed to get our barbecue going and enjoyed a lovely evening.
our candle with a perfect name

We went to bed with the hippo's laughing at us at night.
It was getting harder now to find new birds and I don't remember how many birds were added to our list today because I stopped writing them down by date. I just ticked the new ones on our bird-checklist. At the end of my kruger blog I will post the full list of birds that we have seen on this trip.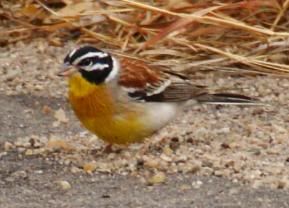 Golden-breasted Bunting
Animals seen so far : Lesser bushbaby - Vervet monkey - Chacma Baboon - Lion - Leopard - Elephant - Bushbuck - Warthog - Hippo - Wildebeest - Crocodile - Impala - Waterbuck - Nyala - Kudu - Water Monitor - Fruitbat - Giraffe - Zebra - Common Duiker - Steenbok - Buffalo - Spotted Hyaena - White Rhino - White-tailed Mongoose - Black Rhino - Scrub Hare. - Leopard tortoise - Reedbuck - Dwarf Mongoose - Slender Mongoose
---
»