Kruger 2010 - Part 7
Submitted by Anonymous on Sat, 11/12/2010 - 12:54pm
Kruger 2010 - Part 7
Kruger National Park 2010
A blog from my recent trip to Kruger in October 2010.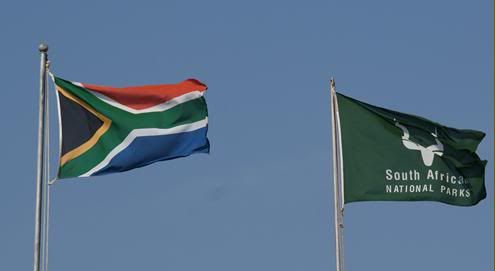 Day 8 - 18-10-2010

Today Joey and I are going back to Kruger National Park but before leaving Janine took us on a short early morning drive.
We have had great sightings and have seen lots of kudu at Olifants river game reserve and this female was one of them.
and this male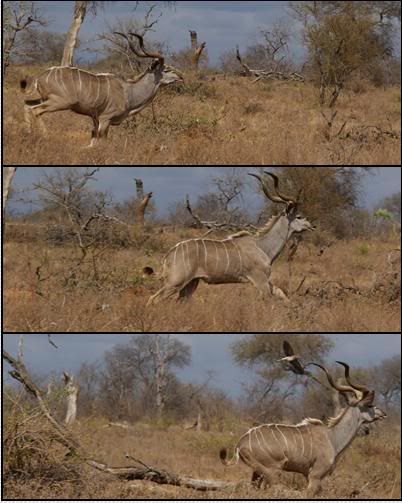 After breakfast it was time for us to pack our stuff and get ready for the bumpy ride back out of Olifants reserve.
Janine drove in front of us untill we got to the road next to the railway, there we couldn't get lost anymore. And then we arrived back at the "temporary road".... We had made it safely the first time we had to take this mountain-bike trail, so it should be ok now too.
I wish I had taken a picture of the road... so many things you think of when you get home that you should have taken pics off but at the time you are there you don't think about that...

The way down went fine but going up the hill we must have had a branch or rock that got stuck somewhere and we heard a few bangs
...

We got out of the car and had a look around, everything looked ok untill I saw that one of the mudguards came loose and a part of it was missing. Joey went down the hill to see if she could find the missing part but returned empty handed... Did we loose it here or was it already missing when we picked up the car at the airport, we don't know. What we do know is that this temporary road was not made for little cars lol

After some puzzling Joey and I managed to get the 1/2 mudguard back in its place. Pffffew....

Around midday we were back in Kruger Park and we found some hippo's on our way to Letaba.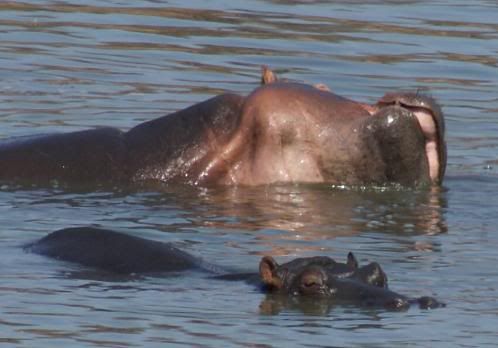 Every time I see a hippo scatter his dung around, I think about a story I read "No fish for the hippo". Those who have read the book "When hippo was hairy" by Nick Greaves probably know the story..
I will try to tell the story in a few words.
"When god Created the hippo, he realised that he had already created the crocodile to live in the water and eat fish/meat. He couldn't have 2 big animals living in the river, so he decided that the hippo could live in the river but not eat fish or meat. They were to eat grass instead. And that's why, to this day, hippo's always scatter their dung, so the Creator can see that it contains no fish bones."
And here's the proof that they still do it !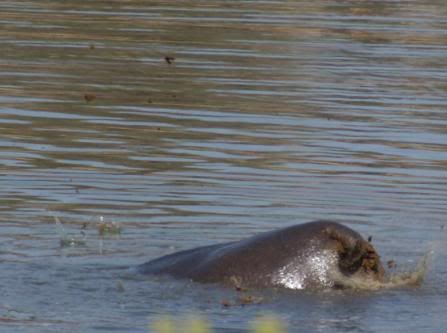 A little before arriving at Letaba, we saw a lioness crossing the road behind us, while this male was doing what the hippo did a bit earlier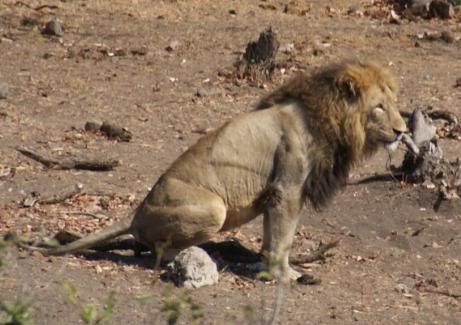 On this trip, we had seen lions every single day in the Park. I couldn't believe how lucky we had been so far.

We arrived at Letaba bridge and this herd of elephants came running down the dry riverbed. It was such a great sighting to see them running like this. They all seemed very excited about the little water that was still in the middle of the river.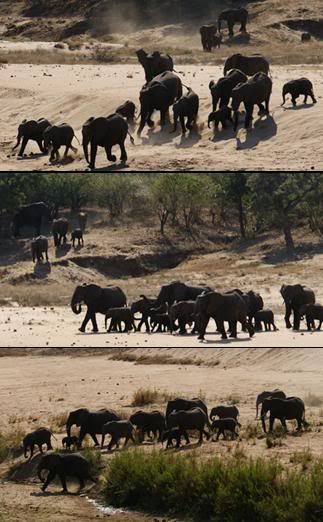 The young ones are so cute !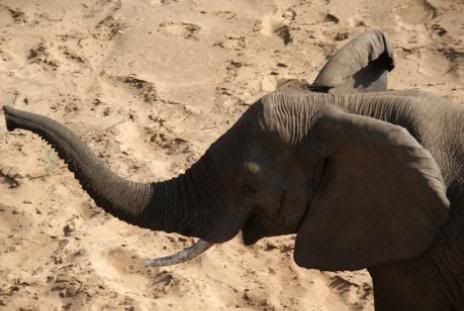 enjoying the water !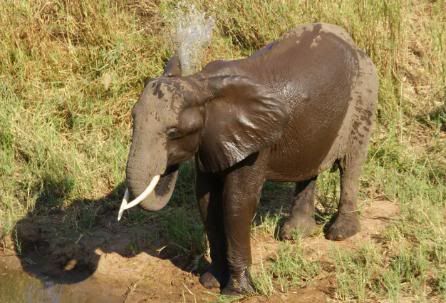 I think we counted 21 elephants in this herd and we were watching them more than one hour on the bridge.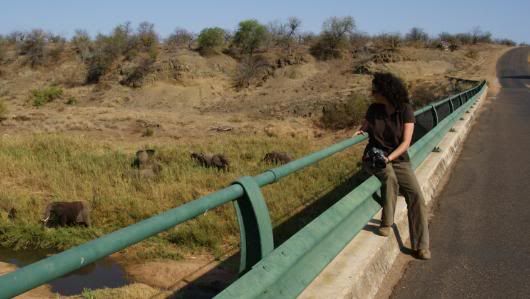 One little elephant & his mother made me laugh as they got a fright by seeing the shadows of people moving around on the bridge and they started trumpetting.
This Pied Kingfisher was also watching the elephants in the riverbed.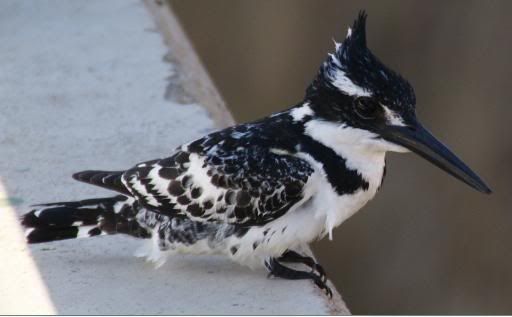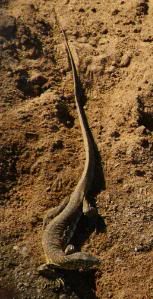 and this water monitor was running below on the sandy riverbed.
We checked in at Letaba in the afternoon and from our bungalow we could watch the Letaba riverbed.

Letaba is a lovely camp and you can walk around the camp next to the fence.

I wish I was still there now enjoying the lovely view.
Inside Letaba camp there are several bushbuck running around and on our walk around the camp, we met a male bushbuck that I ended up calling Brutus...
Brutus was having a little fight through the fence with another bushbuck male that was outside the camp. His was looking pretty angry and all his hairs were standing up.
When Joey and I walked passed he suddenly turned to us and walked up to us looking very mean and holding his horns pointed at us. We weren't sure what to do, run or stand still or shout or ????
Slowly walking away from him did the trick and soon Brutus turned back to his friend at the fence. We were pretty relieved he did !
We watched bats flying out of the batboxes, (they were all out when I took the picture) and on our way to the shop in the evening we saw all these palm-swifts flying into the palm trees.
You can see the swifts are all sleeping under the leaves. That was so cute.
That evening a Water Thick-knee visited us a few times outside our bungalow and we fell asleep listening to one of my favorit sounds of the African night, the call of a Fiery-necked Nightjar.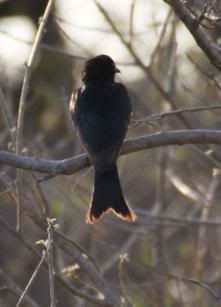 Forktailed Drongo
Animals seen so far : Lesser bushbaby - Vervet monkey - Chacma Baboon - Lion - Leopard - Elephant - Bushbuck - Warthog - Hippo - Wildebeest - Crocodile - Impala - Waterbuck - Nyala - Kudu - Water Monitor - Fruitbat - Giraffe - Zebra - Common Duiker - Steenbok - Buffalo - Spotted Hyaena - White Rhino - White-tailed Mongoose - Black Rhino - Scrub Hare. - Leopard tortoise - Reedbuck - Dwarf Mongoose - Slender Mongoose - Small spotted Genet - Black-backed Jackal - Chameleon - Cheetah - Banded Mongoose - Squirrel

---
to read previous parts of this blog click here
»