Kruger 2010 - Part 8
Submitted by Anonymous on Sun, 12/12/2010 - 6:57pm
Kruger 2010 - Part 8
Kruger National Park 2010
A blog from my recent trip to Kruger in October 2010.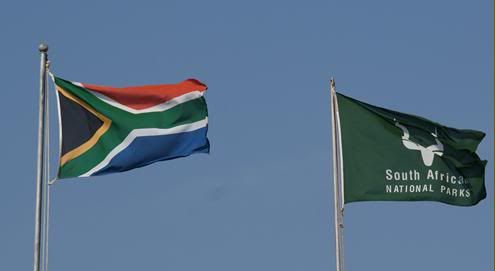 Day 9 - 19-10-2010

Waking up early in the bush has a certain magic. The birds start calling a little before the sun gets up as if they want you to wake up & watch the stunning sunrise with them.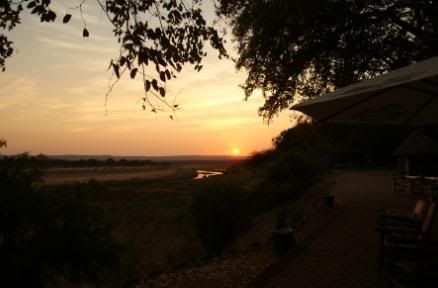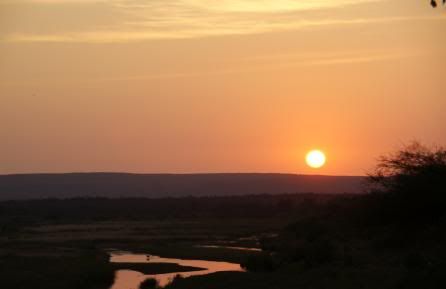 And the sunrise here at Letaba camp was beautiful !
Today we are heading to Orpen Camp, where we will spend the next 2 nights.
Off course, we couldn't leave without a last visit to the bridge and the view was breathtaking there too at this time of the day.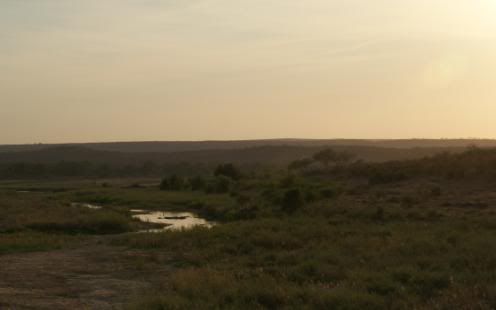 Brownhooded Kingfisher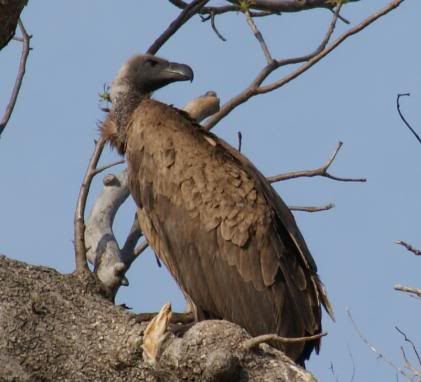 White-backed Vulture
The past week we had heard the call of the Klaas's Cuckoo "everywhere", but never got to see the bird.
On our first stop of the day at Olifants Camp we heard "hueet-jie hueet-jie hueet-jie" again and we finally got lucky.

We found the lovely Cuckoo sitting high up in a tree near the shop. Another bird to add on our list
.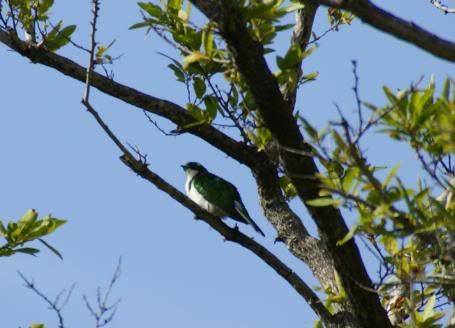 I've never seen a bird with such lovely green plumage !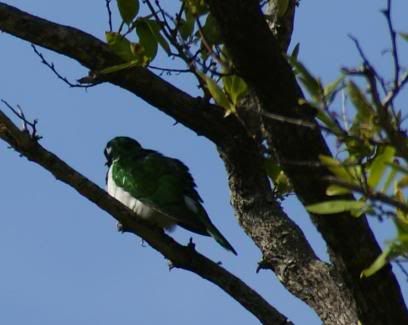 This time it wasn't cold, windy and rainy like earlier this week when came to Olifants. Much nicer to enjoy the lovely view that you have from the deck there.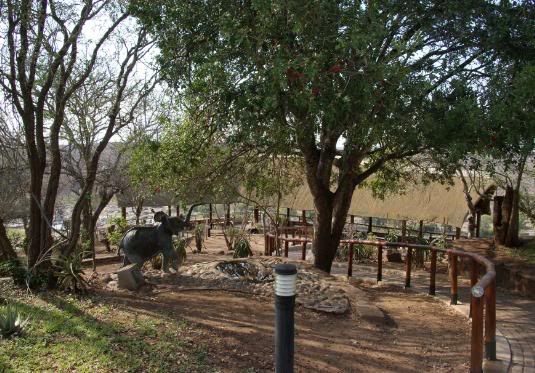 Olifants Camp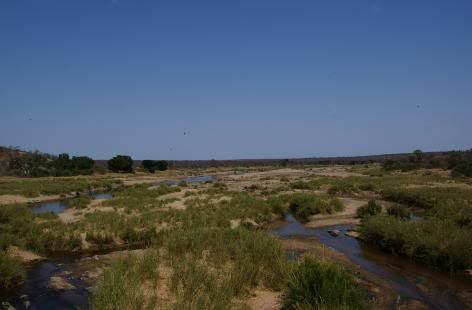 On the bridge near Olifants, we saw a Hamerkop.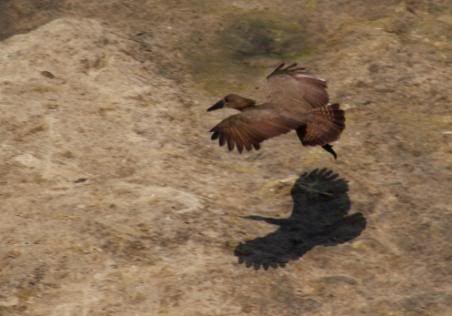 At one of the waterholes on the way impala were drinking and in a small tree were hundreds of little birds. I think they were redbilled queleas.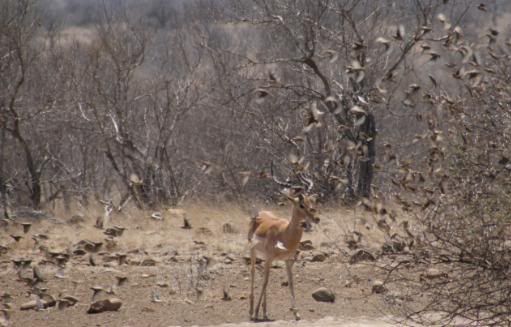 and a lovely giraffe was watching us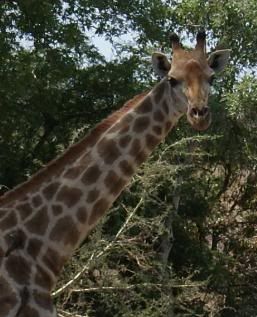 A Red-crested Korhaan crossed the road very slowly...

At the Timbavati Picnic Spot a lady told us that they had seen lions at the Ratelpan Birdhide.
It's a very short drive to the birdhide and we hoped the lions would wait for us
We didn't see lions yet today !

The view from the birdhide.
And yes, they were still there ! The lions were lying far off, on the other side of the river in the shade of a big tree and there was 7 lions in total there.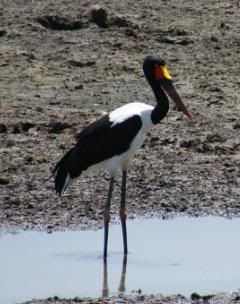 Saddlebilled Stork

While looking for birds, I found this Tree Agama lying on a branch. I had a look in one of my books here and it says the breeding male of the Tree Agama develops a bright ultramarine head, so this must have been a male.

It was a hot day and many of the animals were hiding under the trees and in the thick bush. When we arrived at Nsemani Dam we found impala, kudu and baboons.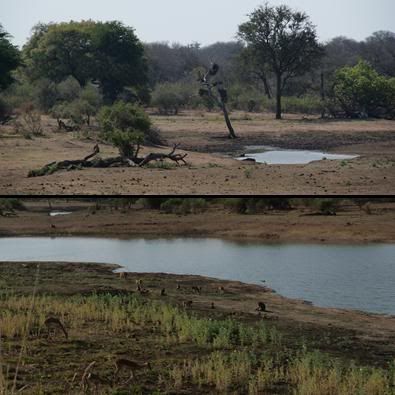 Before heading towards Orpen, it was time for a pit-stop and we drove direction Satara, where we looked up a shady spot and spend our time watching birds.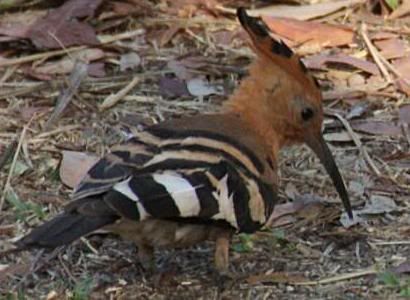 African Hoopoe
I think I ended up with about 30 pictures of this Golden-tailed woodpecker....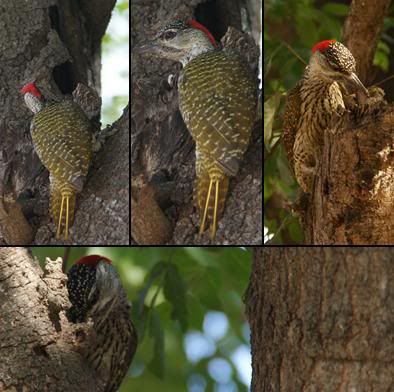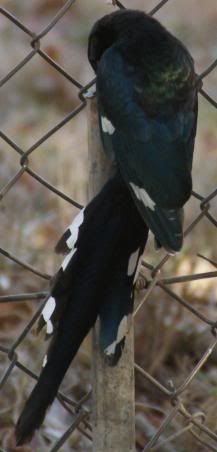 This one is the backside of a Redbilled or Green Woodhoopoe. It just wouldn't sit still for me to take a picture of his front
When we passed Nsemani Dam again, the impala, kudu, bushbuck and baboons were still around.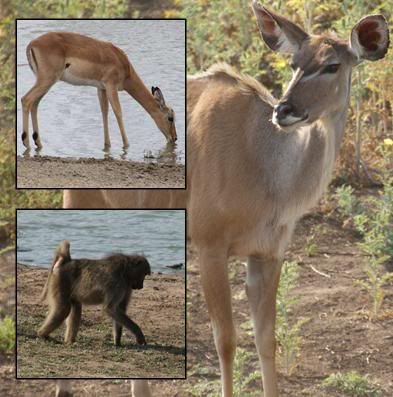 we found a giraffe with plenty of redbilled oxpeckers on it.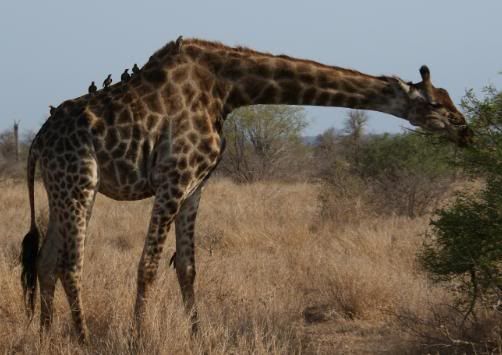 Today I was going to end up with way too many bird-pictures !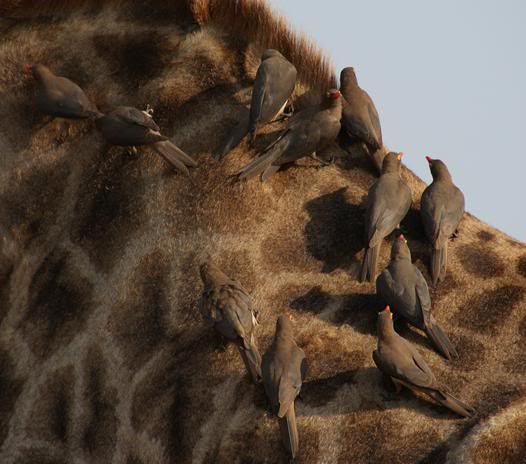 We checked in at Orpen Camp and at the little coffee bar outside the shop I tasted the chococinno and it was delicious !
From our bungalow we could see the waterhole. Two elephants came for a drink in the evening.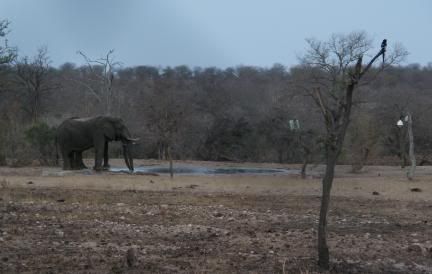 Orpen
Later while we were eating, we also saw buffalo at the waterhole.
It was my birthday today and Joey surprised me with a lovely present. Thanks Joey !
I just can't think of a better way to spend my birthday than being in the bush.

That evening, from my bed I could see lightning and hear the thunder but they didn't keep me awake for long...
The shops in the camps are dangerous grounds for me. I often can't resist in buying some of the things they sell there.
At Orpen I had to buy this little bushbaby.

It now lives in my living room. Isn't it cute !
Animals seen so far : Lesser bushbaby - Vervet monkey - Chacma Baboon - Lion - Leopard - Elephant - Bushbuck - Warthog - Hippo - Wildebeest - Crocodile - Impala - Waterbuck - Nyala - Kudu - Water Monitor - Fruitbat - Giraffe - Zebra - Common Duiker - Steenbok - Buffalo - Spotted Hyaena - White Rhino - White-tailed Mongoose - Black Rhino - Scrub Hare. - Leopard tortoise - Reedbuck - Dwarf Mongoose - Slender Mongoose - Small spotted Genet - Black-backed Jackal - Chameleon - Cheetah - Banded Mongoose - Squirrel - Tree Agama

Purple Roller
---
to read previous parts of this blog click here
»