Kruger 2010 - Part 9
Submitted by Anonymous on Wed, 15/12/2010 - 5:52pm
Kruger 2010 - Part 9
Kruger National Park 2010
A blog from my recent trip to Kruger in October 2010.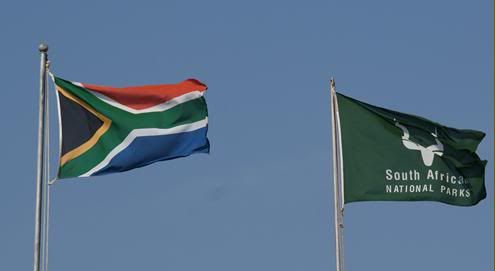 Day 11 - 20-10-2010

On my morning walk to the waterhole at Orpen, I saw this Long-tailed or Magpie Shrike.
and a Grey go-away bird.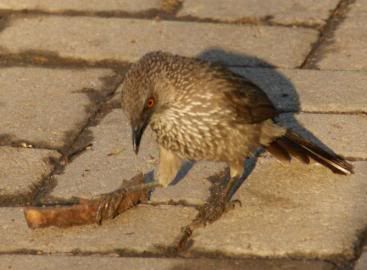 This Arrow-marked Babbler was eating something that looked like a French frie...
One of our first sightings that day was this elephant.
On the dirt road somewhere a branch got stuck under our car and it didn't come loose by itself.... We decided to stop at Muzandzeni or Mzanzene Picnic spot to get rid of the branch. Mzanzene is a nice small &, rustic picnic spot. An African couple lives there in their little house with their children and keeps the place tidy and clean.

Yellowbilled Hornbill

Zebra near Satara Camp.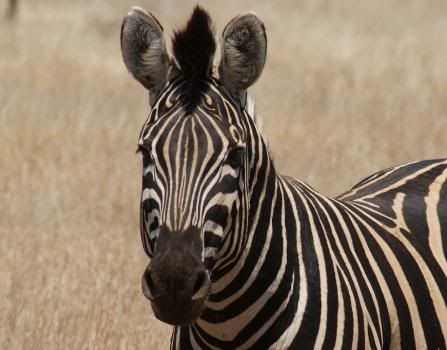 It was a boiling hot day and the animals were looking up the shade of the trees.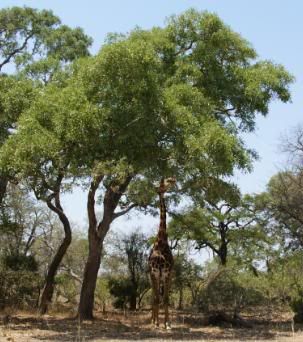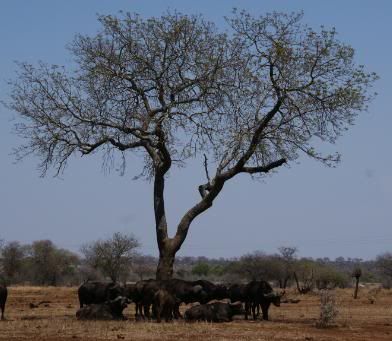 except for this hooligan-phant, he wasn't standing under the trees but was knocking them over and eating the roots.
and this one was having a refreshing mudshower...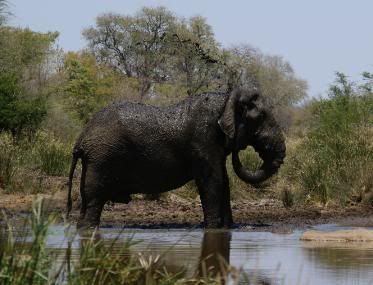 Lilac-breasted Roller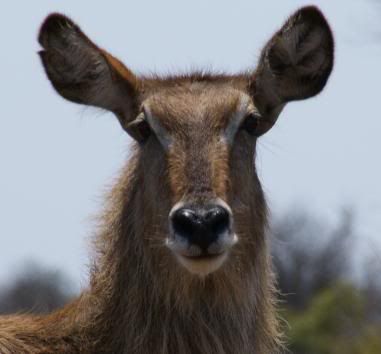 Waterbuck
At the N'wanetsi Picnic Spot you have a trail that goes up to a marvelous lookout hide.
I love spending time in the hides, as it's often a welcome break from driving & there is always something interesting to see.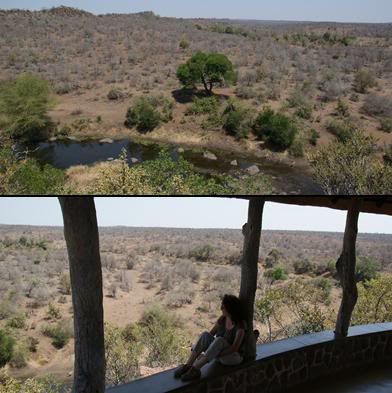 and it was nice and shady at this hide, the perfect place to escape the heat for a while.

Baboon on the look-out...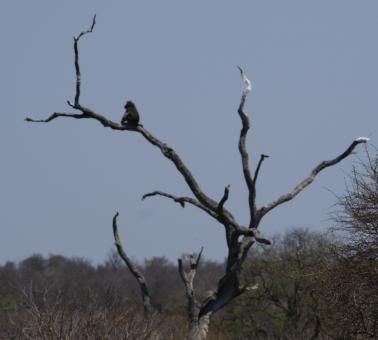 Next we drove to the Sweni Bird Hide. Another lovely spot in the Kruger !
When you arrive at a hide it often appears as there is not much happening there. But sitting there patiently will often be rewarded with some nice action.
The different views from the hide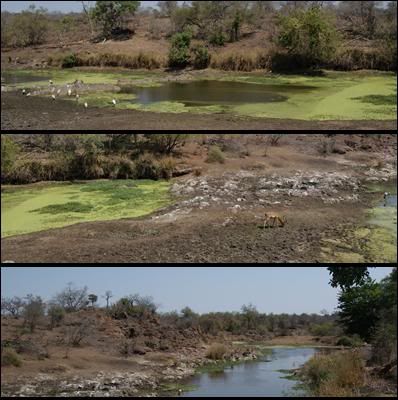 When we arrived we saw lots of yellowbilled storks, hippo and impala.
Soon after waterbuck came for a drink followed by some zebra and bushbuck and a little lizard was watching me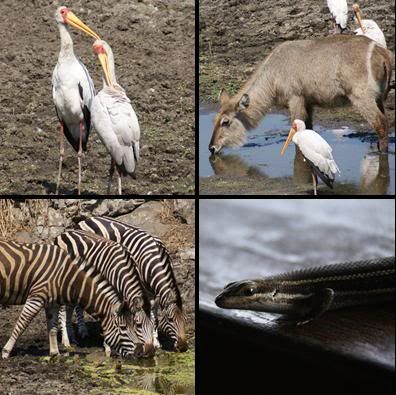 and a big Hippo.

Our way back to Orpen was quiet.
Everything went into hiding for the heat, but when arriving at a dam or waterhole, we found animals drinking.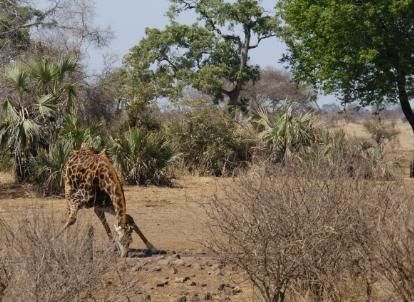 At Nsemani Dam we found zebra and elephant.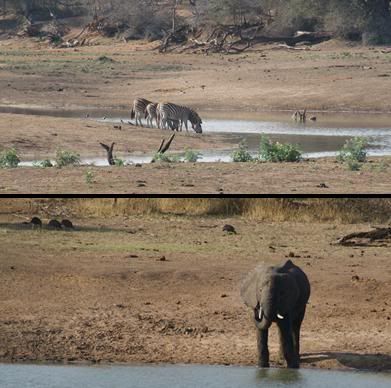 This is my tree of the day, just love it !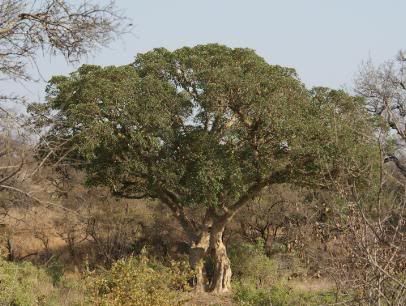 If I were a leopard I would choose this tree as my home.
and the knees of the day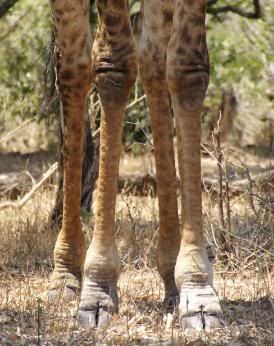 That evening there must have been some kind of celebration by the staff at Orpen.
I don't like to listen to music when being in the bush, I prefer to listen to the sounds of the bush but this time I didn't mind the music. The night falling and the singing of the staff in the background was beautiful.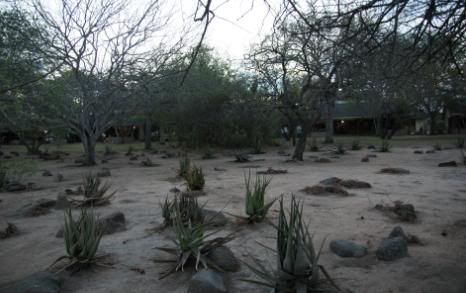 Orpen
Animals seen so far : Lesser bushbaby - Vervet monkey - Chacma Baboon - Lion - Leopard - Elephant - Bushbuck - Warthog - Hippo - Wildebeest - Crocodile - Impala - Waterbuck - Nyala - Kudu - Water Monitor - Fruitbat - Giraffe - Zebra - Common Duiker - Steenbok - Buffalo - Spotted Hyaena - White Rhino - White-tailed Mongoose - Black Rhino - Scrub Hare. - Leopard tortoise - Reedbuck - Dwarf Mongoose - Slender Mongoose - Small spotted Genet - Black-backed Jackal - Chameleon - Cheetah - Banded Mongoose - Squirrel - Tree Agama - Plated Lizard

---
to read previous parts of this blog click here
»