My November 2010 trip to Olifants River Private Game Reserve
Submitted by Janine on Wed, 01/12/2010 - 4:12pm
My November 2010 trip to Olifants River Private Game Reserve
Olifants visits November 2010
End Nov 2010 visit the main reason for this visit was for the Joint community Orphans Christmas party.
This went off really well and the Hoedspruit community need to be commended for their generous spirit and giving these children one fun day a year, these are children who are predominantly aids orphans.  The Hoedspruit police run mainly by woman are instrumental in assisting with identifying the children for the community and assisting with the arrangements.  The Balule ladies also pull their weight along with a lady named Merle.  Pick n Pay and Spar assist from all sides too their community spirit is also to be commended.
Well the night before the party the almighty heavens opened at about 3.30 am raining buckets but I am sure most of you saw that on the cams as I think that rain was as far down as South Kruger.
It stopped raining around 10am that morning to make the weather nice for the kids we were a little concerned that the bus with the 96 children may not make it to the reserve due to the sever muddiness of the roads but some gods were shining on us and the kids made it here safe and back home safely too after a fun filled day of slip slides,  boerie roll and salad lunch with cupcakes for dessert and father Christmas.  (Boerie = South African sausage made normally with beef and coriander always cooked on the barbeque, and for meat eaters very delicious)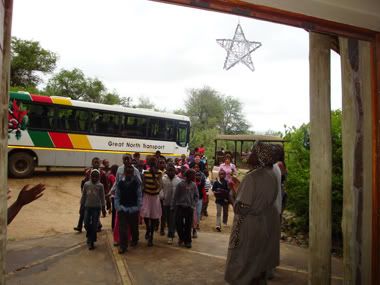 Well on the game viewing side I was very, very, lucky.  On the night I arrived Monday night I saw white rhino (*mkhumbi), elephant (*ndlopfu) of the big five and a lot of general game.
Tuesday morning I saw a large male leopard (*Yingwe) at sand dam more rhino and ellie and again a lot of general game.
Wed I did not drive in the am but took a short drive after the party in the evening and saw leopard no two a female near big dam.   Lots of general game, and later a male lion at hide dam.
Thursday I saw a lone dugga bull buffalo (*Nyathi) lot of general game and have seen many elephant every day as I write this it is now Sunday afternoon and the temperature here is 42c I am watching five elephant bulls that have been in the river in front of my house since 10.30 this morning it's now 2.30pm That evening I saw a pair of Veroux's eagle owls (giant eagle owl)(*Tsukutsukuruna)
Friday Morning I was on a drive and bumped into some friends they were looking for leopard at Mashatu drive the male we call the Mashatu male, they did not see him.  I left them went to Q's corner, (Gerda and Joey will know this is the nice spot on the river bed with the table and tree stump bench's) had my breakfast, then decided to give Mashatu drive another go well I heard the birds and looked in that direction as I looked my eye caught Mashatu male walking marking territory in the bush just above a dead tree which had a Veroux's eagle owl (this is why the birds were unhappy they were mobbing the poor bird)  That evening I saw a Bateleur eagle on the ground eating termites lots of those around since the rains. Bateleur (*nGama) this is a general name used for eagles seems they don't have a specific name for the different species of eagle)
So wow how lucky three leopards in four days and three Veroux's eagle Owls.  They are truly Magnificent birds.
Saturday Morning as all you Africamers know it was National Birding day In South Africa
So it was up at 4.30am it was a great fun day albeit a hot day but all concerned enjoyed the days birding and arguing (Those who are twitchers will know that there is often an argument about the id of the bird it's all part of the fun)
Lots of ellies around again
Sunday today Started my morning with the most beautiful goliath heron, then a herd of buffalo 20 min later,  and about hour and a half after that watched a breeding herd of elephant playing in Hide Dam it was lovely going to be a mega scorcher today.  Promise of rain tonight let's see if it happens.  Due to Slow internet this will only be posted on my return. So when you read this I am back. In the pics below you will see the one female give me a good head shake trying to intimidate me when she saw it would not work she moved on.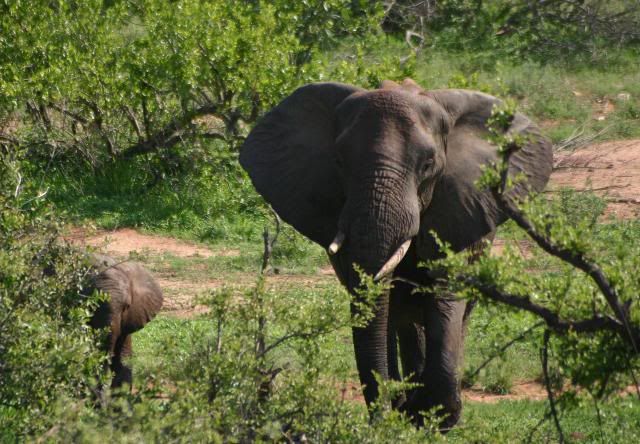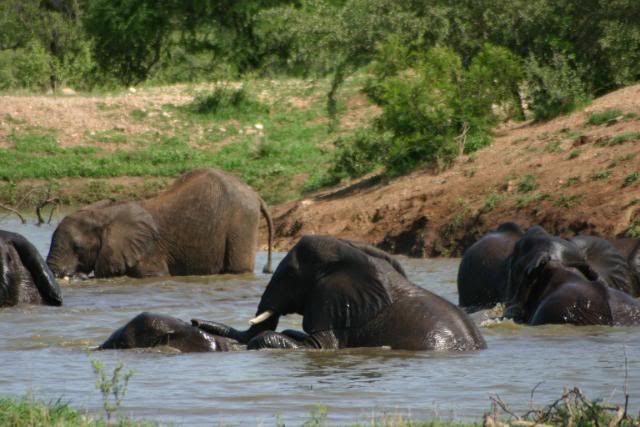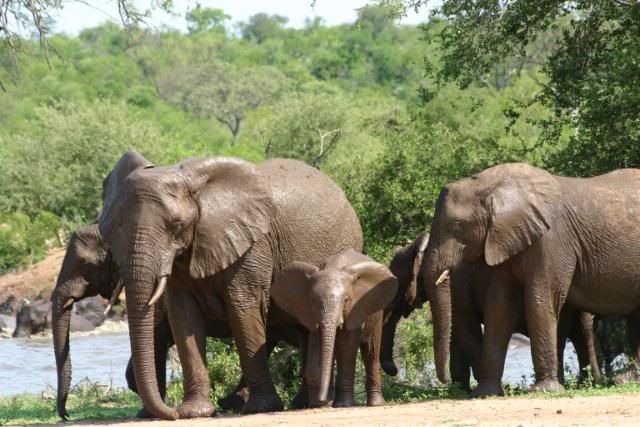 Mom was not sure if she liked me being there

She tried to scare me with a big old head shake but when that did not work she
just uped and left
Okay so I got up to go drive up the hill to phone Derik as it looks like a storm coming and as I stepped out the
back door I realised what had happened to the ellies that were in front of my house they were now all around
the back of the house. Gerda Kaja and Joey will appreicate these pics as they all used the shower at my house.
Okay rain did not come so headed out on a drive and what do I find the Klaserie Pride of lions on Jackal plains road lying around in the bush getting really hot.  7 adults and four cubs about six months old as I move in the cubs move further back in the bush and you can only see them through the bush (sucks for photos)  I could see they were set till later called in the sighting and then moved off till later.  Double dam two rhino wallowing, and at natural pan a breeding herd of elephant.   Go back to the lions they are now on the move one lioness chases an impala but misses.
Off they go to the dam to have a drink
I leave them and head for home.  As I get in my friend Arnold calls me in and tells me to get in my car and drive up the road I get there and there is a lovely female leopard.  We watch her for a bit and then she gets up and heads right and into the bush.  So we head out I go straight and Arnold turns around as I am cruising along I hear a almighty bang I swing my spot in that direction and almost get an  impala horn in my eye and just see the back end of the leopard, she had chased the impala and it ran smack bang into my car then ran away. So she had doubled back  and we did not realise it.
The next am I went out on drive and my friends Morag and Neil had called in the lions but this was the Olifants pride not the Klaseri pride from last night 10 of them lying around there sitting up every now and again to watch a giraffe passing or a herd of impala
That afternoon I did not drive as there was a huge thunderstorm and rain and my car was wet and I had to start to pack to come back home tomorrow.
Sparing impala pic to end the trip
*(Tsonga names)  Tsonga being the language of the ba-Tshangane tribe.  (I will give Tsonga names which I know)
Till next time take care JS