Hello Everyone,
the Spider cracks of DGHT have decided that it is that:
Hallo,
bei dem Tier gehe ich auch von einer Springspinne aus. Der Körperbau und auch die Stellung der Beine, insbesondere des ersten Beinpaares deuten
deutlich auf eine Springspinnen(Salticidae)-Verwandschaft hin.
Springspinnen bauen keine Netze, besitzen aber Spinndrüsen. Bei jedem Sprung
wird ein "Sicherheitsfaden" gesponnen. Evtl. hat sich hier eine Springspinne
in einem fremden Netz verfangen.
Bei den Walzenspinnen (Solifugae) handelt es sich um Bodenspinnen, die
zudem noch Nacht- bzw. Dämmerungsaktiv sind und definitiv nicht in offenen
Netzen leben. Dies ist auf keine Fall eine Walzenspinne.
Eine Radnetzspinne (Araneidae) ist dies auf keinen Fall.
Gruß
Stefan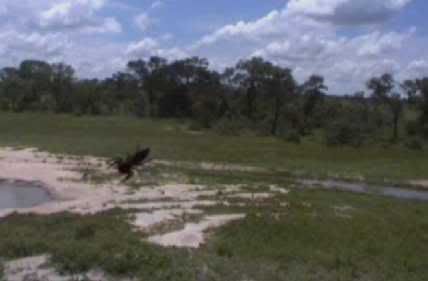 By means ...its a Salticidae Species, due to the form of the front legs.
This Spider is not producing webs (low on the evolutionary ladder) but using a safety string, and in this case may just be caught in a foreign Web.
The, from me , suspected Solifugae is only nocturnal , and will never be seen so far away and lasting , from ground in the day.
Thats about the cam critter.
regards
DrS