"Prince of Darkness" makes daytime visit
Submitted by Anonymous on Thu, 23/07/2009 - 2:07pm
"Prince of Darkness" makes daytime visit
HI All
I can't believe how lucky we are to get such terrific and frequent sightings of leopard, or also know as the "Prince of Darkness", as they can be so elusive and are rare during the daytime. Most of them in the Sabi Sands, an absolute jewel for leopard sighting, are extremely relaxed and totally habituated to vehicles, tourists. I can remember in my early days of guiding and working in new reserves where leopards were not habituated to people, and there hadn't been sightings of them for years. We would only see their tracks and even that would raise my adrenalin and get me excited because at least they were coming down to the roads. I can recall one evening feeling like one of the luckiest guys in the world when we spotted one about 100 metres up on a ridge (we just saw its eyes) where we couldn't get to. We had the spotlight on it and were looking through our binoculars and could only confirm it as a leopard when it moved position from out of the bush. That was considered a brilliant sighting. So here is a fantastic picture of a leopard taken yesterday at EP- it's clear and we are able to see the whole animal; it's not obstructed by any bushes. Thanks a lot to everyone who took these pictures.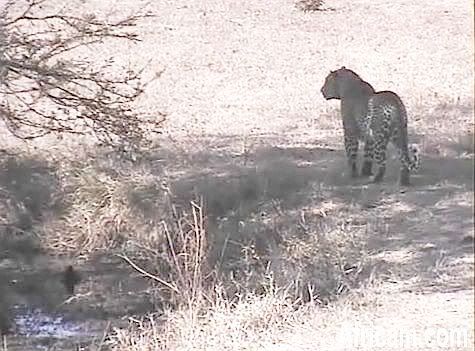 We also had a visit from a side-stripped jackal yesterday. Being a jackal it's often always on the move, missioning around, so it's quite difficult to get a good picture of one. But you can see on the picture the white tail tip which is distinctive to the side-stripped jackal (the black-backed jackal's is black). The side-stripped is grayish or grayish buff with the pale stripe outlined with darker grey running along the flanks and across the back just behind the shoulders. Thank-you to everyone for submitting the photos. Below is the picture of the side-stripped jackal.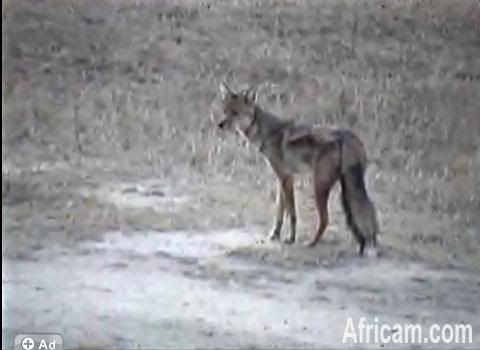 Happy camming, and please keep the pictures and videos coming, they are greatly appreciated.
Cheers for now,
Josh
»